Perhaps this should become the space for a recurring and weekly reminder. To pull the exact wording from Saturday's primer … No undefeated Power Five team has ever been left out of the Playoff — and the odds the first excluded undefeated team is the one that doesn't need a conference to be considered "Power Five" are slim-to-none … and Slim just rode out of town on a horse named Relevance.
The evaluation of Notre Dame's schedule could come into play if the Irish finish 11-1, though, and that remains more likely than not, even if there are no ranked opponents remaining on the calendar.
Michigan (5-1): The No. 12 Wolverines continued their march through the Big Ten with a 42-21 victory against Maryland. Michigan flipped the score to a 27-7 commanding lead with a 24-0 run sandwiching halftime. Shea Patterson led the overall effort with 282 yards and three touchdowns on 19-of-27 passing.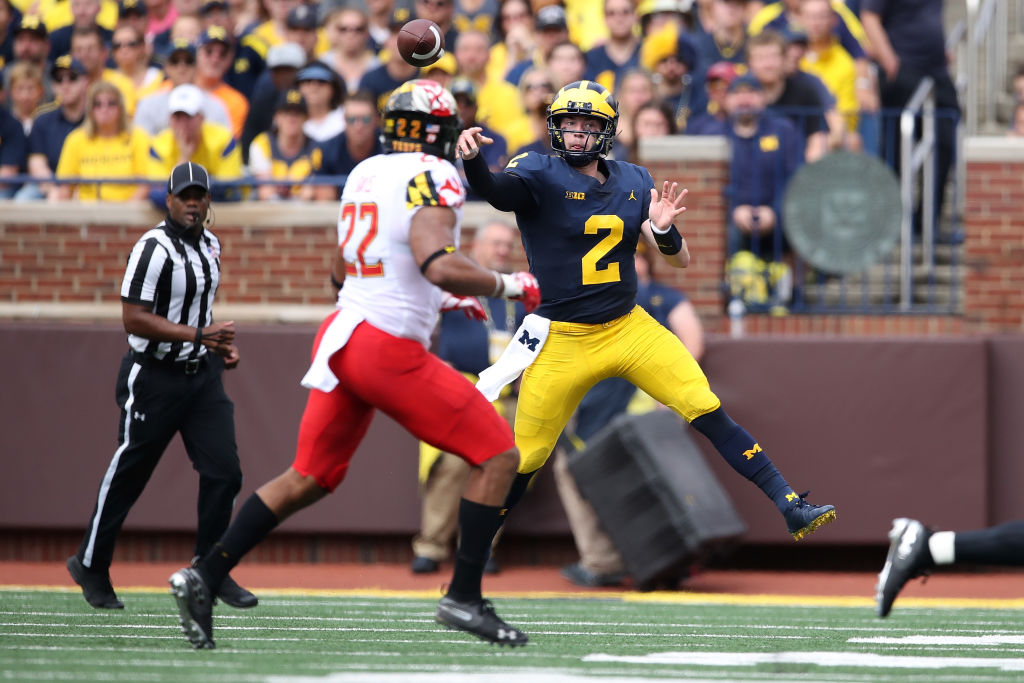 Just how impressive have the Wolverines looked of late? Enough so they are now favored by a full touchdown against No. 15 Wisconsin this weekend (7:30 ET; ABC). The combined point total over/under of 47.5 indicates a 27-20 conclusion, which would be the only the third time Michigan hasn't scored more than 40 this season.
Ball St. (2-4): The Cardinals gave up 227 rushing yards to Northern Illinois in a 24-16 loss, rushing for only 131 of their own on 40 attempts.
A poor rushing defense may not be a ruinous liability this weekend against Central Michigan (3 ET; ESPN3), who averages just 3.37 yards per rush and 118.5 per game. Nonetheless, the Chippewas are favored by two points with a 54-point over/under suggesting a 28-26 finish.
Vanderbilt (3-3): The Commodores' losing streak in the SEC to teams not sharing their state of residence reached nine with a 41-13 loss at Georgia. Vanderbilt did do something no one else had this season — take a lead against the Bulldogs. It lasted a total of 15 seconds, with a 75-yard touchdown then sparking Georgia to outgain the 'Dores 560 yards to 321.
That losing streak should should stretch further against Florida on Saturday (12 ET; ESPN). The Gators are favored by a touchdown in a game likely to end 29-22.
Wake Forest (3-3): If following college football largely via Twitter this weekend, the updates from the Deacons meeting with Clemson were few and far between. Why? Because there is only so much merit to reporting every Tigers touchdown when Wake Forest does not manage a single one of its own in a 63-3 shellacking highlighted by six Clemson scores of more than 50 yards.
Note: Deacons head coach Dave Clawson did not fire his defensive coordinator after this loss which included giving up 698 yards; he does not have one.
Also note: How good is the Tigers' defense? Wake Forest ganed 249 total yards.
That loss will echo in Deacons' heads for another week thanks to this being a weekend off.
Stanford (4-2): The Cardinal outgained Utah by two yards, which is not usually a recipe to lose by three possessions, 40-21, but four turnovers will have that effect.
Stanford will also have to deal with that bitter taste for another week.
Virginia Tech (3-2): Not for nothing, the Hokies' ACC Coastal title hopes are still alive, and their schedule sets up well to pursue them. Both Boston College and Miami visit Lane Stadium, while Virginia Tech already owns a win at Duke.
The Hokies should be the first in the division to reach 3-0 at North Carolina this weekend (7 ET; ESPNU), favored by 5.5 points with an over/under of 57.5. The 31-26 implied result would keep a pertinent carrot ahead of Justin Fuente's team.
Pittsburgh (3-3): The Panthers needed every break they could create to top Syracuse 44-37 in overtime. Each team offered up three turnovers — Pittsburgh turned those three into 13 points, highlighted by a fumble returned for a touchdown but also including two field goals on drives that netted nine yards total. Add in the overtime touchdown, and the Panthers hardly had to move the ball for 20 of their 44 points.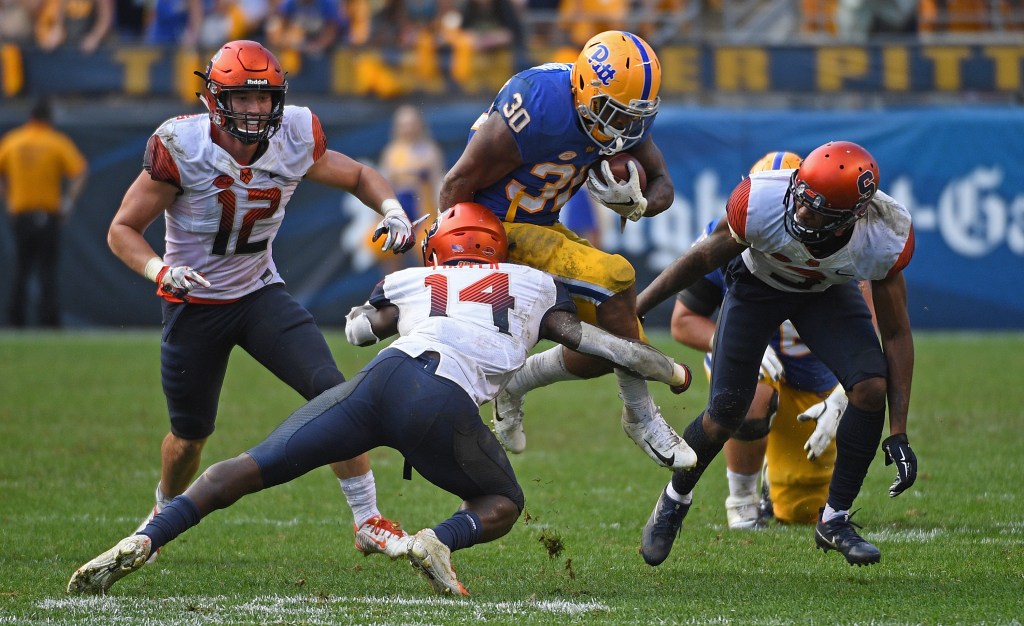 Running back Qadree Ollison led the way with 192 yards and a touchdown on 24 carries, part of Pittsburgh's 265 rushing yards.
Relying on that ground game will be a risky proposition at Notre Dame (2:30 ET; NBC), where the Panthers will arrive as 21-point underdogs with an over/under of 57 giving the Irish a 39-18 edge.
Navy (2-3): The Midshipmen are worn done in an uncharacteristic fashion, showing itself this weekend in a 35-7 loss at Air Force. Navy scored the first touchdown and then, well, gave up 35 unanswered points. The Falcons outgained the Midshipmen 399 yards to 178. Navy quarterback Malcolm Perry gained only 54 yards on 19 rush attempts.
The Midshipmen have not missed a bowl game since 2011, the only such occurrence since 2002, but a loss against Temple (3:30 ET; CBSSN) this weekend could spell doom, and Navy is a 5.5-point underdog. The Midshipmen sill have to face three undefeated teams. A 52-point over/under would result in a 29-23 Owls victory.
Northwestern (2-3): The Wildcats went on the road as double-digit underdogs and upset then-No. 20 Michigan State, 29-19. They were outgained, lost the turnover margin and struggled to establish a running game. Okay, that is being generous. Northwestern gained eight yards on 20 carries.
How in the world did the Wildcats win, then? Senior quarterback Clayton Thorson finally found his groove, throwing for 373 yards and three touchdowns on 31-of-47 passing.
He should be able to keep that going against Nebraska (12 ET; ABC). Northwestern is favored by 5.5 points with an over/under of 58.5 hinting at a 32-27 victory and a return to a .500 record.
Florida State (3-3): The Seminoles could have changed the entire storyline around their season, but instead they coughed up a 27-7 lead at Miami to lose 28-27. The Hurricanes scored three touchdowns within 8:01.
In retrospect, Miami controlled the game more than those scores indicate. Florida State benefited from a punt return touchdown and 13 other points coming off short fields.
The Seminoles can think about that missed opportunity during their week off.
Syracuse (4-2): Trying to figure out how the Orange lost to Pittsburgh gets even more difficult when realizing it held the Panthers to 3-of-12 on third downs. The issue really was turnovers.
As is a theme this week, Syracuse enters its week off with a loss its most recent memory.
USC (3-2): The Trojans had the week off, allowing them to focus on what may be the biggest game of their season. It is certainly one no one expected to be important before the year. USC hosts undefeated Colorado (10:30 ET; FS1). Despite the differences in record, the Trojans are touchdown favorites, which speaks more to how bookmakers view the Buffaloes than how they approach USC.
If nothing else, expect more than the projected 57 points to be scored.
12 p.m. ET: Vanderbilt vs. Florida on ESPN; Northwestern vs. Nebraska on ABC.
2:30 ET: Pittsburgh at Notre Dame on NBC.
3 ET: Ball St. at Central Michigan on ESPN3.
3:30 ET: Navy vs. Temple on CBSSN.
7 ET: Virginia Tech at North Carolina on ESPNU.
7:30 ET: Michigan vs. Wisconsin on ABC.
10:30 ET: USC vs. Colorado on FS1.
Favorites: Michigan -7; Virginia Tech -5.5; Northwestern -5.5; USC -7.
Underdogs: Ball St. +2; Vanderbilt +7; Pittsburgh +21; Navy +5.5.
[protected-iframe id="4322d87b3e2eb4d11caa19723fa3b36c-15933026-22035394" info="//platform.twitter.com/widgets.js" class="twitter-follow-button"]