Considering No. 5 Notre Dame (6-0) has won each of its last three games by at least three possessions, it may be odd to hear talk of the Irish needing to put their opponents away more definitively. It was a common theme for head coach Brian Kelly early in the year, and one not entirely done away with yet despite averaging 46.3 points the last three weeks.
It lingers in a different form, though, one of needing to play well for four full quarters, not spurts and starts.
Notre Dame's offense was outscored 13-0 in the second quarter last weekend at Virginia Tech. A similar struggle unfolded in the second quarter two weeks ago, with the Irish finding the end zone only 39 seconds before halftime, not reaching midfield on two previous possessions in the frame.
"We had a good run offensively, and then maybe not such a good run defensively," Kelly said Tuesday, implying the vice versa could be just as applicable. "It would be nice to put it all together. We've got some room for growth there."
So when a blowout of Pittsburgh (3-3) is wanted, it is not so much to reduce fans' stress levels, play underclassmen or even establish bragging rights for the four players from Pittsburgh (three from the city itself, sophomore offensive guard Josh Lugg from near enough to mitigate any debate). Those would all be appreciated, and the second would hold tangible value, but it is more about proving Notre Dame is capable of 60 complete minutes.
To be clear, this is a nit getting picked.
"They're still winning football games," Kelly said. "They're still showing resolve. They're still doing a lot of really good things, but it's nice to know that after six weeks, there's still plenty of room for growth."
A rout would allow some reserves to play, and that serves more of a practical purpose than it would have a month ago against Ball State. Remember how that was supposed to be a showcase for the freshmen taking advantage of the new rule regarding eligibility?
Obviously, that did not happen, and Saturday (2:30 ET; NBC) could fill that role, but at this point doing so would also get key starters additional rest. A few of them need it.
While junior defensive end Daelin Hayes is good to go, per Kelly, after a stinger kept him from traveling to Virginia, the defensive line is still ripe for both rest for its starters and reps for its backups. Tackle and end Jayson and Justin Ademilola have seen more and more time — the former due to the injuries to sophomore Myron Tagovailoa-Amosa and freshman Ja'Mion Franklin and the latter due to Hayes' injury.
Even junior end Jamir Jones stepped in with Hayes, and if such were to be needed again, Jones would need to prove he can be trusted. The former linebacker has yet to have much of that chance. The Panthers may provide it … if the Irish can put together a complete game.
Fifth-year linebacker Drue Tranquill is playing with a cast on his broken hand. That should neither get better nor worse within the game — if the cast wasn't trusted, he wouldn't be playing — but a lead and some subsequent time for freshman Shayne Simon would at least save Tranquill some pain.
"You have to acclimate to that cast," Kelly said, shifting the focus to Tranquill's on-field performance and away from his dismissal of any pain. "He got caught inside a couple of times with his left hand being the lead hand, and he struggled a little bit trying to get outside. He's getting used to playing with that cast, and he felt it a couple of times on Saturday."
Simon broke through defensively against the Hokies, making a goal line stop in his first defensive series of his career. Kelly has seen that coming since the summer; Simon just needed time to adjust to the game at this level.
"He had the athletic ability," Kelly said. "But the game, it's the tactical piece that you have to put together. … Everything is now a nice routine, and they're starting to get a lot more comfortable."
More pertinent to the point, a hefty lead could spare both junior cornerback Troy Pride and junior running back Tony Jones the misery of playing through a sprained ankle. Kelly was more optimistic about Jones' recovery this week than Pride's, but both should be monitored.
Even if Jones' injury no longer limits his workload, as Kelly indicated Tuesday, some carries for freshmen Jahmir Smith and C'Bo Flemister would serve the purpose of protecting against whatever ailments yet await the position group.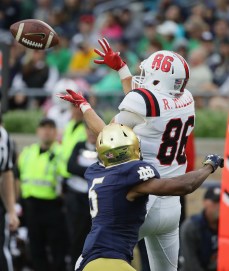 As for Pride, when asked if he was moving well Thursday, Kelly began his reply with an uncertain "Mehh."
"I'd say he's okay," Kelly continued. "He's going to probably play, but we think we have to use [junior Donte Vaughn] and him. I think you'll see probably a couple of corners play, but [Pride is] probably better than I thought."
The phrase "a couple of corners" points to freshman TaRiq Bracy.
"I trust him," Kelly said. "It's just the physicality piece more than anything else. He has great makeup speed. He plays the ball pretty good. I probably wouldn't want to extend him too much but he's a guy we can put on the field."
Finding playing time for Jamir Jones, Simon and Bracy is not about testing freshmen in a blowout like it would have been in early September. Now it is about giving snaps to players who will need to contribute in November so as to also give a rest to starters who will certainly need to produce then, as well.
The situation at nickel back is a bit more dire than that. Neither senior Nick Coleman nor freshman Houston Griffith has taken to the position in senior Shaun Crawford's absence (ACL).
"We've got to get better there," Kelly said Tuesday. "There's no question. …
"We've got two guys there that we feel are best-suited for the position in Houston and Nick, and they're going to continue to get work on it. We're going to spend even more time on it, and those are the two best players in our program for that position."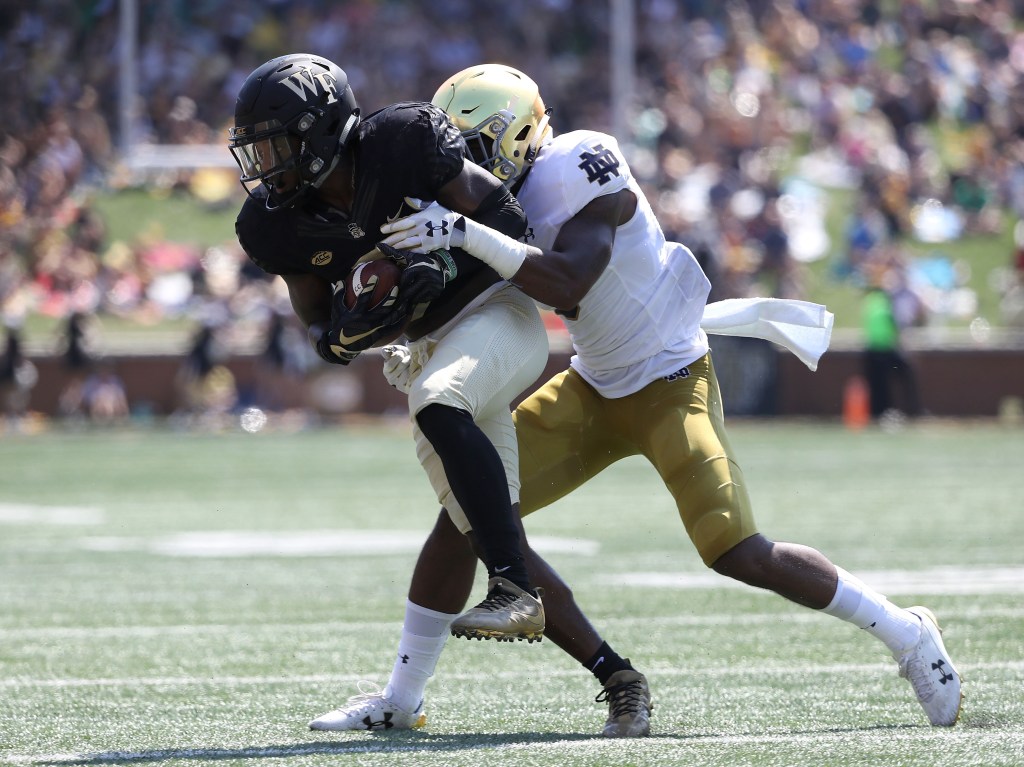 This should be a good weekend to work at it. Pittsburgh ranks No. 102 in the country in passing efficiency and No. 113 in yards per attempt (6.3). Even if Panthers sophomore quarterback Kenny Pickett were to expose Notre Dame's nickel back, it would not likely be for much damage.
Nonetheless, Pittsburgh senior receiver Rafael Araujo-Lopes is something of a prototypical slot receiver at 5-foot-9 and 190 pounds. He is the third of Pickett's three genuinely-contributing targets with 13 catches for 167 yards and three touchdowns in six games. (After the top three, no other pass-catcher breaks 65 receiving yards. Context: Six Irish targets eclipse that mark with sophomore receiver Michael Young at 63, as well.)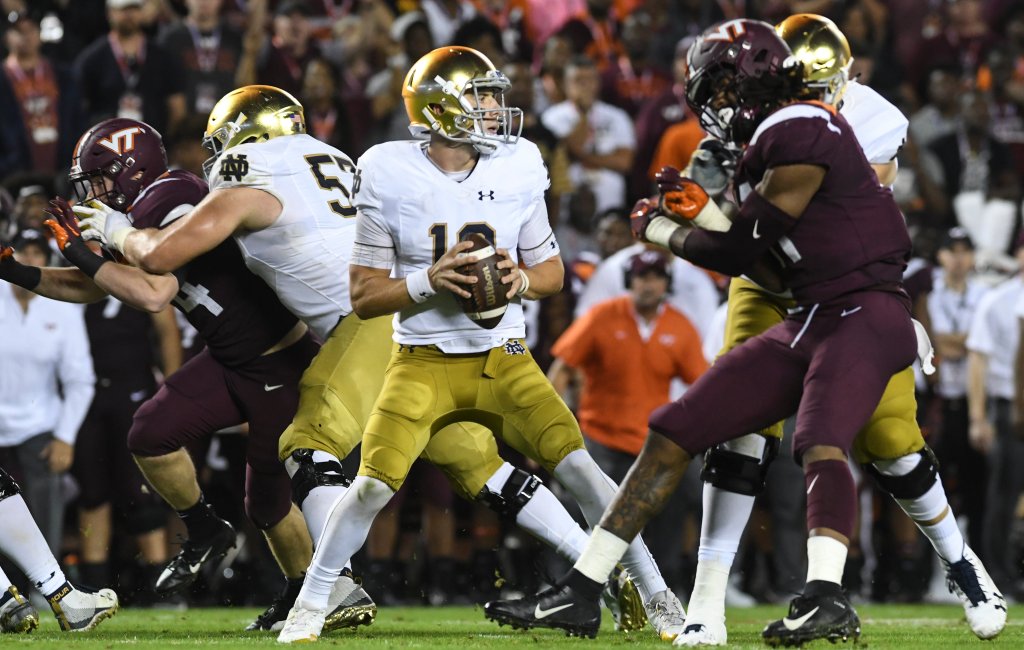 This is also an ideal opportunity to (im)prove junior quarterback Ian Book's deep ball. Pittsburgh ranks No. 91 in yards per attempt against, giving up an average of 7.6 yards per pass. Book has averaged 8.45 yards per attempt, despite struggling to connect downfield. If looking at S&P+ ratings, Notre Dame has been about middling in the deep ball regard, rated No. 52 in offensive passing explosiveness. The Panthers' defense? No. 108 in the category.
Exploiting that would go a long way toward putting Pittsburgh away early, which would in turn get the hobbled off the field and give the inexperienced an opportunity.
[protected-iframe id="4322d87b3e2eb4d11caa19723fa3b36c-15933026-22035394" info="//platform.twitter.com/widgets.js" class="twitter-follow-button"]