SOUTH BEND, Ind. — Sam Mustipher said it was not satisfaction. Notre Dame was not exactly content following its 19-14 victory against Pittsburgh on Saturday. Reaching 7-0 and eventually No. 4 in the polls did not have the Irish inherently pleased.
The mood postgame was something less optimistic, approaching understanding, even knowing. There had not yet been time to assess the nationwide carnage that felled four top-10 teams and three of the remaining Power-Five undefeateds. That scoreboard knowledge would add heft to the rote "It's hard to win" utterances offered by fifth-year center and captain Mustipher, fifth-year linebacker and captain Drue Tranquill, and junior quarterback Ian Book.
"I knew what was going to happen," Mustipher said. "Every time Notre Dame plays Pittsburgh, we're going to be played tough."
Following similarly-close wins against Ball State and Vanderbilt in September, the Irish sounded like they had lost. To pull from senior linebacker Te'von Coney after the first of those two instances, Notre Dame had fallen short of its standard.
"We have to be grateful," Coney said Sept. 8.
The Irish did not feel they had escaped with one this weekend. There was no thanking Pittsburgh, only relief the Panthers were in the past.
"They hung in there and found a way to win," Notre Dame head coach Brian Kelly said. "It's college football, hard to win each and every week, and you're going to have some of these games. They found a way to win."
That may be the difference. In September's close calls, the Irish were holding on for victory, both in leading the whole game and in overall approach. On Saturday, Notre Dame came from behind to find a way to win. After trialing for just two-plus minutes in the first six games combined, the Irish lagged for more than 40 this weekend. For the second consecutive week, they managed to stay unbeaten in a way they would not have in most years.
Even if Kelly is now 5-1 against Pittsburgh, this would have fit right in line with the 2013 loss. Instead, it falls below 2012 in the category of close — but oh-so-needed — triumphs.
The rarity of the victory extends past its difficulty and the particular opponent. Notre Dame won without a running game. In Kelly's eight-plus years, the Irish have run for fewer than these 80 netted yards a total of 12 other times, winning just three of them: 20-17 against Purdue in 2012; 17-13 vs. Michigan State in 2013; and 31-0 over Michigan in 2014. Raise the bar to 100 rushing yards and Kelly is now 7-13 at Notre Dame. (To give some context to that Wolverines outlier, four Michigan turnovers aided the Irish cause in overcoming a paltry 1.7 yards per rush.)
Such a total lack of running game is unlikely to rear its head again this season. It was the lowest ground total since last season's early loss to Georgia and, excluding hurricane-related events, only the third game under 100 for Notre Dame in the last 47 games. Yet, less rushing success may become a theme. As prolifically efficient as Book has been in his four starts, now leading the country with a completion rate north of 75 percent, the Irish passing game is still seen as the less dynamic weapon to deal with. The Panthers kept seven defenders in the box, only not reaching eight because Notre Dame often had three receivers and senior tight end Alizé Mack on the field.
"I think [offensive coordinator Chip] Long always has confidence in our run," Mustipher said. "But when you're playing a defense like that who likes to fill up all the gaps and put seven guys in the box, why would you try to run it?"
When your fifth-year captain and potential All-American center, not to mention to-the-point and borderline gruff, is asking that, you know the defense wholeheartedly sold out to stop the run.
Book played well enough to beat Pittsburgh's one-dimensional defense, but it was far from a sure thing. That difficulty will only increase with opposing defenses focusing on the Irish offensive line.
Excluding Notre Dame's final two drives (trying to run out the clock, and then kneeling to do so), it had nine possessions Saturday. Five gained more than 40 yards. What happened on the other four? After all, Book completed 26 of his 32 passes and averaged 8.25 yards per attempt. If forced to pass, it is not like the Irish were not gaining yards in doing so.
"We felt like we were moving," senior receiver Miles Boykin said. "It was just one or two plays here or there that were stopping us."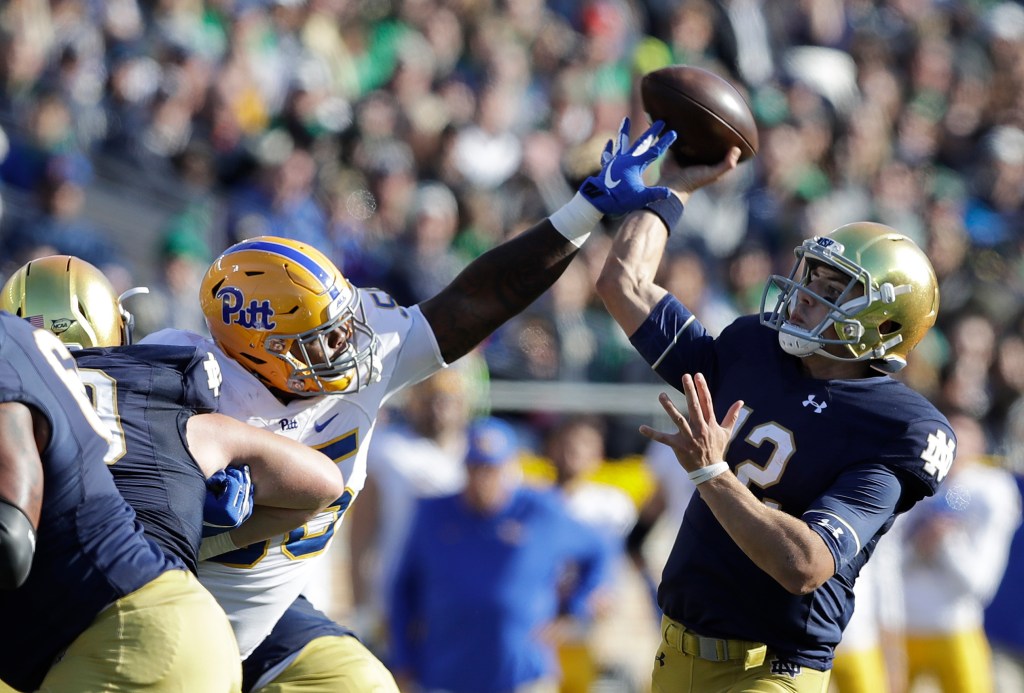 Those four possessions and their crippling factor, in order: A 16-yard sack, an interception, four consecutive rushes combining for four yards, and a rush losing two yards on first down. Book's second interception, ending a drive of 51 yards, also came as a direct result of not controlling the line of scrimmage, a pass rusher hitting his arm as he released the ball.
Losing fifth-year left guard and captain Alex Bars was always going to matter. It may more than realized. Senior Trevor Ruhland has played well in Bars' stead, and to a lesser extent, both in quality and in quantity, so has sophomore Aaron Banks. It is not that the drop-off individually is glaring. It is that any extra considerations up front now must first go toward that position rather than toward an extra defender in the box.
But in the end, the stubbornness of the opponent did not matter, the vacuum in the running game did not hold lasting effect, and a surprisingly-impotent offense got an off week reprieve, all because of the same luxury that bailed out the Irish back when senior quarterback Brandon Wimbush was struggling to put points on the board.
This Notre Dame defense is next-level good.
The Panthers averaged four yards per play, scored seven offensive points and even running back Qadree Ollison's best efforts amounted to just 50 yards on 16 rushes. Irish defensive coordinator Clark Lea has his unit humming in all directions, thus raising the floor of the season to a level comparable to the two teams directly ahead of Notre Dame in the polls.
[protected-iframe id="4322d87b3e2eb4d11caa19723fa3b36c-15933026-22035394" info="//platform.twitter.com/widgets.js" class="twitter-follow-button"]