Recency bias works both ways. Just two weeks ago, looking at Notre Dame's schedule was largely accompanied by some chuckling. Continued winning from Michigan, a rebound from Virginia Tech and quick 2-0 stretches from both Northwestern and USC now make the Irish calendar appear a bit more formidable than not at all.
That is, of course, in part an immediate response to the Wolverines topping No. 15 Wisconsin, the Wildcats upsetting then-No. 20 Michigan State a week ago and USC ending the unbeaten streak of No. 19 Colorado.
Michigan (6-1): The Wolverines rose to No. 6 in the AP poll thanks to a 38-13 rout of the Badgers. Considering one Wisconsin touchdown came in garbage time and Michigan never trailed, even that score is closer than the game actually was. The Badgers managed all of 283 total yards, holding onto the ball for a mere 22:59.
These types of losses do not happen to Wisconsin often.
The Wolverines hardly get a break, though, now traveling to No. 24 Michigan State (12 ET; FOX) as touchdown favorites with a combined point total over/under of 43. Rather than rehash the stats pertaining to Michigan going on the road against ranked opponents in the last decade, let's trot out a new one courtesy of ESPN's Dan Murphy: Since 2009, the Wolverines have gone 45-8 before facing the Spartans, but are 25-29 after the matchup. There is some scheduling noise to that discrepancy, but it stands out, nonetheless.
Ball St. (3-4): A 36-yard field goal with 47 seconds remaining gave the Cardinals a 24-23 victory against Central Michigan. The last-minute heroics capped off a 17-3 fourth quarter for Ball State.
This weekend should feature another one-possession game for the Cardinals, but that is largely a reflection of their upcoming opponent. Eastern Michigan (3 ET; ESPN+) has played in six consecutive one-possession games and is favored by three with an over/under of 51.5. Given the Eagles' experience in such situations, perhaps differ to them in the presumed 27-24 conclusion.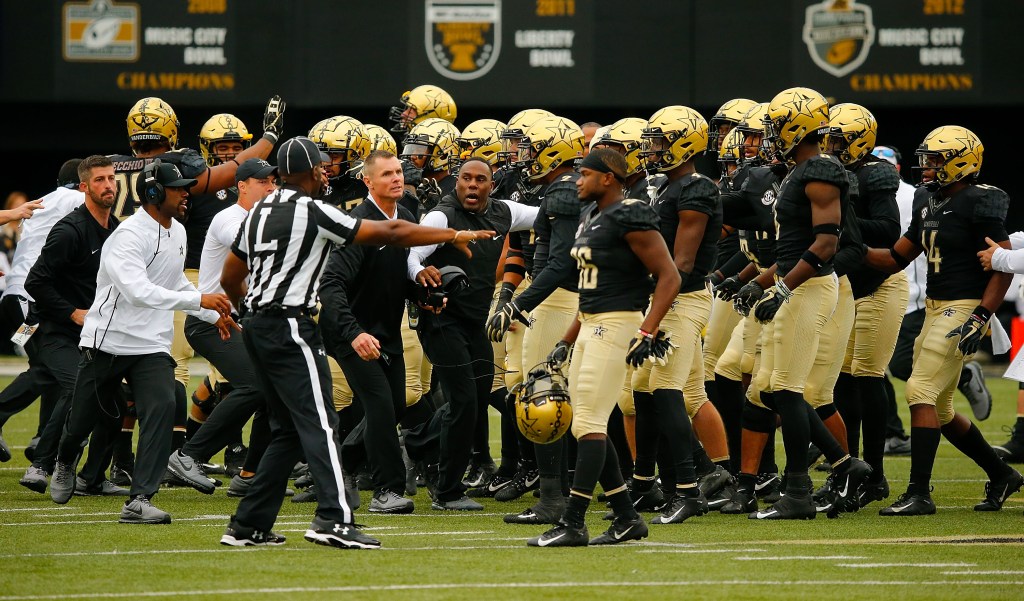 Vanderbilt (3-4): The Commodores lost 37-27 against Florida, but the story was about the coaches, not the game. Derek Mason and Dan Mullen got into a heated shouting match shortly after a Gator was ejected for targeting. The SEC opted to handle the situation behind closed doors, but it was not a good look for anyone involved and is the second time this year Mason has exchanged barbs with an opposing coach, even if his banter with Brian Kelly came days after their game.
Vanderbilt now heads to Kentucky (7:30 ET; SEC Network) to face one of the country's top defenses — don't laugh, it's true; S&P+ considers the Wildcats to be the No. 2 defense in the country, behind only Michigan's. As 11-point favorites with an over/under of 48.5, the math suggests Kentucky to give up 19 to the 'Dores. That feels ambitious.
Wake Forest (3-3): After an idle week, the Deacons have the treat of traveling to Florida State (3:30 ET; ESPN2) as 10.5-point underdogs. With an over/under of 60, at least a 35-25 result would be entertaining.
Stanford (4-2): Stanford's idle week sets the Cardinal up for two breaks. A Thursday trip to Arizona State (9 ET; ESPN) will make for another long week following. In order to avoid another stretch of regretting a loss, Stanford will need to make good on the bookmakers' expectations of favoring the road team by 2.5 in a 28-26 contest.
Virginia Tech (4-2): The good news: The Hokies beat North Carolina 22-19 to become one of two teams in the ACC at 3-0 with Clemson the other.
The bad news: Virginia Tech needed a one-yard Ryan Willis touchdown pass with 19 seconds to top Larry Fedora's debacle. The Hokies gave up 522 total yards to the Tar Heels, who average 406.6. In many ways, this victory was more confounding than Virginia Tech's three-score loss to Notre Dame.
But at least the Hokies enter their idle week with a win.
Pittsburgh (3-4): The Panthers will not have that luxury. For what it's worth, Pittsburgh is 1-2 in the games after idle weeks under Pat Narduzzi's watch, including a 31-34 loss to North Carolina last season when the Panthers were favored by nine points.
Navy (2-4): Things may be going from bad to worse for the Midshipmen. A 24-17 loss to Temple all but ends Navy's hopes of going bowling this year, which will be only the second time it has missed out on postseason play since 2002. The Midshipmen were outgained 209 yards to 284 and converted only 5 of 13 third downs.
Want the real shocker? Navy attempted 11 passes, turning to senior quarterback Garrett Lewis to try and spark the offense. He took 12 carries for 56 yards and one touchdown.
The Midshipmen are now 12.5-point underdogs against Houston (3:30 ET; CBSSN). The over/under of 60.5 indicates Navy should manage 24 points.
Northwestern (3-3): The Wildcats are not playing well, yet they are 3-1 in the Big Ten, the only loss coming to Michigan after Northwestern snatched defeat from the jaws of victory. This week's 34-31 overtime win against Nebraska should never have been that close, but the Wildcats' complete and utter lack of a run game makes the offense obtusely one-dimensional. Senior quarterback Clayton Thorson attempted 64 passes, completing 41 of them for 455 yards and three touchdowns with two interceptions. Meanwhile, 19 handoffs amounted to 39 yards with a long of eight.
Maybe Northwestern can find a ground game at Rutgers (12 ET; Big Ten Network), favored by 20.5 points with an over/under of 49. A 34-14 rout would go a long way toward establishing some semblance of momentum for the Wildcats.
Florida State (3-4): The Seminoles could return to .500 if they see through bookmakers' thoughts against Wake Forest. Any ACC hopes of glory have long since passed, but this would at least be a return to respectability.
Syracuse (4-2): Who gets Larry Fedora next? The Orange do, favored by 9.5 against North Carolina (12:20 ET) with an over/under of 65. There may be many more points than that.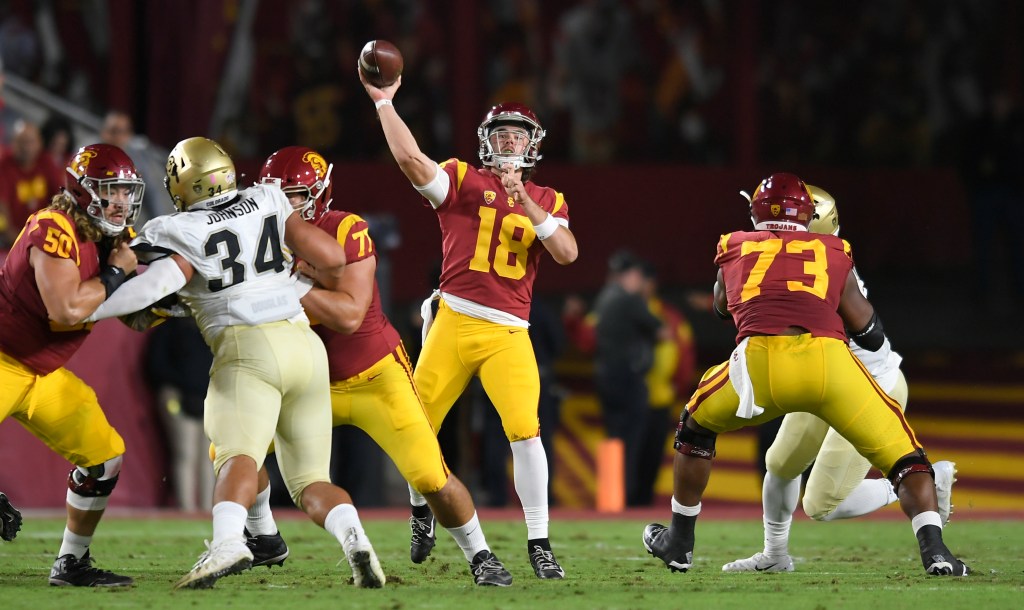 USC (4-2): The Trojans gave up 14 points in competitive time and 265 total yards while forcing three turnovers. That led to a 31-20 victory against the Buffaloes and kept USC in the driver's seat in the chaotic Pac-12 South.
That could change quickly with a loss at Utah (8 ET; Pac 12 Network), where the Trojans are 6.5-point underdogs. An over/under of 49 suggests a 28-21 dose of anarchy into the Pac-12 South Stew.
Thursday 9 p.m. ET: Stanford at Arizona State on ESPN.
Saturday 12 p.m. ET: Michigan at Michigan State on FOX; Northwestern at Rutgers on Big Ten Network.
12:20 p.m. ET: Syracuse vs. North Carolina.
3 ET: Ball State vs. Eastern Michigan.
3:30 ET: Wake Forest at Florida State on ESPN3; Navy vs. Houston on CBS SN.
7:30 ET: Vanderbilt at Kentucky on SEC Network.
8 ET: USC at Utah
Favorites: Michigan -7; Stanford -2.5; Northwestern -20.5; Florida State -10.5; Syracuse -9.5.
Underdogs: Ball State +3; Vanderbilt +11; Wake Forest +10.5; Navy +12.5; USC +6.5.
[protected-iframe id="4322d87b3e2eb4d11caa19723fa3b36c-15933026-22035394" info="//platform.twitter.com/widgets.js" class="twitter-follow-button"]