Checking in on predictions after seven of 12 games is not as obvious as doing so after six, but Notre Dame's idle week came a touch later this year, and these are the side effects. Fortunately, the first half of this preseason's 40 predictions have fared well enough to still trot out at this uneven midway point.
These predictions are somewhat summarized. If wanting more context on any of them, take a look back at the August entry in full: 40 predictions, 1-20 with an offensive focus.
1) The combined point total for Michigan at Notre Dame will come in below the long-held 48-point over/under.
2) The Irish and Wolverines will not even break 41 points.
3) The only way that total breaks 48 is with multiple defensive and special teams touchdowns.
RESULT: Three-for-three right out of the gate, even giving some warning of Michigan's 99-yard kickoff return touchdown.
Prediction No. 3 also included a reminder of the new kickoff rules, wherein a kickoff fair caught within the 25-yard line places the ball at the 25-yard line. Mentioning it was intended to keep the change on minds before it mattered, and it did when Notre Dame's Chris Finke signalled for a fair catch at the 12-yard line on a kickoff with only 2:18 left. The stands booed the decision, not remembering Finke had just moved the Irish to the 25-yard line with a chance to run out the clock or, at least, drain Michigan's timeouts.
This may be worth remembering in November if Notre Dame once again finds itself in a close game.
4) Senior kicker Justin Yoon will make the biggest kick of his life.
RESULT: This has not yet come to be, but it certainly looked possible last weekend until junior quarterback Ian Book's 35-yard touchdown pass to take the lead with only 5:43 to go. If the Irish drive had stalled there, instead, the subsequent field goal attempt would have tied the Notre Dame record and outdone Yoon's own by a yard.
5) Sophomore quarterback-turned-running back Avery Davis will attempt a pass on some variation of an unorthodox play.
RESULT: That has not happened and, frankly, given Davis' recent quality and lack of quantity of playing time, it seems unlikely it does. Since this needs just one snap to become a correct prediction, though, let's leave it as to be determined.
6) Irish running backs will have more catches than they did a year ago, then totaling 24 and led by Josh Adams' 13 for 101 yards.
RESULT: To date, five backs have combined for 20 catches for 220 yards, led by sophomore Jafar Armstrong's seven for 87 in only four games. For further context: Last year's 24 gained only 134 yards. Mark this up as an almost certainly likely correct.
7) While Notre Dame will not match last year's prodigious rushing output of 3,503 yards and 269.5 averaged per game, it will not fall to the depths of 2013 and 2014. Averaging between 214.5 and 224.5 rushing yards per game sounds about right. A mobile quarterback deserves credit for some of that reduced regression.
RESULT: Even before the quarterback shift benching senior Brandon Wimbush, this was going to be wrong; the Irish averaged 164.7 rushing yards per game in their first three contests. For that matter, even before last week's paltry 80 yards against Pittsburgh, this was going to be wrong, averaging 195.7 before that. As it stands, the current 179.1 average is very unlikely to jump the needed 35 yards.
8) Finke will match his career totals of 16 catches for 224 yards and two touchdowns.
RESULT: Finke already has 25 catches for 305 yards and a score, so let's call this one correct, and let's follow up that judgement with a confession: This prediction was nearly followed by a caveat along the lines of, "but not by much." The intention was to set the bar for Finke to contribute, but not to be a featured part of the offense. Through three games, that had somewhat born itself out, with 10 catches for 101 yards and a touchdown putting Finke on pace for 40 receptions, 404 yards and four scores.
The spirit of that unspoken qualifier was wrong, but predictions are not measured on the spirit of what was not said.
9) Two freshman receivers will outperform then-freshman Michael Young's 2017 of four catches for 18 yards and a score.
RESULT: Kevin Austin has managed three catches for 39 yards, so he just needs that touchdown, but it is unlikely this reaches fulfillment unless Joe Wilkins has a notable one-day showing.
10) Junior receiver Chase Claypool will not finish second in receptions or receiving yards, as he did in both last season.
RESULT: Claypool is currently fourth in catches with 23 and third in yards with 261. In the similar vein as that Finke clarification, this Claypool projection was a subtle way of saying 2018 would be boom-or-bust for Claypool. That has been the case, but to such an aggravating extent, one can already expect another offseason of storylines discussing Claypool's inevitable and supposed maturation.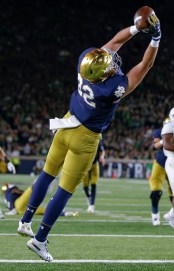 11) Fifth-year tight end Nic Weishar will catch at least three touchdowns, placing no lower than second among Notre Dame tight ends in the category. Last year Weishar caught nine passes, two for scores. That percentage could comically rise in 2018.
RESULT: Weishar leads the tight ends with two touchdowns to date, doing so on three catches. This is indeed somewhat laughable.
12) Wake Forest junior receiver Greg Dortch will score twice against Notre Dame.
13) Stanford senior running back Bryce Love will equal that.
RESULT: The two combined for one touchdown, which speaks to Irish defensive coordinator Clark Lea's game planning to take away what an opponent usually relies upon to inflict damage.
14) Virginia Tech will be a primetime matchup.
15) The Hokies' "Enter Sandman" entrance will be memorable, but not as daunting as the entrance of Mariano Rivera to the same tune.
RESULT: Never have there been two more surefire predictions.
16) Book will attempt fewer than 75 passes, his total of a year ago.
RESULT: Book has completed 103. This was wrong.
17) Sophomore offensive lineman Josh Lugg will start multiple games. Notre Dame's offensive line enjoyed remarkable health last season.
RESULT: The logic to this prediction has proven valid with fifth-year left guard Alex Bars' torn ACL creating a massive hole on the line, but it has not been Lugg who stepped in. Senior Trevor Ruhland has taken much of that load, and even among the sophomores, it does not seem Lugg will be the first choice. Irish head coach Brian Kelly has mentioned Aaron Banks repeatedly as Ruhland's potential tag-team partner, a dynamic seen only momentarily through two games without Bars.
18) Multiple freshman offensive linemen will play thanks to the NCAA's shift regarding eligibility concerns.
RESULT: Three factors indicate this will end up wrong. Close home games against Ball State, Vanderbilt and Pittsburgh removed chances for spot appearances from reserve linemen. Among the freshmen linemen, only Jarrett Patterson traveled to Virginia Tech. Notre Dame has just one true home game remaining, meaning only Patterson, who has already seen some time, will be available in the other four, rather than the three other freshmen linemen.
19) Former Notre Dame quarterback DeShone Kizer will not see much success this season.
RESULT: Kizer had his chance to prove this wrong. He did not, turning the ball over twice in needed action against the Chicago Bears in the season opener.
20) The Florida State weekend will include a 30th anniversary celebration of Notre Dame's 1988 title team.
RESULT: There has not been much of one yet, and that is the only remaining true home game, so this seems a correct result waiting to happen.
MIDSEASON VERDICT: 7-5 with eight yet to be determined. The trends point toward 11-7 with two very much still unknown.
More than those numbers of relative success, what stands out is how the change to Book invalidated one prediction and compromised the underlying intention of another. His play changes that much of what was expected from the Irish before the season.
Similarly, even among offensive predictions, the aggressive scheming from Lea shows through. These are the stories of Notre Dame's year, Book and Lea, no matter what was expected in August.
[protected-iframe id="4322d87b3e2eb4d11caa19723fa3b36c-15933026-22035394" info="//platform.twitter.com/widgets.js" class="twitter-follow-button"]