Notre Dame is undefeated, and for the most part, that is good enough. Yet, concern about the No. 4 Irish showed itself in this week's call for mailbag questions through references to other programs, be they Pittsburgh, Alabama or Michigan. Yes, that is the first time in 2018 those three have been mentioned in the same breath. Maybe the first time this decade.
Let's begin with the most recent Notre Dame victory and work our way toward ending with some philosophical Wolverines wonderings.
Brian Kelly shrugged off the difficulty the Irish had against the game plan Pitt put into place. But the concern is, of course, that it WORKED. The counterargument is that there were quite a few missed passes that would have changed things (dramatically) and quite a few missed blocking assignments that could have broken for us.
But doesn't this just tell every other team on our remaining schedule what the blueprint is for containing the Irish? And if so, what is the next chess move for Kelly to counter it? — Mark H.
It worked? Notre Dame won, right? And the defense gave up just 242 total yards, one score and 4.0 yards per play, right? Right. Just making sure.
Pittsburgh's method worked only to that extent; it was not enough. That is the first counter: Continue relying on the Irish defense.
The next thing to remember is teams take on their coaches' dispositions. The Panthers follow Pat Narduzzi's lead, and to a lesser extent, defensive coordinator Randy Bates. That results in a defense willing to sell out against the run when told to, even if doing so comes at the expense of the secondary. Not all other teams will have that success or the roster designed for it. The current iterations of Navy and Florida State, for example, very much do not, and USC needs to worry now with senior linebacker Porter Gustin out for the year.
Lastly, some of this is overreaction forgetting the Irish can indeed counter this defensive strategy, and that will start with junior quarterback Ian Book. He was "antsy" and "skittish" against Pittsburgh, to use his own words. To offer a broader description, Book was nervous about any version of a pass rush. He had not yet faced a stacked box like that, and the first appearance of one reminded Book he is a first-year starter leading an unbeaten team toward the Playoff. If the moment did not get to him, some version of doubt did, be it in himself, the offensive line or the game plan.
Book spun away from not-yet-threatening pass rushes too often against the Panthers. Fortunately for Notre Dame, that should not be a difficult bad habit to break upon some film review. If Book realizes his happy feet actually got him into more trouble than they evaded, he may settle down when Northwestern — where Bates was defensive coordinator as recently as last year — tries a similar strategy. At that point, exploiting the minimalist secondary should be readily possible.
Losing a night of sleep after Virginia Tech may have affected the team's performance against Pitt. Why doesn't the team spend the night after a late away game? Would it be an NCAA violation? Is it just about cost? — Joseph B.
Notre Dame reportedly plans to do just that after the Navy game in San Diego kicks off at 8 ET. The flight back from southern California will also cover about 1,800 miles, compared to only 450 or so from Virginia Tech. That trip really was not very lengthy.
Given those November plans, it is obviously not an NCAA violation, but there is a logistics issue when the kickoff time is not announced in the summer. If the Lane Stadium festivities had ended up dampened by sunlight, then what would have been gained by staying the night? That kickoff time was not known until six days beforehand.
What, if anything, does sending clips of holding calls/penalties to the ACC do? So far, seen no results. — @sogdeaux
Let's presume you are sitting at a table as you read this. Seems a reasonable possibility. If not, pretend.
Now, can you prove to me there is not a ghost under that table? Can you prove to me you have not seen any effects of Notre Dame sending in clips to the ACC pointing out missed holding calls?
It is very possible the Irish coaching staff would have sent in a dozen clips after the Pitt game if not for pointing out some holds missed at Wake Forest. Likely? No. But you cannot prove otherwise.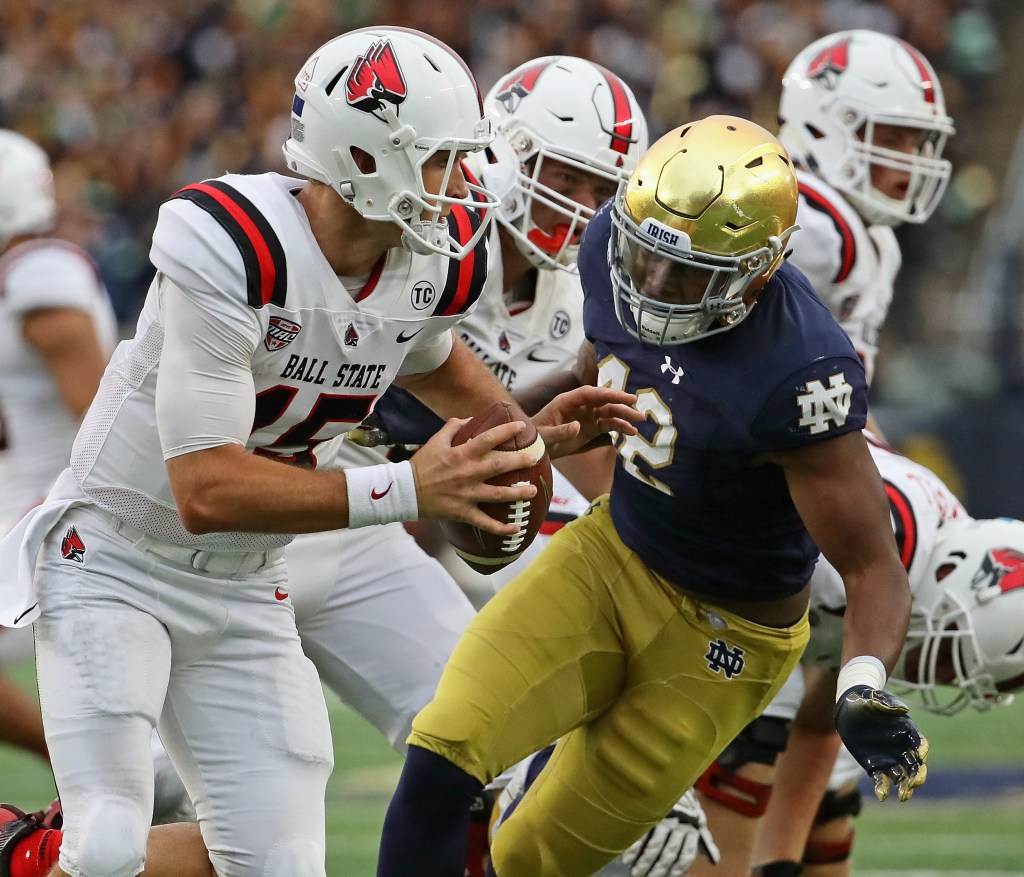 That is the point of sending in the clips. No matter what, calls are going to be missed. These are part-time officials trying to keep up in a game that is going faster and faster with bigger and stronger athletes. It is an utterly thankless task. If Notre Dame can point out — this is strictly a hypothetical — junior defensive end Julian Okwara is often grabbed by the shoulder when he executes a swim move, then an official may be more apt to look for that grab when he sees Okwara begin that paddle motion.
Calls will continue to be missed, but the effect is the call that is made that otherwise would not have been, the ghost under the table you will never see nor even know exists.
With the season more than half over and plenty of empirical evidence at your disposal, can you handicap which seniors will be offered fifth years and who will likely accept? Similarly, which, if any, juniors are likely to enter the 2019 draft? — @kenjomanMcd
First, let's ruminate on the wonders and bewilderments of technology. This rough draft is getting typed at an airport gate awaiting a flight south. Rather than pay for 90 minutes of shoddy wifi or unnecessarily use up hotspot data, the internet is disconnected. That makes itself clear in the lack of spell check in this particular Google Doc. Yet, somehow, the "2018 Depth Chart" Google Spreadsheet can be opened, although it has never been backed up on this computer.
All this is to say, that oddity is the only reason this question gets pondered right now, and it is also why it took genuine sounding out to spell minimalist earlier.
There is little difference between getting offered a fifth year and accepting it. If the former were to occur without the latter, word would never genuinely leak on that. Only eight current seniors have another year of eligibility available: quarterback Brandon Wimbush, receivers Miles Boykin and Chris Finke, tight end Alizé Mack, offensive lineman Trevor Ruhland, defensive lineman Micah Dew-Treadway, linebacker Asmar Bilal and defensive back Shaun Crawford.
The quicker question to ask is who does not come back. Wimbush heads that list. Even if an injury forced him back into playing time and he led the way to the Playoff, a happier final collegiate year will be found elsewhere, and Wimbush leaving for those pastures would open the gate for current freshman Phil Jurkovec to be no less than Book's backup in 2019.
Dew-Treadway has given little reason to incur a fifth-year, especially with Notre Dame curating the concept of defensive depth previously unseen in these parts.
The other six would all return to starting and contributing roles, though there is some question to Mack getting approval for it, given his academic suspension in 2016.
As for early-departing juniors, no offensive player has shined enough to warrant consideration, and yes, that is a reference to receiver Chase Claypool. Defensively, cornerback Julian Love and defensive ends Khalid Kareem and Julian Okwara could conceivably have decisions to make. Okwara in particular seems ripe for more development before heading to the NFL draft, but those other two may receive positive enough feedback to warrant strong pondering of collecting paychecks.
Do you see any assistant coaches leaving the Irish this year to jump to a head coach opening in college or an assistant coach position in the NFL? — Charles C.
The latter such move is not seen very often, Harry Hiestand aside. Complete staff continuity is also not seen often, as evidenced by the fact that Notre Dame's coaching staff seemed ready to remain intact as Boykin raced to the end zone against LSU in the Citrus Bowl, and Brian Kelly still eventually had to replace Hiestand and defensive coordinator Mike Elko.
At the very least, defensive line coach Mike Elston is ready for a head coaching gig, has told Kelly that and has been groomed by Kelly and director of athletics Jack Swarbrick for that.
A few years ago, Kelly and Swarbrick led an unsuccessful effort to get then-running backs coach Tony Alford the head coaching job at his alma mater, Colorado State. If Elston spots an opening he would like, expect a similar full-court press  With Bowling Green already looking and Chuck Martin facing the prospect of his fifth season below .500 at Miami (OH), the possibilities for Elston will be there.
How about some talk about what ND can do between now and January to get ready to face Alabama in the semifinal? — Pat C.
Pat went on to list a thought about every Irish position group, which should pretty much offer the answer to his question. You don't want 'Bama. Ain't no one outside of Louisiana want 'Bama.
Oh, and by the way, just to start drilling this into heads in case it really does come to matter: The semifinals are not in January. They are Dec. 29.
For the new eligibility rules, do bowl games/postseason games count toward the limit of four? — @ChadComey
Yes. And before you ask, each Playoff game counts toward the total separately.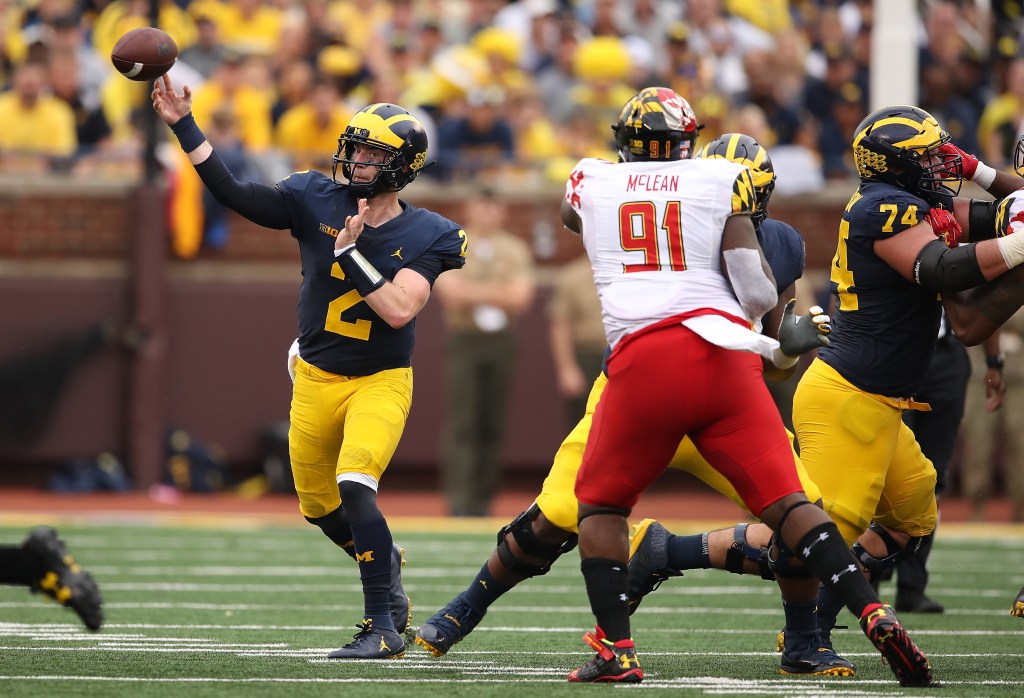 Would you be of the opinion that we need to root for Michigan or naw? — @IRISH_GL
This is not an attempt to avoid the question. It is an effort to show how tricky this calculus can be. Do you think Notre Dame will lose yet this year?
If not, then go ahead and root for Michigan. If the Wolverines were to go 12-1 to win the Big Ten, it should not affect the Irish. For this hypothetical, let's presume Alabama and Clemson finish 13-0. The concern about Michigan is better stated as worrying not one, but two one-loss teams would get in ahead of 12-0 Notre Dame. If the Tide are 13-0, then there isn't even a one-loss SEC team to insert into the hypothetical. Someone from the Big 12 would have to finish that round-robin-plus without losing again. Then, the debate would likely be about Texas (or Oklahoma or West Virginia) against Michigan. The Irish should be clear.
If expecting Notre Dame to lose, then a Wolverines loss may be helpful for the Irish cause, especially if it does not come against Ohio State. The way Michigan is playing, it could slip in ahead of 11-1 Notre Dame. You don't like it, but it's in play. If the Wolverines perhaps lost to Michigan State this weekend and then beat the Buckeyes, that would be the ideal setup, along with some Big 12 chaos, for the Irish coming out of Los Angeles with a close defeat.
Reading back on that thought process, the summarized logic indicates Notre Dame fans should root for a Michigan defeat. The Wolverines at 12-1 can do nothing but hurt an 11-1 Irish. Michigan at 12-1 does not impact undefeated Notre Dame, and there need not be fretting about the first undefeated Power Five team excluded from the College Football Playoff being the only one that does not need a conference to be considered a Power Five team.
Here's one that's stemming from a conversation with the #NDTwitterati … If you had a button that could eliminate Michigan football permanently, but also erases any trace of them from memory and history, do you press it? — @IrishSBender
Ever seen someone cut off their own nose? It's not a good look. There is some phrase about spiting your face. It is referencing this.
Who first taught Notre Dame football? Michigan. So go ahead, press your red button, erase the Wolverines' gridiron history. You'll be losing Irish lore with it.
[protected-iframe id="4322d87b3e2eb4d11caa19723fa3b36c-15933026-22035394" info="//platform.twitter.com/widgets.js" class="twitter-follow-button"]