It was Notre Dame's week off, so any leftovers around here are minimal at best. There isn't enough to make a full sandwich with, if you will, but perhaps enough to satisfy a craving for 45 minutes before dinner is served. In other words, the idle week doesn't truly end until Tuesday morning.
As expected, the fingers hitting these keys did not touch a remote this weekend. But that didn't stop them from cruising Twitter and learning a few things that need to be investigated this week, most likely by Tuesday morning:
It sounds like …
— USC's quarterback depth chart may no longer exist.
— Syracuse's quarterback depth chart is about to enter into a controversy.
— Jim Harbaugh is in the middle of another controversy.
— Something largely possible because Harbaugh feels emboldened by Michigan's success, finally notching a road win against a ranked opponent.
— Those rankings are becoming an issue as people debate Notre Dame and Michigan, missing the point that if both win out, both will be in the Playoff.
— The exact seeding possibilities will start to sort themselves out a week from tomorrow (Tuesday), when the selection committee releases its first ranking.
— The Irish will then immediately have a chance at a comparison point between them and the Wolverines — ya know, aside from the 24-17 Notre Dame victory to open the season — when they head to Northwestern.
— What is worth remembering about Michigan's 20-17 victory at Northwestern on Sept. 29 is the Wolverines put themselves in a 17-0 hole before getting their act together, their last real scare this season despite now coming off back-to-back top-25 matchups. (No offense, Maryland, but your 7-3 first-quarter lead was not really all that terrifying.)
Now then, some questions …
Will Irish sophomore running back Jafar Armstrong be available to play against Navy (8 ET; CBS)?
Head coach Brian Kelly loosely targeted Armstrong's return for after the idle week when a knee infection first sidelined him the week before the Stanford game. The simultaneous — but obviously unrelated — return of senior running back Dexter Williams from an undisclosed suspension made Armstrong's absence much more palatable.
Nonetheless, adding Armstrong to Williams and junior Tony Jones would create a genuinely deep running back rotation. Fresh legs are a rare commodity at the position in November, but Notre Dame might luck into them.
That is, if Armstrong's fitness was not damaged too much by the four-week break, which included six days in the hospital at one point.
"It's complicated in the sense that six days sounds like a lot," Kelly said Oct. 9. "We were draining the knee area and making sure that no infection would get in there. So it required a round-the-clock maintenance on that, and it's something that's better done in a hospital environment than back in the dorm."
Admittedly, this is a question which will go unanswered into the weekend, but it is worth acknowledging well ahead of time.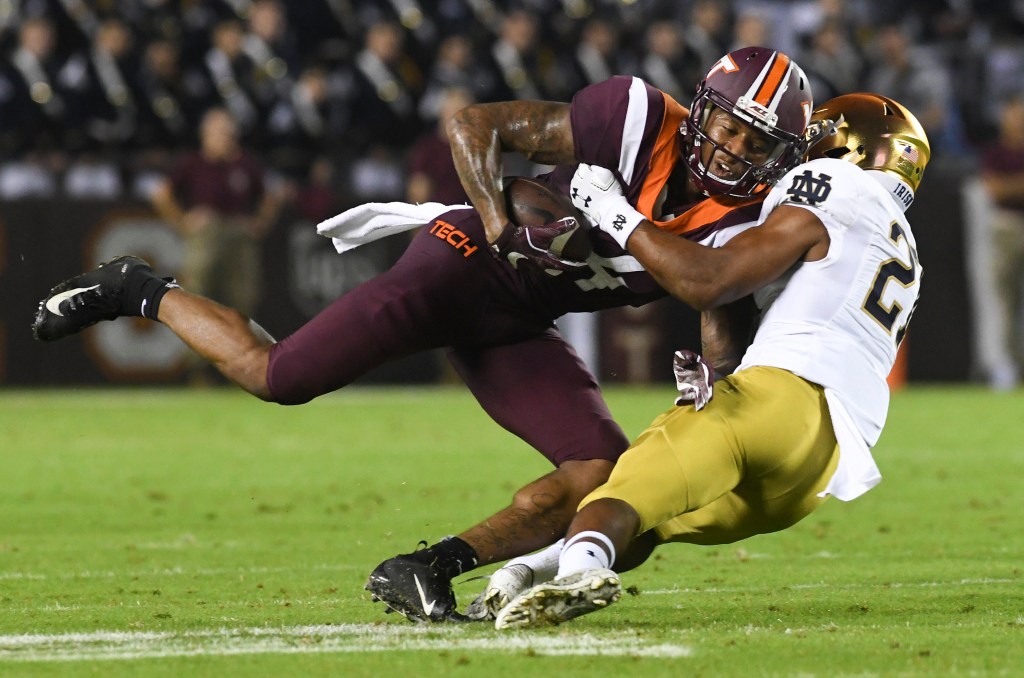 Despite vastly-improved safety play, will the Irish still move Julian Love to safety from cornerback, as they did last year?
The then-sophomore made a career high 14 tackles that day, with 10 of them solo. His nose for the ball is best-suited against the Midshipmen when he can play close to the line of scrimmage and stop the triple-option from the outset, rather than fight off a block on the sideline and then work his way in.
If they do so, will Donte Vaughn get another chance at cornerback?
The junior was benched against Pittsburgh for poor coverage and shoddy tackling. Freshman TaRiq Bracy acquitted himself quite well filling in for Vaughn, and one could be forgiven for readily presuming Bracy would be Notre Dame's third cornerback (behind Love and junior Troy Pride) moving forward.
This weekend may be the exception.
"Donte has got length, and we like his size," Kelly said even after that on-field change against the Panthers. "… Donte is much more of a physical player against the run."
INSIDE THE IRISH READING
— Notre Dame's stressful weekend was inevitable; kicking woes were not
— Notre Dame's Opponents: Maybe they aren't as bad as thought?
— Refreshing Notre Dame's Playoff possibilities
— Refreshing predictions from Notre Dame's preseason
— No. 4 Notre Dame's defense spurs it past preseason big picture predictions
— Big-Picture Mailbag: Wherein Notre Dame fans somehow worry
— Friday at 4: Forget about football, just this once, just this weekend
OUTSIDE READING
— A family photo's journey, with Twitter's help, ties together Pitt and Notre Dame
— NCAA Midseason All-American Team from Pro Football Focus
— The Athletic's midseason college football All-America teams ($)
— 6 college football teams that have greatly underdelivered this season
AND A THANK YOU
A couple Mondays back, this space mentioned a marathoner named Brad. The closing line of Friday's column was, "Could somebody text me score updates for Clemson at NC State?"
Brad actually did. That's going above and beyond right there.
Minutes before he did so was also the only chance to personally watch any college football over the weekend. While on a swamp tour in the bayous of Louisiana, the flat-bottomed boat cruised by a house closer to a wild pig breeding ground than to any roads. One man sat on the deck in a rocking chair. A TV made in the mid-90s played Alabama at Tennessee. As Captain Ron said hello to Mr. Jones, this tour now included not only alligators, blue herons and abandoned cement barges, but also the ideal embodiment of how pervasive football is in the United States.
[protected-iframe id="4322d87b3e2eb4d11caa19723fa3b36c-15933026-22035394" info="//platform.twitter.com/widgets.js" class="twitter-follow-button"]