There might never be a good time to face Navy's triple-option offense, but Notre Dame head coach Brian Kelly has said he prefers it coming after the idle week, removing the impetus to work on defending the unique attack as much during the rest of the season. The Irish still typically prep some in the preseason and certainly get the scout team ready in the weeks preceding, but the primary work comes during this bit of extra time. Nonetheless, Kelly would not mind more.
"We could use two more bye weeks to prepare for Navy in terms of what they present to you," Kelly said Tuesday.
Notre Dame does not have two more weeks, and neither do Irish fans. Here to offer a refresher on the Midshipmen is Ava Wallace of The Washington Post …
DF: Ava, it is not like Navy is an unknown commodity to Notre Dame fans, or any college football fans, yet this year seems to be quite the anomaly. Thanks for taking some time to perhaps explain it to us. This is, by far, the worst start to a season in Ken Niumatalolo's 11 years there. Have you been surprised by this 2-5 beginning, or was the dip somewhat expected?
AW: A dip of this level was definitely unexpected. I think the fan base was prepared for some growing pains, as this is a relatively young team facing a pretty tough schedule, but to lose to Air Force in that fashion and to drop two games at home — which so rarely happens at Navy — has been somewhat shocking. You can see it in the stands each week; the crowds this year have looked thinner than usual. (Editor's Note: Navy lost 35-7 at Air Force and lost its last two games, against Temple and Houston, at home.)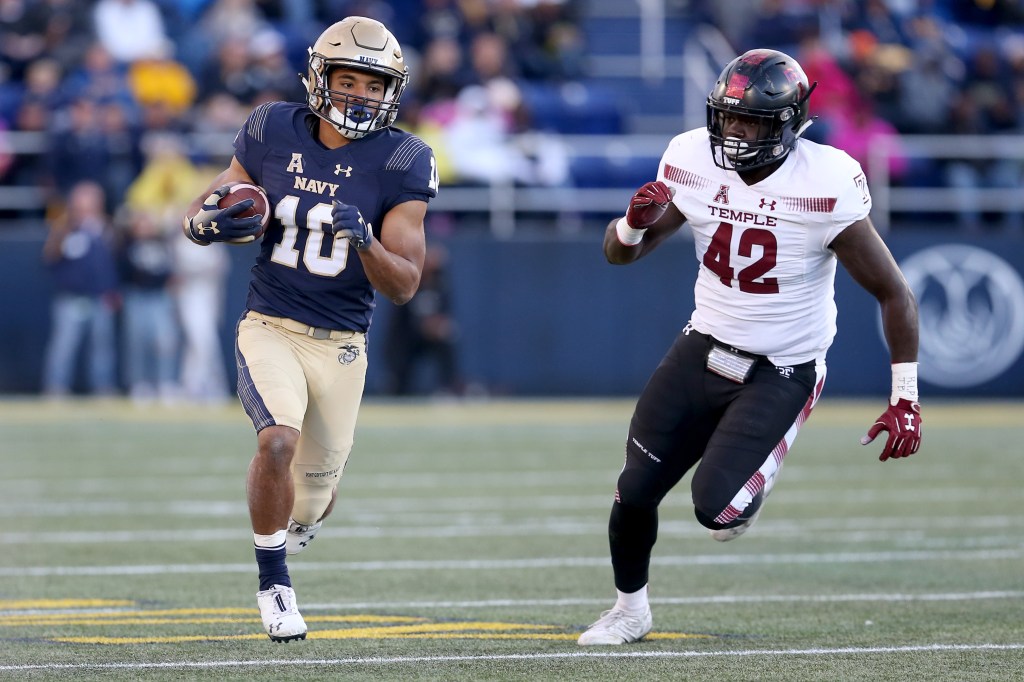 DF: Maybe I am forgetting an instance or two, but I cannot remember the last time there was this much of a question around Navy's quarterback. Even Kelly said he has readied for three different possibilities — Garret Lewis, Malcolm Perry and Zach Abey. They bring three very different skill sets, kind of shocking considering the offense they all run. Which do you expect to carry the load Saturday night?
AW: For the first time in a few weeks, we finally have some clarity! Niumatalolo said Tuesday after practice he's going to continue starting Garret Lewis at quarterback and Malcolm Perry at slotback. Zach Abey will continue his quarterback/wide receiver role. Niumatalolo clearly wants his offense to find some consistency here, which is something they've struggled with all season. This setup also makes the most sense to me, in that Lewis is much more confident in his arm than Perry is and makes the offense that much more versatile and dangerous as a result. And hey, if they still want Perry to have the ball every snap, that's still an option.
DF: Earlier this season you spoke of that mythological creature to me, something akin to the Loch Ness Monster and Bigfoot … a passing threat as Navy's quarterback. Can Lewis be a viable change of pace in both a game and in the season? Any tilt toward passing would be quite a shift for Niumatalolo's triple-option.
AW: Now now, "threat" might be a bit of a stretch … but Lewis certainly gives Navy offensive coordinator Ivin Jasper more options than Perry did. I don't think we'll see any shift toward the passing game because at the end of the day, Lewis is still a triple-option quarterback, Navy's been doing what Navy does for decades and Niumatalolo has preached after every game that the Midshipmen can't panic just because of this slide. To me, upending your offensive playbook reeks of panic. But Lewis does offer a nice change of pace in his own way. Just watching him in games, he has a control and comfort leading this offense that Perry really had to work for.
DF: Looking at the stats, Navy is rushing for 310.1 yards per game, a number it fell to as recently as 2016, when it still reached the AAC title game. The figure that is lower than usual is the yards per attempt at 5.13, lowest since Niumatalolo's second year, 2009. Not to get too simple, especially when talking about five yards per rush, but where is the shortcoming most apparent? Ball carriers? Offensive line?
AW: It's never one single thing, but the factor that comes to mind first is the play calling. Jasper was the first to say so after the Air Force game, a low point for the offense in which the Mids had 129 rushing yards and averaged 3.1 yards per rush. Especially during the first five games of the season, the offense has been more one-dimensional than in the past, and Jasper is relying a ton on Perry. Navy made it easier than usual for defenses to adapt when he had Perry run the ball every snap. Perry's also on the smaller side — he's listed somewhat generously at 5-foot-10 and even though he's added weight, he is a slight kid who took a beating at quarterback. Once defenses figured out he was going to carry the ball 85 percent of the time, Navy's offense was easy to limit.
Jasper has since remedied that and the offense has looked good for spurts in the past two games, but the slotback corps is young. They're relying more and more on the fullbacks each game. It's helping, now they just need to stay consistent for more than one half.
DF: Defensively, Navy is giving up 419.7 yards per game. That is more than usual, but still not an outrageous outlier. Four of the last seven seasons have included defenses giving up more than 400 yards per game. Is this year's slight uptick a byproduct of the offense not holding onto the ball as much or just a bit worse of a defense?
AW: I think it's mainly a product of the offense not holding onto the ball as much. Navy's defense has had good moments and they have a few quality playmakers, but they've faced solid offenses so far and have received little support from their own offense.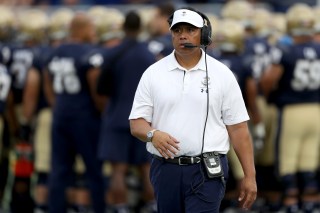 DF: Lastly, it needs to be asked, how have Niumtalolo's recent flirtations with other jobs been received around Navy? A few years ago he considered heading to BYU. This offseason it seemed he was about to go to Arizona. Acceptable after a decade or still viewed in a negative light?
AW: The thing that matters to most to this fan base is that he's stayed both times when he could have left for bigger programs. He's earned himself a lot of leeway and trust because of that. At this point, given the loyalty he's showed to this school, I think most fans understand and accept that he's going to at least follow up with job offers when other schools come calling.
DF: And before we go, how about a prediction? Can Navy keep Saturday night within three scores?
AW: Here are the two contrasting things I'm wrestling with: Notre Dame has had an extra week to prepare for the triple-option, and Navy has fared pretty well as an underdog against these guys in the past couple of years. But ultimately, nothing about this season at Navy is going as well as the past couple of years have, so I'm going with 51-24 Notre Dame.
[protected-iframe id="4322d87b3e2eb4d11caa19723fa3b36c-15933026-22035394" info="//platform.twitter.com/widgets.js" class="twitter-follow-button"]