If you boldly and publicly promise to answer every mailbag question received, you do so, even if they come via direct message from a Twitter account you muted, even if it is Navy week and just thinking about the triple-option this much dulls the senses, even if it was a week spent in recovery and not in writing.
Notre Dame fans are relentless, after all, or maybe this was all a long setup for a later reveal …
Anyway, a few somewhat repetitive inquiries about the No. 3 Irish, answered:
With Pitt showing that press coverage throws off our passing game, what do we do to stop other teams from doing the same? — @sgodeaux
Is it just me or does it seem like Chip Long calls an abundance of stretch runs or bubble screens to the short side of the field? Common sense would say those plays should almost always be called to the weakside. — Jason V.
What is your favorite play the Irish have called on offense and why? What does that tell you about the team thus far? — Daniel M.
These all fold into each other, so let's address them together. The answers to the third are ready issues for a pressing defense, like mentioned in the first, and they actually include the screens referenced in the second.
To those screens first off, the point of such a screen or even a stretch run is to get the ball to the perimeter as quickly as possible, where there is a better chance of finding a seam for a vertical gain. Why a better chance? There are fewer defenders along the sidelines than in the middle of the field.
Sending those plays toward the boundary side of the field simply means the ball is on the perimeter that tenth of a second quicker. If executed well, no one coming from the middle of the field should be able to crash that vertical seam, even if the ball is thrown to the near sideline. If throwing to the field side, the far sideline, then the defenders there have that tenth of a second more to ready for the quick action.
The goal is to eliminate as much of that time as possible, so the short side of the field actually makes common sense.
Those are not "my favorite play" thus far, but they fall into a similar category. Whether aligned with three receivers and one tight end or two and two, a standard set of route trees include a finite number of variations. Finding ways to grow those possibilities exponentially is when an offense can put a defense into an unavoidable bind.
With that in mind, Long dialing up two wheel routes to junior running back Tony Jones against Vanderbilt led to 56 yards on just two plays. This is a piece of the offense Jones offers that few running backs do. He was natural in catching those passes and smooth in running the routes. The chunk plays left the Commodores somewhat short-handed. They could either focus on Notre Dame's receivers or devote a safety to Jones, but not both.
Factoring in the tight ends leads to similar results. A few times this year, two tight ends have lined up on one side of the line and run parallel routes to different levels. If a safety is not devoted to helping on one of those tight ends from the outset, then a linebacker has to choose to cover either the short route or the deeper route. Book simply throws to the other. If a safety is committed to helping on that deeper route, then that just means there is one less defender to help over the top on senior receiver Miles Boykin or junior counterpart Chase Claypool. (This can cut against the Irish. It was this type of alignment criticized this morning for a fourth-and-short failure against Pittsburgh. An over-reliance on anything renders it ineffective.)
This is where football is often referred to as chess, and anything thinking a few moves ahead is what an acknowledged Process Truther always prefers.
Why does ND refuse to throw the ball in the middle of the field? I can count on one hand the passes that have been thrown in the middle? Doesn't matter zone or man, they seem like there is no plan even with the big receivers they have. Everything is an out pattern or a wide receiver screen out of a bunch formation or a go route down the sideline. Finally threw a couple late in the Pitt game scoring a touchdown to win the game. — Paul L.
Well, hyperbole aside … The sidelines are where large receivers are at their best. They can use they size to outduel one defender, rather than run the route toward the safety. It really is that simple.
Those out routes and back shoulder throws have been nothing but efficient since the quarterback change. They are a large reason Book leads the country in completion percentage.
And that late touchdown against Pittsburgh that came down the middle? That was not down the middle. It was, in fact, a go route down the sideline that Boykin naturally broke in a few yards on his first move as the coverage allowed, yet he never crossed the hash marks. And it remains a picture-perfect throw from Book …
Love your work on this site. Can always count on you to give an unbiased opinion, no matter what transpires on Saturdays. My question is about Alizé Mack. Am I the only one who notices that he never breaks tackles? Outside of the beginning of the Pittsburgh game, he normally is a catch-and-go down guy. For someone his size and ability, that is certainly unexpected. — Thomas W.
First off, thanks for the kind words, Thomas. While this was submitted last week, it was nice to reread them after this long week. As for Mack, I am one to give the benefit of the doubt. That is, at least in part, because that has not stood out to me all that much. Have any of Notre Dame's receivers broken a plethora of tackles this year? Their primary concern is catching the ball and then turning up field, and Mack has improved in those regards this year. My oh my has he improved in those regards.
Coming into the year, his career totals were 32 catches for 356 yards and a score. He should match them this season alone, already with 25 receptions for 240 yards and a touchdown.
Some of this issue seems to be expectations, something Mack has struggled with on his own, as well.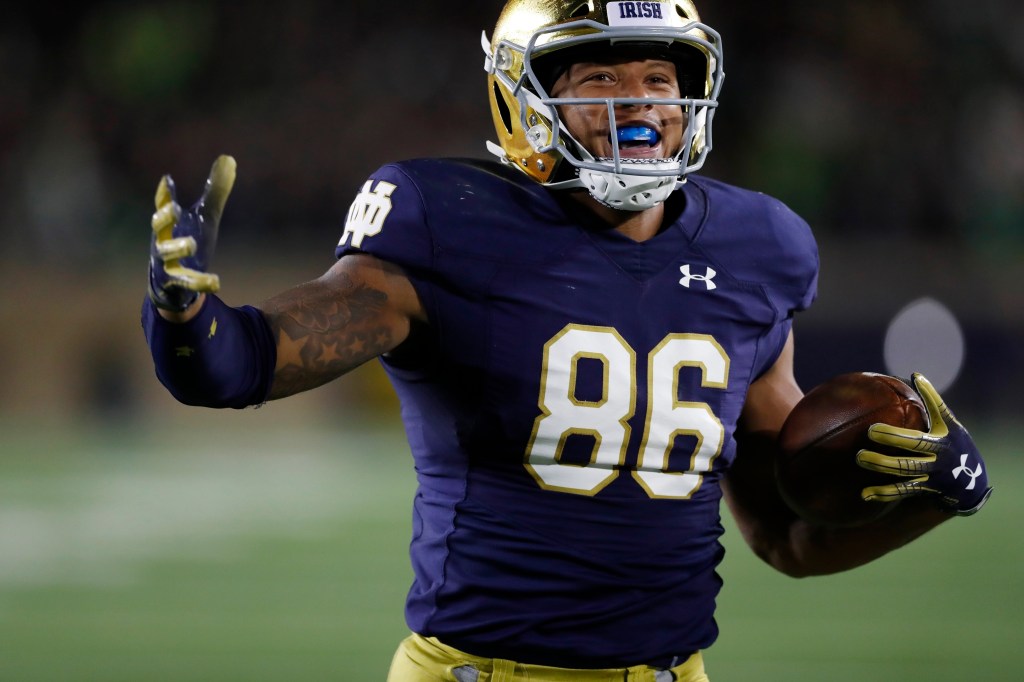 "I think maybe Alizé came in here with the sense of, 'I'm one and done,'" Kelly said Thursday. "Certainly Notre Dame is not that. You can't function here unless you really get your feet on the ground and commit to what Notre Dame is all about. … It was a process of him figuring out why he was here and what he needed to do to make it work and that's why he's starting to have the success he is."
On a different note, it has been telling this season to hear Kelly discuss Mack, senior running back Dexter Williams and senior linebacker Te'von Coney. All have had disciplinary issues in the past, and oftentimes a nuanced ear can hear the struggles remaining in those regards when Kelly either tiptoes around a question or outright mentions "traits." With those three this season, he has referenced their missteps, and in doing so he makes it clear they have moved past them.
As another example, regarding Coney:
"He's had to make some good choices after making some not-so-good choices. A lot of the credit goes to him in making good choices along the way here in the last few years …"
There have been particular players in the past about whom Kelly would have avoided mentioning those "not-so-good choices" and in doing so seem to indicate those might still be concerns. These three seniors, given time and multiple chances, appear to have born out the good faith.
What do you think of Clark Lea this far into the season? Do you think his success is more a holdover of what Mike Elko did last year to set the foundation or do you think he has contributed significantly? Further, a large part of the success of a good defensive coordinator is his ability to recruit well. Any reports on how Lea is doing on the recruiting front? — Daniel M.
What is your favorite play the Irish have called on defense? — Daniel M.
Daniel M. brought questions. To the recruiting wondering, 10 defensive prospects have committed in this class, and that includes 4 four-star defensive linemen and 3 four-star defensive backs. Let's not worry about recruiting.
Lea has been excellent, and some gratitude is certainly due to Elko, who is doing impressive things at Texas A&M to this point, but if anyone is not getting enough credit, it is defensive line coach Mike Elston. That front is making Lea look brilliant. My favorite play call? Every single stunt the defensive line has run, giving its athleticism and speed a moment's head start against a hesitating offensive lineman. Junior end Khalid Kareem's game-clinching sack against Pittsburgh was hardly a great rush from him. The offensive line was just that confounded by a stunt with junior end Daelin Hayes. Daniel, you could have chased quarterback Kenny Pickett in that moment.
Those calls trace to Lea, but they are possible because of Elston's work.
Moral dilemma. Goin' to the BC-Miami game tonight. Don't know who to root against more." — Pat K.
Conceivably, Virginia Tech can still win the ACC Coastal, despite last night's mistake against Georgia Tech. In that regard, a Miami loss could behoove Notre Dame. As discussed with Northwestern this morning, it is hard to dismiss any Power Five divisional champion, even if it comes from the chaotic Coastal where it remains possible every team finishes 4-4 in ACC play.
The Irish schedule still has hopes for Stanford and Michigan in this regard, as well, while USC's divisional chances no longer need much be discussed.
Also, tonight is Boston College's Red Bandanna game. You can't cheer against the Eagles at the Red Bandanna game.
http://www.youtube.com/watch?v=MWKPjSirbcU
What alternate topics did you consider for today's "Friday at 4"? — Douglas F.
"Why to never host a bachelor party during football season, even if it is during Notre Dame's off week."
"I need new friends."
"I'm baaaaaaaaaaaaaaack."
Now then, what time is it? That's right, it's well past 4 if you made it this far. Hope that is a glass in your hand. Enjoy the evening, folks.
[protected-iframe id="4322d87b3e2eb4d11caa19723fa3b36c-15933026-22035394" info="//platform.twitter.com/widgets.js" class="twitter-follow-button"]