It was a decision questionable at the time, immediately ripe for second-guessing, and for once that criticism seemed warranted. With only a fourth-and-one conversion between it and icing the 19-14 victory against Pittsburgh, Notre Dame rolled out junior quarterback Ian Book for a pass into the flat.
Irish offensive coordinator Chip Long did not attempt to sneak Book up the middle, or even a handoff to bowling ball of a running back in junior Tony Jones. He did not trust the offensive line to get the needed push for the first down — admittedly it was genuinely a yard to gain, if not more, not a foot or such. Long does like to use Notre Dame's tight ends, and Book ended up having options as he broke right, particularly sophomore Brock Wright running a route from the fullback position.
"Trying to get someone to slip in the flat," Book said of his read. "I've got to do a little better job and get the ball to him quicker."
Instead, Book was pushed out of bounds for a two-yard loss. While his resistance to throwing toward a covered but plausibly open Wright in that situation is something he needs to overcome, the play call still stood out. Game on the line, one yard to gain, trust the offensive line, right?
The decision on fourth to not sneak or use the RB has me wondering whether the OL is good but not dominating. Ignoring the stacked box, was the Pitt DL good or was it only a numbers game? Does this OL really have the people to dominate and it needs time to adjust without [fifth-year left guard and captain Alex] Bars? I think the OL needs to step up before the Playoffs as you won't be able to get away just writing off the run and going one-dimensional. — Ray M.
Does the 'meh-to-bad with a couple of heroin spikes' running game vs. Virginia Tech and Pittsburgh lead us to believe that Alex Bars is truly this team's MVP? — @ericruethling
To answer the second query first, no, Book has probably established himself as the offensive MVP while someone along the defensive line deserves team MVP honors, probably senior tackle Jerry Tillery. But the point stands: Does this offensive line have the personnel to hold its own without Bars?
We're about to find out.
Notre Dame has elevated sophomore Aaron Banks to starting left guard and moved senior Trevor Ruhland into a timeshare with junior Tommy Kraemer at right guard.
"[Banks] has been emerging over a period of time," Kelly said Tuesday. "Certainly when Alex went down, it created more of a focus on the position itself. Trying to duplicate that kind of size and quickness that Alex has is very difficult.
"We felt like Aaron has accelerated his game to the point where we feel comfortable starting him at the left guard position. Still have a lot of confidence in Ruhland and Kraemer, … but we think our best chance at playing at the level that we need to — a 6-foot-5, 325-pound lineman that pass protects very well, moves his feet very well and plays with explosiveness now gives us two really big, physical, athletic players on the left side."
Banks presents the most size, there is no denying that. He outweighs Ruhland by 25-30 pounds. But this may be a move as much about the right guard position as it is the left guard.
Kraemer has not yet played excellently. Be it his footwork, his balance or his confidence, something has not meshed for the second consecutive year as a starter. A rotation at right tackle worked well for him last year, and if another series-by-series solution is the band-aid needed to get through these next five games, then Notre Dame was smart to apply it during the idle week.
It is not a guaranteed solution. No first-time starter, a la Banks, is but Long's lack of confidence on that fourth-down underscored the need for a change, and a change has been made. Getting a first glance at it against an undersized defensive front cannot hurt.
Will Brian Kelly and Chip Long create a wildcat-type package for Brandon Wimbush during the bye week? — @Carr4thecourse
No. Full stop. You do not put your backup quarterback into a secondary package, especially when he still needs to work with the primary game plan.
Then why even give this question the time of day? To use it to point out Notre Dame will come out of the off week with another running back … Kelly said Thursday sophomore running back Jafar Armstrong is more than ready for action.
"It looks like he hasn't been out," Kelly said. "He's running at 20 miles per hour, physical. … He looks like he hasn't missed a beat. We're going to have to be concerned about his cardiovascular, things of that nature, but he's ready to go."
Maybe Armstrong doesn't get more than six carries, maybe a dozen, but if he is already in strong shape after a month off recovering from a knee infection which at one point required six days spent in the hospital — more notable for the lack of conditioning available while getting his knee drained than for the drastic-sounding nature — then the Irish ground game could be in rare form these next five weeks.
Armstrong should not be needed to beat Navy (8 ET; CBS), which should mean he reaches his workload limit and that is it. Theoretically, that should set him up for more at Northwestern, and so on. In time, perhaps both Armstrong and senior Dexter Williams can offer 15-18 strong carries a game, utterly wearing down opposing defenses. It is easy to forget after a month's absence, but Armstrong was averaging 5.2 yards per carry with five touchdowns and 264 yards while Williams was unavailable, taking about 12 rushes per game.
How many carries can Armstrong productively offer now?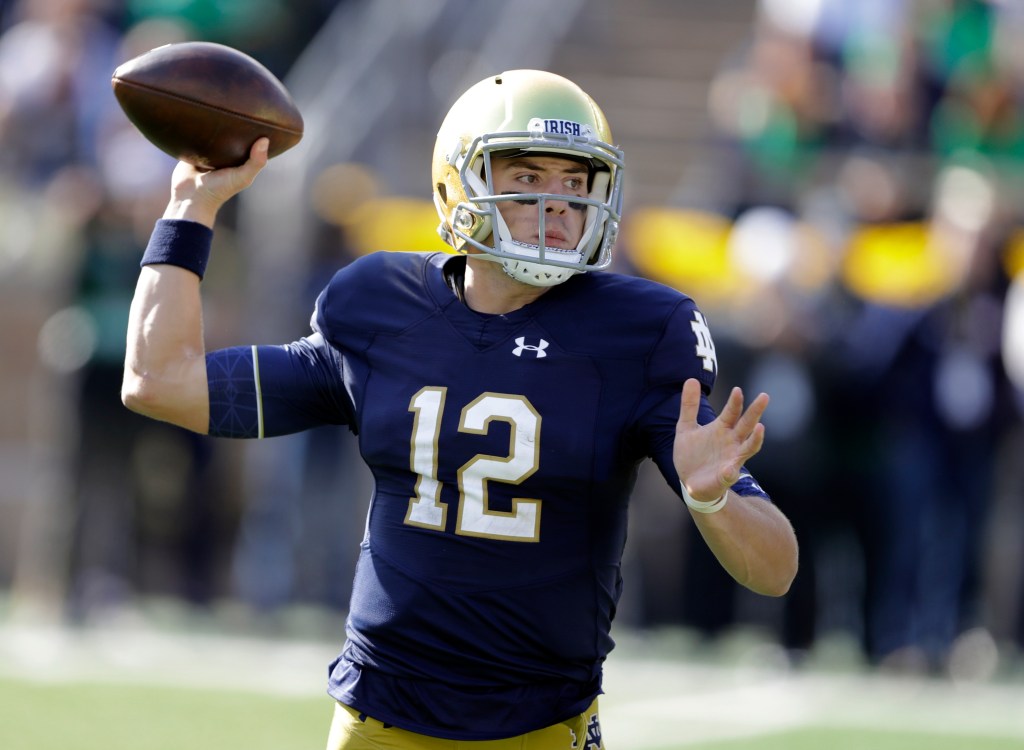 Can Book maintain his prodigious completion rate?
Clearly, this was not a reader question. The use of prodigious gave that away. ZING!
The stat itself is meaningful if not still basic, but its lofty standing is only a measure of comparison with no on-field impact. Book has completed 75.2 percent of his passes this year, leading the country (Troy's Kaleb Barker is second at 73.0) and the Notre Dame record books. (Jimmy Clausen holds the current mark at 68.0 percent in 2009.)
The more pertinent stat is Book's 8.40 yards per attempt. That is only No. 25 in the country (Alabama's Tua Tagovailoa sets the pace at a comical 13.59) and pales compared to the Irish record of 10.06 set by John Huarte in 1964 and even the next mark of 9.69 from Kevin McDougal in 1993, but it is still a worthwhile figure. As long as Book averages more than eight yards per attempt, this offense is going to be a difficult one to stop. It really is as simple as that.
Some more context:
2017 — Brandon Wimbush threw for 1,870 yards on 275 attempts, 6.8 yards per attempt.
2015 — DeShone Kizer threw for 2,884 yards on 335 attempts, 8.61 yards per attempt.
2012 — Everett Golson threw for 2,405 yards on 318 attempts, 7.56 yards per attempt.
2009 — Jimmy Clausen threw for 3,722 yards on 425 attempts, 8.76 yards per attempt.
Can Notre Dame's late schedule take a tick toward formidable?
This is something of an easy way out for "Things To Learn" to reach four, but facing Navy really does become a survive-and-advance proposition. That is the nature of the triple-option. That is the nature of Ken Niumatalolo's "consistency, year-in and year-out," to quote Kelly. The Irish just want to get past Navy and be done with the task for another year.
The following tasks could suddenly be headline worthy if … Northwestern upsets Wisconsin (12 ET; FOX) or if Florida State upsets Clemson (12 ET; ABC). The Wildcats are only 4.5-point underdogs, compared to the Seminoles' 17-point line.
Northwestern has become an underdog of note lately, and getting the Badgers at home only increases the intrigue. In case you somehow forgot, Notre Dame also plays at Northwestern.
If — and that is always a sizable two-letter word — the Wildcats manage the upset, they would suddenly be in control of the Big Ten West, with only a trip to Iowa standing between them and a visit to the Big Ten title game. For all the knocking of the Irish schedule, from this space included, it is hard to dismiss any conference title game participant.
[protected-iframe id="4322d87b3e2eb4d11caa19723fa3b36c-15933026-22035394" info="//platform.twitter.com/widgets.js" class="twitter-follow-button"]