The highlights of No. 3 Notre Dame's 44-22 victory against Navy on Saturday will feature Dexter Williams, Miles Boykin and Ian Book, somewhat per usual. After all, Williams scored three times, Boykin caught two touchdown passes and Book remained uncannily accurate
Yet, the most important part of the Irish win in San Diego came in a backroom, far from the field, when X-rays of fifth-year linebacker Drue Tranquill's sprained ankle revealed no fracture. He did not return to the game after the first-quarter injury, but Notre Dame (8-0) did not need him to limit the Midshipmen (2-6). And aside from Tranquill's ankle, the Irish defense appeared to avoid injury against the triple-option attack.
At halftime, Notre Dame had held Navy off the scoreboard and to 72 total yards on 24 plays. The Midshipmen found some offense thereafter, but it was nowhere near the output from Williams, Book & Co., which already led 27-0 at the break.
"What we did very well is we got off to a great start," Irish head coach Brian Kelly said. "Which is important against any team you play. We got off to a great start today. That was huge."
Sophomore running back Jafar Armstrong started the scoring in his first action in a month (knee infection), taking four consecutive touches 16 total yards, finishing with a one-yard push into the end zone. He ended up the leading Irish receivers with five catches for 64 yards, adding nine rushes for 52 yards.
Senior running back Williams led the offensive onslaught, scoring three touchdowns as Notre Dame pummeled Navy early and often, gaining 315 yards in the first half alone. Williams finished with 142 yards on 23 carries. While his three tallies all came in the first half, Book's two second-half touchdown passes to Boykin came in the second and kept the Midshipmen at arm's length away.
Much of the scoring outburst traces to the Irish defense. Led by senior linebacker Te'von Coney's 14 tackles, Notre Dame kept Navy from long, grinding drives. Even when the Midshipmen scored, it was uncharacteristically quick — 2:04, 3:38, 0:40 — meaning the increasingly-potent Irish offense had plenty of time to respond. In a rare change in the series, Notre Dame ended up with the greater time of possession, 31:57.
Book completed 27 of 33 passes — 81.2 percent — for a career-high 330 yards and two touchdowns. Boykin caught four of those for 58 yards, more than making up for his lost fumble on the first play from scrimmage, one of two turnovers, the other being a Book interception. The Irish offense racked up 584 total yards.

"We know what we can do as an offense," Book said. "We prepare every day hard. We know what we can do. We're confident."
COACH OF THE GAME
Yes, Navy broke through in the second half, quickly covering 75 yards on each of its first two drives to turn a 27-0 blowout into a 30-14 curiosity. That was it, though. The third Midshipmen touchdown came on a short field courtesy of Book's interception.
"They just changed up their blocking scheme," Notre Dame junior safety Alohi Gilman said. "… Just some scheme matchups. We adjusted accordingly. We just had to make the plays when they came."
Remove those two possessions and Navy gained 194 yards on 49 plays, an average of 3.96 yards per play. Only two other drives gained more than 40 yards, both against defensive reserves in the fourth quarter, both ending in turnover.
Irish defensive coordinator Clark Lea was ready for the mind-numbing, frustrating, inevitable triple-option. The suffocating first-half defense allowed Notre Dame's offense enough time to get a lead, and that left the Midshipmen little recourse. The triple-option is many things, but a means to a comeback it is not.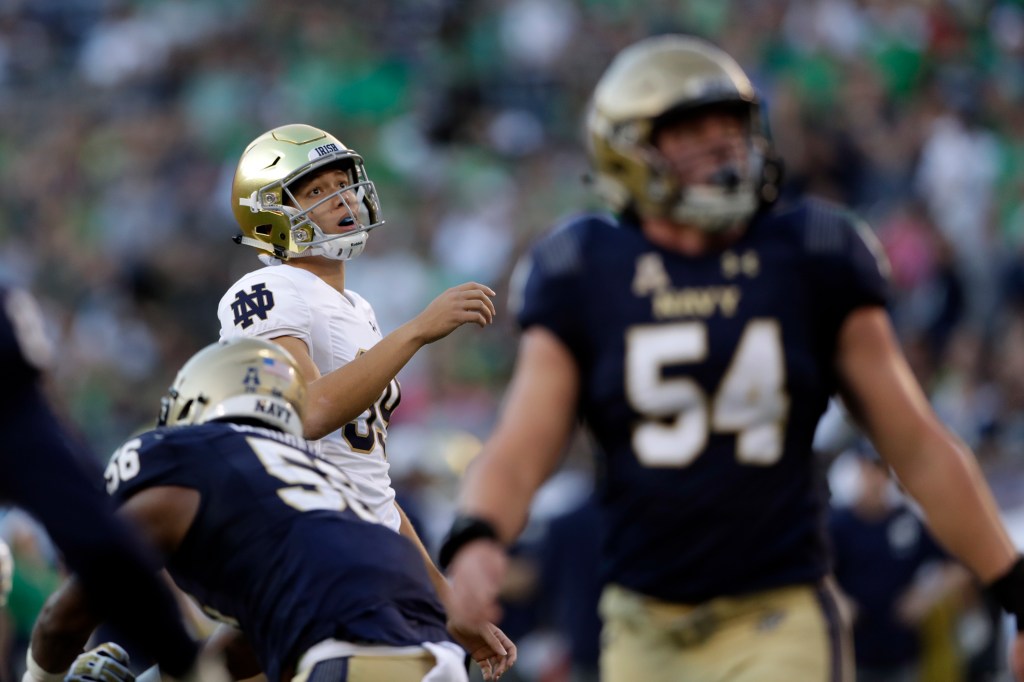 PLAYER OF THE GAME
In a three-possession game, his impact was only cosmetic. Remove all his points and Notre Dame still wins by two touchdowns, and probably more as offensive coordinator Chip Long had little reason to force the issue late. Nonetheless, sophomore kicker Jonathan Doerer finding his footing after his first miss made the night much less stressful while senior Justin Yoon spent it on the sidelines of San Diego County Credit Union Stadium nursing a groin injury.
Doerer missed the point after attempt following Armstrong's score, but made the next five and added a 30-yard field goal for good measure.
Yoon was in uniform and available, but that comes across as a break in case of emergency situation, or to use Kelly's phrase, "in a pinch." Having Yoon fully healthy for the next four games is of utmost importance for the Irish, so Doerer proving adequate for the night could pay dividends down the line more than they did Saturday.
"[Doerer is] capable of kicking off and kicking extra points," Kelly said. "So I thought it was a good week for us to get Yoon 100 percent healthy."
STAT OF THE GAME
That time of possession is a surprise. Notre Dame possessing the ball 12 times is absurd. It had not done that against Ken Niumatalolo's team since 2014, low-lighted by half that in 2016.
Only twice before in Kelly's previous eight meetings with Navy had he won time of possession, in 2015 and in 2012, his two best teams at Notre Dame heading into this season.
Perhaps indicators should not be drawn from the clock against a struggling Midshipmen rendition, but this was such an anomaly, it deserve at least some notice. It comes from a strong defense handing the ball to an offense capable of dictating the game. That is usually a rather strong combination.
QUOTE OF THE NIGHT
SCORING SUMMARY
First Quarter
9:38 — Notre Dame touchdown. Jafar Armstrong 1-yard run. Jonathan Doerer PAT no good. Notre Dame 6, Navy 0. (8 plays 73 yards, 3:08)
4:51 — Notre Dame touchdown. Dexter Williams 12-yard run. Doerer PAT good. Notre Dame 13, Navy 0. (4 plays, 80 yards, 1:31)
Second Quarter
7:07 — Notre Dame touchdown. Williams 9-yard run. Doerer PAT good. Notre Dame 20, Navy 0. (13 plays, 67 yards, 5:27)
1:04 — Notre Dame touchdown. Williams 2-yard run. Doerer PAT good. Notre Dame 27, Navy 0. (10 plays, 83 yards, 4:07)
Third Quarter
12:56 — Navy touchdown. Zach Abey 1-yard run. Bennett Moehring PAT good. Notre Dame 27, Navy 7. (4 plays, 75 yards, 2:04)
8:41 — Notre Dame field goal. Doerer 30 yards. Notre Dame 30, Navy 7. (11 plays, 61 yards, 4:15)
5:03 — Navy touchdown. Abey 1-yard run. Moehring PAT good. Notre Dame 30, Navy 14. (7 plays, 75 yards, 3:38)
1:04 — Notre Dame touchdown. Miles Boykin 4-yard pass from Ian Book. Doerer PAT good. Notre Dame 37, Navy 14. (9 plays, 75 yards, 3:59)
Fourth Quarter
12:42 — Navy touchdown. Mike Martin 33-yard rush. Two-point conversion good. OJ Davis pass from Abey. Notre Dame 37, Navy 22. (2 plays, 39 yards, 0:40)
8:29 — Notre Dame touchdown. Boykin 22-yard pass from Book. Doerer PAT good. Notre Dame 44, Navy 22. (8 plays, 75 yards, 4:09)
[protected-iframe id="4322d87b3e2eb4d11caa19723fa3b36c-15933026-22035394" info="//platform.twitter.com/widgets.js" class="twitter-follow-button"]