It might as well already be Halloween. Which is to say, it is November Eve for Notre Dame. The last bugaboo of the last five Irish years awaits.
Brian Kelly checked the box of beating a top-tier foe with the season-opening win against Michigan, and then did so again for good measure when a top-10 ranked Stanford arrived four weeks later.
Notre Dame forged past the horrors of Miami when it left Virginia Tech with a 45-23 victory a few weeks ago. The Irish have kept lesser opponents as inferiors, even if the contests were closer than wanted or expected, unlike years past.
That leaves November. Four games in November.
Never mind where they go — largely away from Notre Dame — or who they are against, middling-to-underrated opponents, the end of the season may present the greatest difficulty all on its own. For as much progress as the program has made in nutrition, recovery, conditioning and so forth, only one page of the calendar can determine if it has been enough.
It is more than an arbitrary Julian cutoff. It almost always coincides with the final third of the season, the point where bodies begin to breakdown, focus can wander.
The Irish went 2-2 in November last year and are 9-12 across the last five seasons. Remove the extra game granted by the falling of the week in 2014, and that falls to 8-12. Yes, that season began 6-0 and 7-1 but a four-game losing streak spurred by injury led to a 7-5 regular season finish.
Novembers have not been kind.
Before it officially arrives, let's once again give credit to Drew White. Imagine a scenario where Navy capitalizes on the Notre Dame fumble on the first play Saturday night, suddenly putting the Irish in a 7-0 hole. Imagine even with a response, Notre Dame's two efficient drives thereafter stake it to only a 13-7 lead, and at some point, the Midshipmen find a groove in the first half before making halftime adjustments.
Instead of a 27-0 halftime lead, the Irish may have been holding a 27-14 lead, cut to 30-28 in the third quarter. From there, who is to say how it would play out?
The absence of fifth-year linebacker Drue Tranquill would have been stark in that not-too-outlandish hypothetical. Along with it, criticism of sophomore Drew White would have run rampant. Instead, White finished with six tackles, Navy never made things interesting, and Notre Dame enjoyed a relatively simple 44-22 victory.
White's emergence was unexpected, to say the least. Junior Jonathan Jones would have been expected before him, freshman Bo Bauer before that, and freshman Shayne Simon and sophomore Jordan Genmark-Heath before Bauer.
But it was White, because it was the triple-option. Do not expect him in more than a rotational role moving forward if Tranquill misses any action with a sprained ankle, but do give White credit for being ready Saturday. He helped avert what could have been disaster.
One last Navy thought … The Midshipmen fair caught every kickoff. While Navy has returned only 12 all season, for 150 yards, this was still a shift in strategy and one unexpected against a questionable kickoff return unit that has allowed two touchdowns this season. An odd choice, to say the least, and one unlikely to be explained any time in the future.
On to Northwestern … Make that 10-2 with seven outright wins. From before the Wildcats' 31-17 upset of Wisconsin on Saturday:
The Irish opened as 7.5-point favorites for this coming week (7:15 ET; ESPN). If nothing else, Pat Fitzgerald has relished that position of late.
And since back to a typical offensive approach, this trio of questions deserves an answer …
Mr. Arnold used to heap praise on cornerbacks KeiVarae Russell and Bennett Jackson back in 2012. How do you feel the combo of Julian Love and Troy Pride stack up? I know Virginia Tech went after Pride with success but not as much success as Pittsburgh had on Donte Vaughn. The saving grace to me for Pride are his interceptions. To my untrained eye, I would give the nod to the current duo. — Shawn H.
Why does Julian Love not shadow the opposing team's best receiver all game? I noticed Hazelton from VaTech had two catches against North Carolina after torching Troy Pride & Co. all night two weekends ago. It seems like letting Love take out the best receiver would be a better option than whatever scheme they have planned. — Jason V.
Why do the defensive backs refuse to find the ball when it's in the air? Seems like so many passes are caught and we never see the ball coming. The exception to this rule is Julian Love. He seems to have been taught differently — Paul L.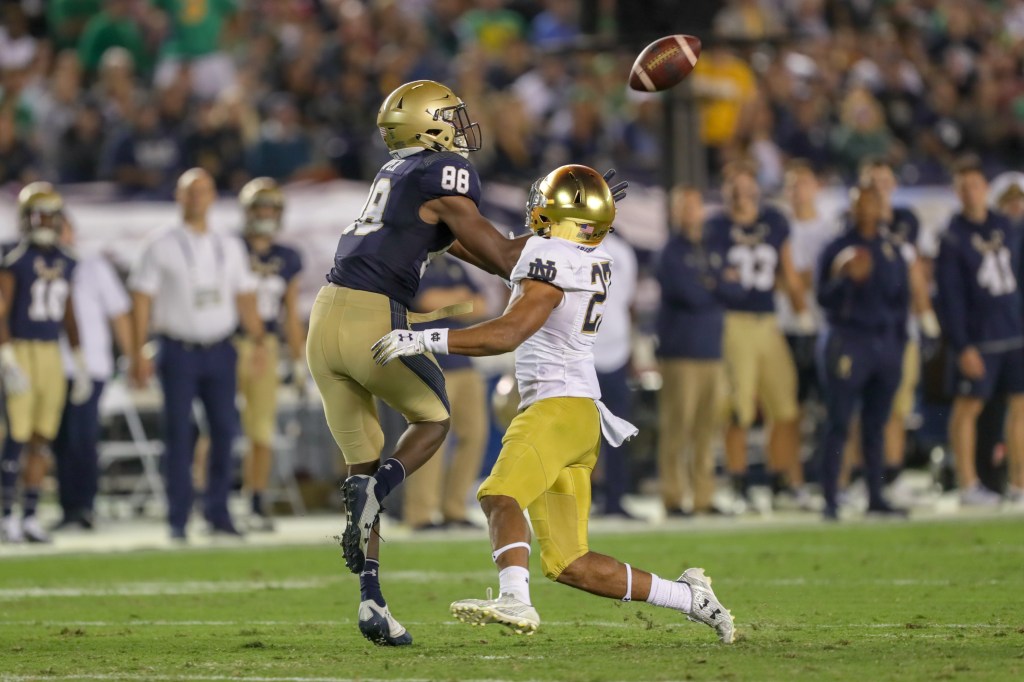 Two quick responses here before delving into it with more detail: 1) Julian Love is a talent unparalleled in the Brian Kelly era. The most-recent comparisons are the Shane Walton-Vontez Duff duo in the early '00s, but neither was anywhere near as technically proficient as Love is. 2) This may not be a popular time to defend Pride, but it is really easy to do so, which indicates it is somewhat deserved.
The combined duo of Russell and Jackson may have been better in 2012 than the current starting pair of juniors Love and Pride, but having a talent like Love's as the top corner makes up for that discrepancy. He all but eliminates half the field, which plays into the second inquiry.
Love is a better pass defender than Pride. Add in Love is very physical and a strong tackler. That skill set fits the boundary cornerback duties perfectly. Keeping Love on one specific receiver would open up the boundary for the opposition, forcing Pride or junior Vaughn or freshman TaRiq Bracy into boundary coverage when that is less than ideal. Hazelton's 12 catches for 131 yards were an issue, yet the Hokies managed just 5.9 yards per pass attempt. That does not make for an efficient offensive attack.
Furthermore, Pride was playing on a sprained ankle against Virginia Tech, one that was bad enough to sideline him a week later. Think about a cornerback's job requirements. A sprained ankle matters a great deal. That does not entirely explain his lack of tackling against Navy, but that also is not his forte. His best moments come in coverage, not against the triple-option. Any panic about Pride should be tempered for at least the time being.
Why does he not turn for the ball? For the thousandth time, cornerbacks are coached to look for the ball only rarely. Whipping one's head around while at a full sprint and locating the ball takes time. In that time, the pass has likely passed the cornerback by and landed unimpeded in the receiver's hands. Rather, the coaching is to rip through the hands as the ball arrives. It has a far greater success rate.
It may not look as cool or be as plainly logical, but the difference in outcomes is apparent.
Now feels like a pertinent time to point out Northwestern (5-3) throws the ball an average of 44.5 times per game.
With that, the mailbag is emptied entirely. The inbox has been cleared. The direct messages deleted. Let's fill it back up again … insidetheirish@gmail.com
INSIDE THE IRISH READING
— Things We Learned: At 8-0, Notre Dame still has not reached its best
— No. 3 Notre Dame's defense, ground game render Navy's triple-option largely ineffective
— Notre Dame's possession problem against Navy
OUTSIDE READING
— Te'von Coney's day against Navy
— The 12 remaining Playoff contenders
— Florida State implodes … again
[protected-iframe id="4322d87b3e2eb4d11caa19723fa3b36c-15933026-22035394" info="//platform.twitter.com/widgets.js" class="twitter-follow-button"]