When it comes to building up Notre Dame's opponents, two won games of note this weekend, though one was largely a means of staying afloat. This coming weekend a similar slim showing should occur.
In other words, the Irish résumé is not going to start shining anytime soon.
Michigan (7-1): After taking a week off, the No. 5 Wolverines will host No. 14 Penn State (3:45 ET; ESPN) as 10-point favorites with a combined point total over/under of 53. It is undeniably impressive Michigan is favored by two possessions against a top-15 team.
Try to knock it, diminish it, what have you, but if the Wolverines can limit Trace McSorley to fewer than 21 points, it will be only the third time that has happened since 2015, the other being a few weeks ago against Michigan State and the first … at Michigan in 2016, a 49-10 Wolverines victory.
Ball St. (3-6): In the last two weeks, the Cardinals have lost by a combined 60 points. The 52-14 loss against Ohio was compounded when senior quarterback Riley Neal tore his left MCL and PCL. He will be out this week and though the injury will not require surgery, a seventh loss could make it natural to sit him for the year.
Neal's absence certainly plays a role in Ball State being an 18.5-point underdog at Toledo on Wednesday (7:30 ET; ESPN2), but the 40-22 expected result would not likely change much even with him.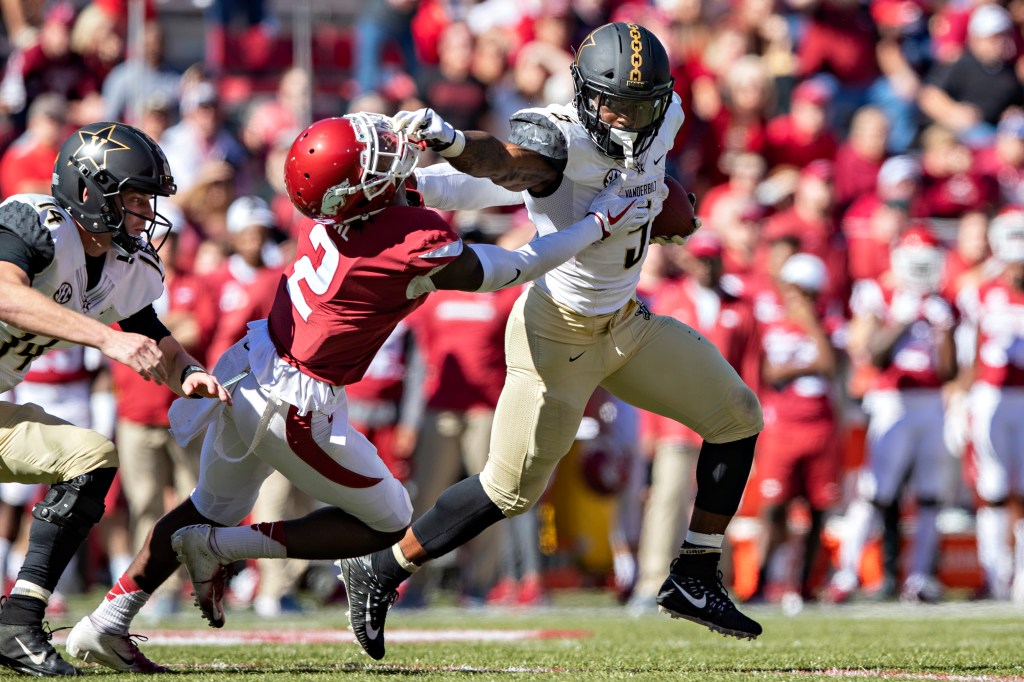 Vanderbilt (4-5): The Commodores beat Arkansas 45-31. That's an SEC victory, ladies and gentlemen. Ke'Shawn Vaughn led the way with 172 yards and three touchdowns on 26 rushes. Vanderbilt is now a win at Missouri or against Ole Miss away from having bowl eligibility on the line against Tennessee to close the season. For now, the 'Dores get a week off.
Wake Forest (4-4): The Deacons hung 56 points and 591 total yards on Brian VanGorder's defense in a 56-36 victory at Louisville. The end of the Bobby Petrino era seems to draw nearer still.
If that was not enough points for Wake Forest, a chance for more comes this weekend with an over/under of 75 against Syracuse (12 ET). As four-point 'dogs, the Deacons may come out on the short end of a 39-35 shootout.
Stanford (5-3): The Cardinal can about kiss the Pac-12 North goodbye after a 41-38 loss at Washington State courtesy of a Cougars field goal with 19 seconds left. Stanford had only tied the game with 1:25 remaining on a 25-yard catch by JJ Arcega-Whiteside.
This could turn into a bit of a spiral for the Cardinal, now heading to Washington (9 ET; Pac-12 Network) as a nine-point underdog. The over/under of 47 indicates a 28-19 conclusion, which feels low until realizing the Huskies have yet to put together a consistent offense.
Virginia Tech (4-3): The Hokies lost 49-28 to Georgia Tech on Thursday, giving the Yellow Jackets the new high at Lane Stadium, breaking the month-old mark set by Notre Dame. Georgia Tech rushed for 465 yards, but to give Bud Foster's defense credit, it allowed no passing yards.
Boston College (3:45 ET) will probably complete at least one pass as two-point favorites at Virginia Tech. A 29-28 conclusion would at least be more exciting than the triple-option.
Pittsburgh (4-4): A 54-45 victory against Duke came, oddly so, with a game-winning touchdown with five seconds remaining. Go ahead. Do the math. Be confused. A safety occurred in those final ticks, a rare loss of yardage in a game featuring 1,253 combined yards.
Against most odds, the Panthers could insert themselves into Coastal chaos if able to pull off an upset at Virginia on Friday (7:30 ET; ESPN2). Bookmakers project the Cavaliers as 7.5-point favorites and perhaps a 28-21 final.
Navy (2-6):The Midshipmen lost 44-22 to the Irish, but you knew that. You did not know they are nearly two-touchdown underdogs at Cincinnati (3:30 ET; ESPNU) this weekend, a result that if it holds will end Navy's bowl hopes for just the second time since 2002.
Northwestern (5-3): The Wildcats continued their surging ways with a 31-17 victory against No. 20 Wisconsin which featured a 14-10 Northwestern lead that became 31-10 just two minutes into the fourth quarter. The Wildcats had 33:38 time of possession, minimizing any and all Badgers threats.
Yet, Northwestern began the week as a 7.5-point underdog against Notre Dame (7:15 ET; ESPN), a number that had risen as high as 9.5 by Tuesday's earliest hours. The over/under of 53.5 implies a 31-22 decision.
Florida State (4-4): What was bad gets worse. A 59-10 loss to Clemson barely describes the embarrassment. It was 45-0. The Seminoles gave up 524 yards. They rushed, including sacks, for a loss of 21 yards.
Next comes an entry about how Syracuse beat N.C. State. Do not expect Florida State to do that (3:30 ET; ABC) as a touchdown underdog.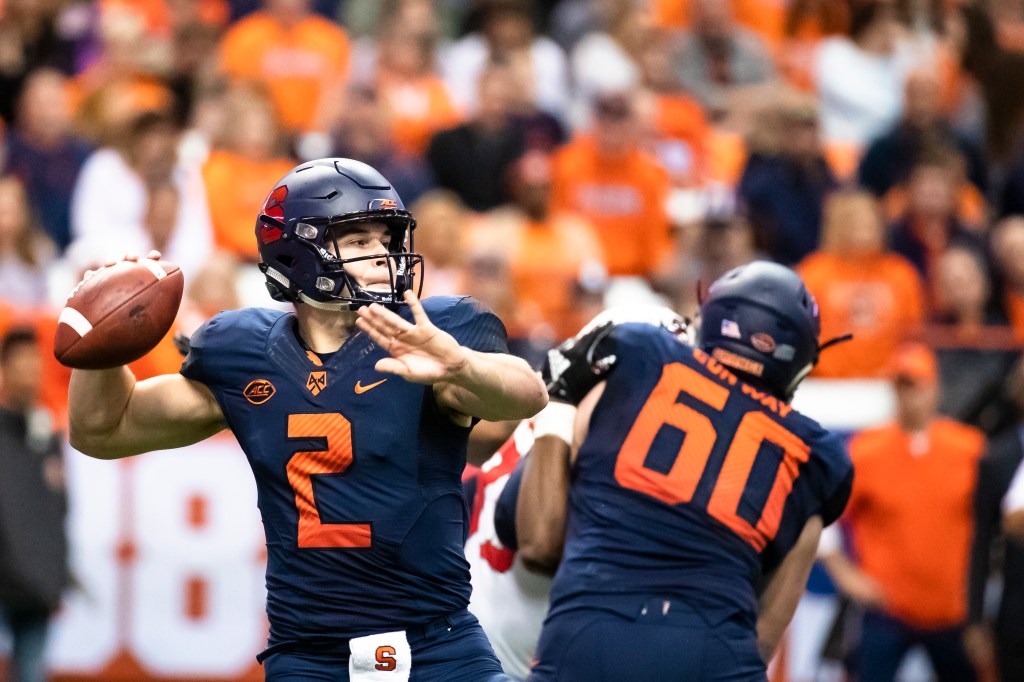 Syracuse (6-2): Bowl eligibility may have always been in the cards for the Orange this season, but this early was unexpected. Senior quarterback Eric Dungey got the starting nod in a 51-41 victory against N.C. State, completing 27 of 38 passes for 411 yards and three touchdowns.
He will presumably get that chance again at Wake Forest, and that 75-point over/under certainly sounds like some more touchdowns.
USC (4-4): In the first home loss of Clay Helton's tenure, the Trojans fell 38-35 to Arizona State. Helton then dismissed their offensive line coach Monday and took over the play calling duties moving forward. Things are nice and calm at USC, except the opposite of nice and calm.
At least for one week, Helton should get a reprieve. The Trojans are two-touchdown favorites at Oregon State (10 ET; FS1).
Wednesday, 7:30 ET: Ball State at Toledo on ESPN2.
Friday, 7:30 ET: Pittsburgh at Virginia on ESPN2.
Saturday, 12 ET: Wake Forest vs. Syracuse.
3:30 ET: Navy at Cincinnati on ESPNU; Florida State at N.C. State on ABC.
3:45 ET: Michigan vs. Penn State on ESPN; Virginia Tech vs. Boston College.
7:15 ET: Northwestern vs. Notre Dame on ESPN.
9:00 ET: Stanford at Washington on Pac-12 Network..
10:00 ET: USC at Oregon State on FS1.
Favorites: Michigan -10; Syracuse -4; USC -14.
Underdogs: Ball St. +18.5; Wake Forest +4; Stanford +9; Virginia Tech +2; Pittsburgh +7.5; Navy +13; Northwestern +9.5; Florida State +7.
[protected-iframe id="4322d87b3e2eb4d11caa19723fa3b36c-15933026-22035394" info="//platform.twitter.com/widgets.js" class="twitter-follow-button"]