With Notre Dame landing at No. 4 in the initial College Football Playoff rankings, your umbrage is expected. It is also unwarranted.
"Does this matter, this one?" Irish head coach Brian Kelly pointed out Tuesday afternoon. "Do they put you in the Playoffs for this one? I don't think so."
His point is both valid and learned. Notre Dame has appeared in the selection committee's top tier in two of the last three years, but has not yet made a Playoff.
"We've been down this road before," Kelly said. "We've been selected for this one, but it doesn't get you anything. For us, the one that we're interested in, the one that we'll watch, probably we'll watch it as a team, is the last one."
If the 8-0 Irish reach that last ranking with four more wins, they will be in a Dec. 29 semifinal. Anyone claiming otherwise simply wants your attention and should instead be ignored. The first excluded undefeated Power Five team will not be the only one not needing a conference to be considered Power Five. As much as Notre Dame's schedule has softened, it still includes 10 major conference opponents, including three, and perhaps four, ranked at the time of meeting. It is not Central Florida's path.
The debris around the Irish finishing unbeaten is cause for concern in other spaces. For example, the answer to this situation could be debated far longer than this endless space has room for words.
For anyone partial to punctuation, Patrick's situation boils down to No. 3 LSU topping No. 1 Alabama this weekend and then no more upsets occurring at the top of the polls this season. That would leave a 13-0 ACC champion Clemson, a 12-0 Notre Dame, a 12-1 SEC champion LSU, a 12-1 Big Ten champion Michigan and an 11-1 Alabama. One of those last two likely misses the Playoff. Just rest assured, it would not be the 12-0 Irish. If you want to argue otherwise, please do so elsewhere. You are just wasting everyone's time.
An LSU victory this weekend, however, is the first step toward a one-loss Notre Dame heading to the Fiesta Bowl on New Year's Day. For this scenario, let's posit the Irish lose to Northwestern (7:15 ET; ESPN) this weekend and then win their final three games. Two possibilities unfold.
LIKELY IN: Both Alabama and Clemson run the table, thereby eliminating the rest of the SEC and ACC. Notre Dame then joins a handful of one-loss teams fighting over those final two spots.
— Either Michigan or Ohio State escapes the Big Ten with one loss. For the No. 5 Wolverines, that would require beating No. 14 Penn State this weekend and then winning at Ohio State to close the regular season before the Big Ten title game, which should be a distant third in terms of worries. The No. 10 Buckeyes have a trip to Michigan State on Nov. 10 before hosting Michigan.
— Either Oklahoma or West Virginia wins the Big 12 with one loss. The No. 7 Sooners still have to go to Texas Tech, host Oklahoma State and head to West Virginia before a rematch with (likely) either the Longhorns or the Mountaineers in a title game. No. 13 West Virginia heads to No. 17 Texas this weekend before TCU visits, then a trip to Oklahoma State precedes the Oklahoma finish. Suffice it to say, the Mountaineers' remaining calendar is on the short list for toughest remaining in the country.
— Can No. 8 Washington State finish its Pac-12 slate with just one loss? The only real remaining concern is the Apple Cup on Nov. 23. Even the Pac-12 title game should be a laugher given the state of the South.
At most, those four teams would campaign for two spots. Given the Cougars non-conference schedule featured Wyoming, San Jose State and Eastern Washington, it is not a leap to write them off outright. To end this debate then, the slightest bit of unevenness in the Big Ten or 12 would suffice. That is exceedingly likely, especially in a conference featuring a round-robin followed by a conference title game rematch.
WELL THEN, LIKELY OUT: There are two versions of this story, but both involve two SEC teams making the Playoff and one of them being a one-loss Alabama. Either a loss to LSU this weekend or a loss to No. 6 Georgia (or, technically speaking, No. 9 Kentucky) in the conference title game would set this up. Whoever beats the Tide is going to get in if they have just one loss, and the eye test should push Alabama past its lagging résumé.
Then, for the sake of the exercise, presume Clemson finishes 13-0. Only one spot would remain. An 11-1 Notre Dame would not be able to count on the proper two-steps to occur in both the Big Ten and 12.
WAIT, WHY DOES AN 11-1 NOTRE DAME SO QUICKLY FALL BELOW ONE-LOSS MICHIGAN OR OKLAHOMA OR WEST VIRGINIA OR MAYBE OHIO STATE?
For the same reason the Irish would probably stay above Washington State. It is all about how many good wins you have. Notre Dame would finish with a win over the Wolverines, and that may be it as far as the selection committee is concerned. Even if arguing "teams above .500," the Irish schedule is likely to finish with just five (Michigan, Stanford, Northwestern, Syracuse, USC).
Comparisons?
Michigan: Conceivably wins over both Penn State and Ohio State, not to mention perhaps two over Wisconsin, and seven total over Power Five teams with records better than .500.
Ohio State: Possibly wins over both Penn State and Michigan, plus the Big Ten West victor.
Oklahoma: Could end up with wins over No. 24 Iowa State, West Virginia and either Texas or the Mountaineers again, along with five victories over teams above .500.
West Virginia: A one-loss finish would feature wins against No. 17 Texas and the Sooners, plus a title game opponent to be determined, and six wins against teams better than .500.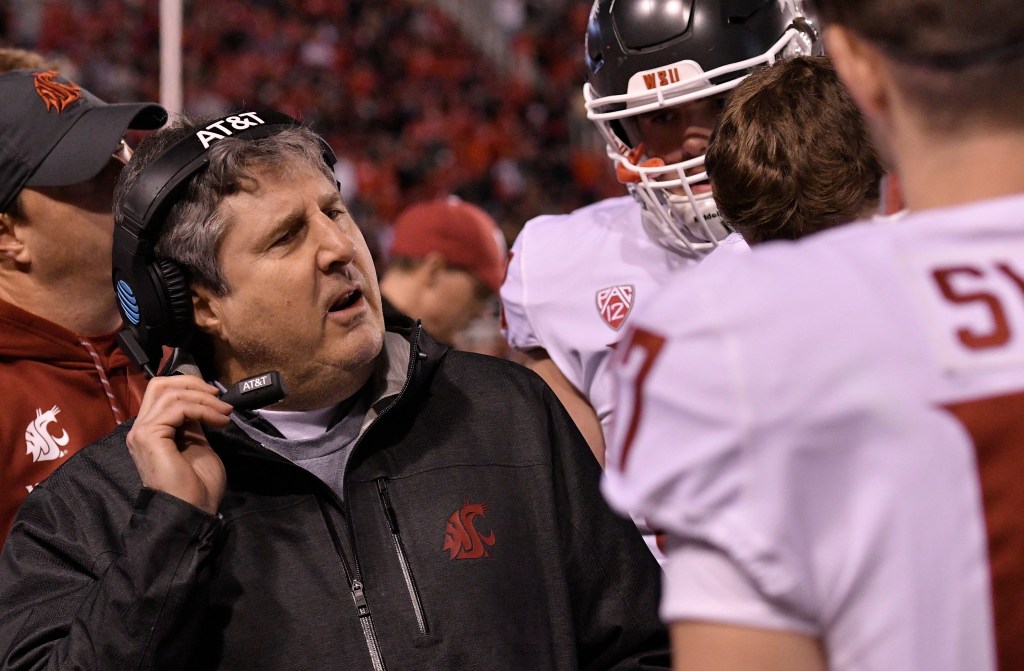 Washington State: As far as the committee is concerned, only the Cougars' Sept. 29 win against No. 15 Utah qualifies as impressive. No one else in the Pac-12 is ranked. If Washington State exceeds five wins against teams better than .500, it will only be because the conference could limp its way toward an infinite number of 7-5 finishes.
The debate does not focus on the week-in, week-out challenge of a schedule. It focuses on the peaks and the climbs toward them. Through no fault of its own, Notre Dame's calendar does not include many peaks this year. Blame Jimbo Fisher's recruiting at Florida State. Blame Clay Helton's end at USC. Blame whatever has happened to Stanford's running game. But do not claim the Irish schedule's toughest parts are tougher than Michigan's, Oklahoma's or West Virginia's.
But again, none of this matters if Notre Dame wins the next four games. And by the way, none of this would have changed if the Irish were ranked ahead of LSU, so go ahead and file those complaints in the mailbox beneath your desk. It is oddly shaped like a garbage can.
PLAYOFF GAMES OF NOTE THIS WEEKEND:
No. 1 Alabama at No. 3 LSU; 8 ET; CBS.
No. 2 Clemson vs. Brian VanGorder's Louisville defense; 12 ET; ABC.
No. 5 Michigan vs. No. 14 Penn State; 3:45 ET; ESPN.
No. 6 Georgia at No. 9 Kentucky; 3:30 ET; CBS.
No. 7 Oklahoma at Texas Tech; 8 ET; ABC.
No. 8 Washington State vs. Cal; 10:45 ET; ESPN.
No. 13 West Virginia at No. 17 Texas; 3:30 ET; FOX.
Why no discussion of No. 12 Central Florida and its 20-game winning streak? Maybe the Knights deserve a spot in the Playoff (at least in the conversation), but it just is not going to happen barring complete gridiron anarchy this November.
(Think of a scenario I've missed? All ears: insidetheirish@gmail.com)
[protected-iframe id="4322d87b3e2eb4d11caa19723fa3b36c-15933026-22035394" info="//platform.twitter.com/widgets.js" class="twitter-follow-button"]