Before No. 4 Notre Dame faces Chicago's Big Ten team, let's turn to Jonah Dylan, the managing editor of The Daily Northwestern, for some insights into one of the more confounding teams Pat Fitzgerald has put together:
DF: Let's start with the micro … Northwestern's offense is, well, bad. It averages 24.3 points per game, good for No. 102 in the country, tied with Pittsburgh and just three spots ahead of Ball State's 23.8. Two factors stand out to explain the offense's struggles, and the first would be the health of senior quarterback Clayton Thorson. He tore his ACL on Dec. 29 and played in this year's opener Aug. 30. Did he come back too soon? Is he fully healthy by now?
JD: Thorson was back on the field just over seven months after his surgery, which is pretty crazy by any metric. He was on a snap count for his first couple games back while he split time at quarterback with T.J. Green, which was a weird situation for the whole team. Now, though, he appears to be fully healthy. He's run less than in previous seasons, but that's actually helped him become a better pocket passer and the passing game is operating at a higher level than it has in recent years.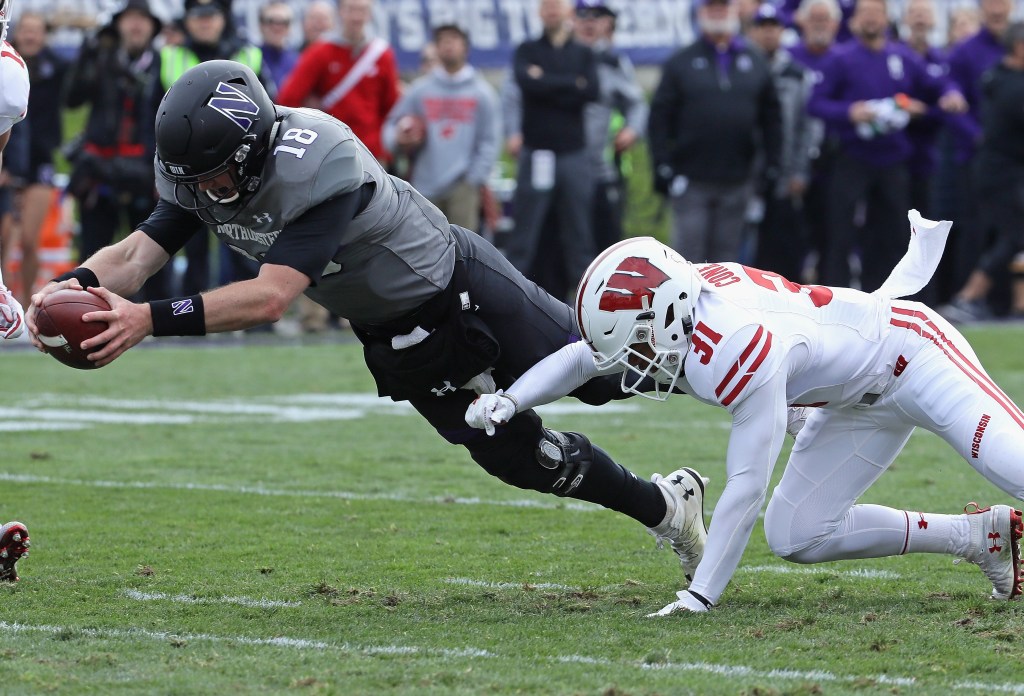 Even with an improving Thorson, Northwestern cannot run the ball. If adjusting the stats for the 19 sacks allowed at a loss of 128 yards, the Wildcats have rushed for 107.1 yards per game and 3.25 yards per rush. The loss of sophomore Jeremy Larkin after three games certainly plays a part in that struggle, but even with him the offense never averaged more than 4.0 yards per rush. What has held back the ground game?
Well, the easiest answer is injuries. After Larkin's medical retirement, Solomon Vault and John Moten were expected to lead the backfield, but both have dealt with injuries for extended time this season. Pat Fitzgerald also had to think about the new redshirt rule with freshmen Isaiah Bowser and Drake Anderson, so they didn't play much at the beginning of the season. All this led to a running game that never really had a chance to get going, at least in the early part of the season.
The last two weeks featured the emergence of freshman Bowser. The running attack is not yet efficient, but the Wildcats did lean on it to the tune of 47 and 49 carries at Rutgers and against Wisconsin. Is Bowser the real deal or is this simply acquiescing to the necessity of quantity?
Bowser looks like the real deal, and you really only need to look at last week to see it. While Wisconsin running back Jonathan Taylor struggled in his worst game of the season, Bowser thrived, carrying the ball 34 times for 117 yards. He brings something different to the table than other NU backs with his downhill running style, which has been especially important at the end of close games when the Wildcats need to salt away a victory. All indications are he'll be the featured back moving forward.
I mention the running game so extensively because Notre Dame has forced teams to give up on it, and at that point, the Irish defensive line pins its ears back and chases the quarterback. Each week junior end Julian Okwara seems to spend most of his time in the second half in the backfield. Do you expect the ratio shift toward handing off to continue this week, or might Okwara & Co. get 65 chances at Thorson, like Nebraska did?
There's no question that Fitzgerald wants to run the ball. But at the same time, NU's biggest strength is that it has a quarterback who can play at an elite level on any given Saturday. I don't expect the Wildcats to have much success running the ball early, and Thorson will probably have to throw it a lot. Okwara and the Notre Dame front will get plenty of chances to go after Thorson, but he'll also get plenty of chances to go after the Irish secondary.
Northwestern's defense is worthwhile, but also not elite by any measure. Giving up 4.31 yards per rush will not get the job done, nor will allowing 62.6 percent of passes to be completed, especially when about to face the nation's leader in completion rate. Yet, if I am going to defer to any piece of the Wildcats, it is Pat Fitzgerald's defense. Am I giving it/him too much credit?
Northwestern's defense needs to be getting a lot more credit. The defensive front — Northwestern's best position group — shut down Taylor and the Wisconsin offensive line, which is littered with All-Americans. The defense is playing much better as of late, and really has played well throughout the season.
Shutting down the Notre Dame offense will be a tall task, and it'll start with the guys up front.
On Tuesday, Irish head coach Brian Kelly rattled off a number of Northwestern defenders he considered pending difficulties, including linebackers Paddy Fisher and Nate Hall, end Joe Gaziano and cornerback Montre Hartage. How does a collection of talent like that get gashed for 39 points by Akron? I suppose this is where I begin a turn toward the macro.
Let's address the Akron game as a whole, because the Wildcats' problems in that game have been amplified massively. First of all, Akron scored three defensive touchdowns, so it's unfair to blame NU's defense for the loss. Thorson simply did not play well and turned the ball over at an alarming rate en route to a complete collapse. And this is a defense with studs all over the field. Fisher was one of the best freshmen in the country a year ago. Gaziano is an All-Big Ten guy. Hartage is getting NFL draft buzz. They've been put in bad situations by their offense throughout the season, but as a whole Northwestern has been very good on the defensive side of the ball.
The other, "How in the world …" question that needs to be asked, and will be done so simply and bluntly, is, How in the world did Northwestern give up a 17-0 lead to Michigan without even turning over the ball? How deflating was that for the program?
I actually don't think it was that deflating for the program, because it showed everyone they can compete with teams at the highest level. Northwestern had the same problem in almost every game at the beginning of the season — jumping out to early leads and then blowing them in the second half. That was the story against the Wolverines, who looked surprisingly mortal throughout most of the game. That game showed the Wildcats they can compete with anyone in the Big Ten.
Northwestern has rebounded well from that letdown, winning the last four to take control of the Big Ten West. Smoke and mirrors or viable conference contender?
As weird as it is to say, this is a team that could very well find itself in Indianapolis for the Big Ten Championship. Northwestern will travel to Iowa City for a huge showdown with the Hawkeyes next Saturday in a game that will basically decide the Big Ten West. The 5-3 record doesn't inspire much fear, but Northwestern is a legit Big Ten West contender in a down year for the divison.
Related, is there any chance Northwestern overlooks Notre Dame because of those Big Ten possibilities? That may sound foolish when discussing an opponent that is the No. 4 team in the country, but beating the Irish will not bring the Wildcats any closer to the Rose Bowl.
That's absolutely a possibility. Northwestern has three losses and thus has no chance of making the College Football Playoff, so a non-conference game doesn't do much to move the needle. The goal is to win the Big Ten West, and Notre Dame has nothing to do with that.
That's not to say a win over the Irish wouldn't be monumental for this program. Notre Dame is a perennial powerhouse and ranked No. 4 in the country, and a win would change the course of Northwestern's program for years to come. There's zero pressure on the Wildcats — no one expects them to win, and if they lose it doesn't really matter — so it'll be interesting to see how aggressive they are. I'm guessing Fitzgerald will make more than a few interesting fourth-down calls.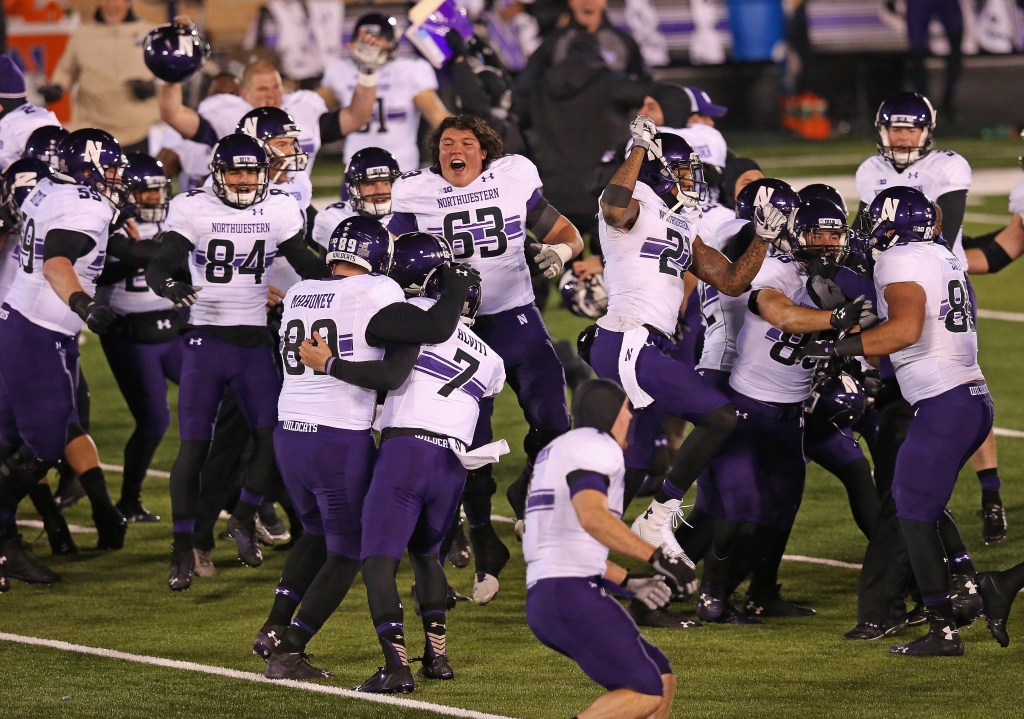 Before getting to an actual prediction, let's include the catch-all of, have I missed anything, aside from neglecting to mention this is Notre Dame's first trip to Evanston since 1976?
How about the last two times these teams have met? In 1995, Northwestern – which had won just three games a season prior — traveled to South Bend for a matchup with the Irish. A huge upset win catapulted the Wildcats to a historic Rose Bowl appearance in probably their most memorable season ever.
Then in 2014, 3-6 Northwestern returned to South Bend and stunned the Irish 43-40 in overtime of an instant classic (at least in these parts). So believe it or not, the Wildcats are actually riding a two-game win streak in this series.
And, a prediction?
This will be a close game. It's always tough to beat a team playing at home, under the lights with nothing to lose. But Notre Dame has firepower that Northwestern doesn't. 27-21 Irish.
[protected-iframe id="4322d87b3e2eb4d11caa19723fa3b36c-15933026-22035394" info="//platform.twitter.com/widgets.js" class="twitter-follow-button"]