It is an impossible standard to match, but a comparison inevitably broached in the midst of an undefeated season, especially a season with big bad 'Bama looming over the rest of the country. Six years ago, Notre Dame rattled off an undefeated regular season, spurred by one magnetic player. No matter what happened in December and January, that much cannot be denied.
With the Irish now ranked No. 4 and only four games away from the second undefeated regular season of Brian Kelly's tenure, the question should have been expected …
Who is this year's Manti Te'o? Who is the face of the Irish, and why? Or why not — Perhaps this is a better conglomeration of multiple players, a better "team" so to speak? — Robert B.
Robert included the possibilities of senior linebacker Te'von Coney, senior defensive tackle Jerry Tillery and junior cornerback Julian Love. He mentioned junior quarterback Ian Book, brought up senior running back Dexter Williams and drew a rather bold line directly between senior receiver Miles Boykin and Jeff Samardzija.
Know what almost all those current players have in common? With the exception of Book, they appeared on the preseason's "Counting Down the Irish."
The past few years, Tyler James of the South Bend Tribune and ND Insider has shouldered this midseason obligation, reflecting back on his own top-25 ranking. But Tyler instead spent this year's idle week doing things like breaking down offensive line play, charting Book's pass progressions and providing genuine analysis. With him now tending to those bigger and better concerns, that leaves a fool like yours truly to discuss who was underrated, overrated and — in the case of Book — not rated at all just nine weeks ago.
The complete final top 25 is listed at the bottom, but to go through some highlights reveals a broader answer to Robert's inquiry.
No. 25: Fifth-year defensive tackle Jonathan Bonner — Bonner has only 14 tackles this season, but he has provided under-the-radar depth, at the absolute least. Removing any member of Notre Dame's defensive line from these rankings is rash.
No. 22: Junior right guard Tommy Kraemer — Kraemer has pretty much been benched at this point, something that may have happened even sooner if fifth-year left guard Alex Bars had not been knocked out for the year back in September. Kraemer's replacement, senior Trevor Ruhland, does not inherently jump into the top 25, nor does now starting left guard sophomore Aaron Banks, merely due to taking over the role with only five games left. That said, if the Irish rattle off four more wins, a large amount of credit will need to be directed toward the revamped offensive line.
No. 20: Junior defensive end Julian Okwara — Only one of the 12 beat writers polled placed Okwara ahead of classmate Daelin Hayes (No. 8, more on him later), but a few others claimed to consider it. Okwara currently has 26 tackles with seven coming behind the line of scrimmage. His total number of quarterback hurries is somewhat uncountable. He should have been higher than No. 20. He should have been top 10. He should have been where Hayes was.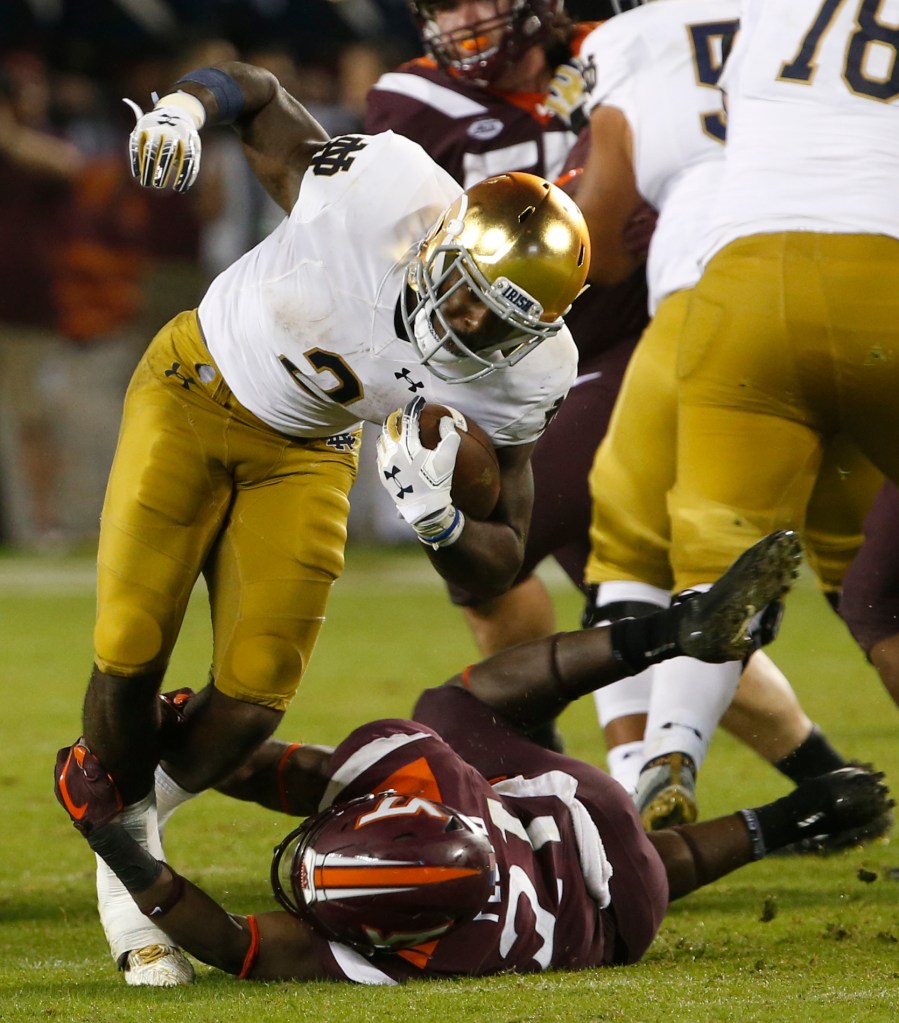 No. 19: Senior running back Dexter Williams — I was wrong. In my preseason review of the rankings, I had the audacity to write, "Expecting [Williams] to be the No. 19 most-impactful player this season with those large limiting factors is a generous reach. It is not impossible, but it seems quite improbable."
Williams has appeared in four games with four to go. Doubling his stats to date puts him on pace for 148 carries for 1,038 yards and 14 touchdowns. In Kelly's eight previous years leading Notre Dame, that would put Williams atop the rushing leaders in all but two of them: Josh Adams led with 1,430 yards last year and Cierre Wood ran for 1,102 in 2011. That latter number could easily fall in a bowl game.
Williams has (finally) lived up to the hype, and then some.
No. 17: Junior running back Tony Jones — Knocking Jones for his performance thus far is to miss what Williams has done. But removing Jones from this list and replacing him with unranked sophomore running back Jafar Armstrong would make an abundance of sense. Armstrong missed three crucial games, so moving him up much further than this slot might not even be necessary.
No. 16: Senior nickel back Shaun Crawford — Of course, the poll was conducted before Crawford tore his ACL. In his place, though, it would be easy to slip in junior safety Jalen Elliott, tied for the third-most tackles on the team with 45 and tied for the lead in interceptions with two. Elliott's improved play is not discussed enough, quite frankly. Remember his game-saving pass breakup against Vanderbilt? The Irish very well could have suffered a loss the third week of September otherwise.
No. 15: Sophomore tight end Cole Kmet — Between Kmet here and senior tight end Alizé Mack at No. 18, two tight ends did not need to make the top 25. Mack's 27 catches for 250 yards and a score warrant inclusion; Kmet's 11 for 93 do not.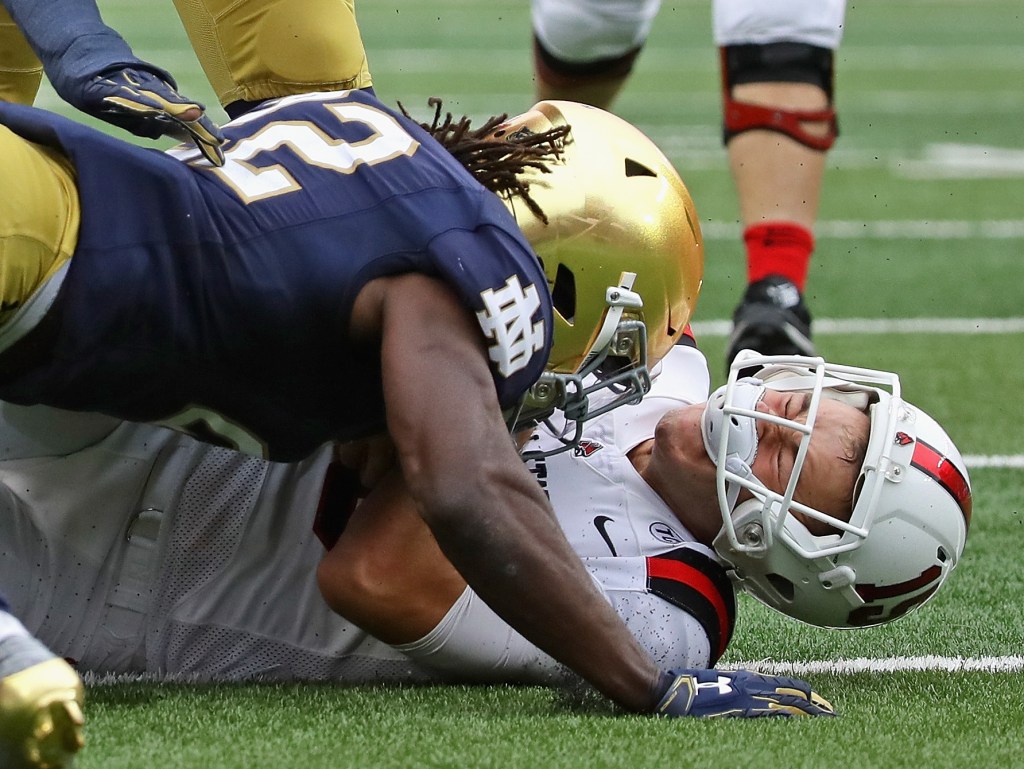 In his place, how about promoting senior rover Asmar Bilal? He was widely doubted entering the season, but 38 tackles with three for loss to date should be on this list, and Bilal's aptitude shored up one of Notre Dame's few defensive question marks, something of an intangible impact.
No. 11: Junior receiver Chase Claypool — In order to move players up (Okwara, Williams), others have to move down.
No. 10: Junior defensive end Khalid Kareem — 27 tackles, eight for loss, 4.5 sacks, one dramatic fumble forced that led directly to a touchdown. Essentially, the Irish defensive line cannot get enough credit, and Kareem has been a primary piece of that.
No. 8: Junior defensive end Daelin Hayes — His stats have not been there, and thus he will drop on this list, but his position is also about much more than stats. Hayes remains a piece of Notre Dame's dime defensive line, when Clark Lea threatens the passer as much as possible. Hayes' stunts have led to multiple Kareem sacks. By keeping four pass-rush dangers on the field, he keeps extra blockers from stopping Okwara. Hayes falls on this ranking, but he should not fall off.
No. 7: Fifth-year left guard Alex Bars — If not injured, Bars would have risen into the top five. As is, dropping Bars off the list makes space for an underrated piece like senior receiver Chris Finke. He did not make the preseason polling but has become a consistent contributor since Book's insertion. Catching 27 passes for 338 yards should at least put Finke in the Nos. 20-25 range.
No. 6: Senior quarterback Brandon Wimbush — Speaking of Book's insertion, let's just stick him here and be good with the change.
Why not higher? Doing so would require Book surpass a defensive stalwart like Coney (No. 1), Tillery (2), Love (4) or fifth-year linebacker Drue Tranquill (5). Keeping fifth-year center Sam Mustipher in the top five feels similarly necessary, especially given the revolving doors on each side of him.
Robert's question may be best answered by half the team: The Irish defense kept the record perfect through the offense's struggles under Wimbush. It held off Pittsburgh. It reduced Navy's triple-option to an empty threat.
Notre Dame's defense, led by Tillery, Okwara, Coney and Tranquill still dominates a listing of the most-impactful Irish players, even more so than considered in August.
Too Long; Didn't Read … Ranked too high in the preseason: Kraemer, Jones, Crawford, Kmet, Claypool, Hayes, Wimbush.
Ranked too low in the preseason: Okwara, Williams, Kareem.
Incorrectly not ranked in the preseason: Armstrong, Elliott, Finke, Book.
The complete preseason list:
Nos. 25 – 21: Bonner, Newsome, Eichenberg, Kraemer, Yoon.
Nos. 20 -16: Okwara, Williams, Mack, Jones, Crawford.
Nos. 15 – 11: Kmet, Hainsey, Pride, Gilman, Claypool.
Nos. 10 – 6: Kareem, Boykin, Hayes, Bars, Wimbush.
Nos. 5 – 1: Tranquill, Love, Mustipher, Tillery, Coney.
[protected-iframe id="4322d87b3e2eb4d11caa19723fa3b36c-15933026-22035394" info="//platform.twitter.com/widgets.js" class="twitter-follow-button"]