Three different positions across five years with a total of 37 starts to date, spanning all five seasons. More than 250 career tackles. Two-time captain. Let's make one thing clear: No. 4 Notre Dame (8-0) does not simply replace fifth-year linebacker Drue Tranquill if he cannot go at Northwestern this weekend (7:15 ET; ESPN). His exact status is unlikely to be known until shortly before kickoff, if not after.
"Drue practiced today," Irish head coach Brian Kelly said Thursday of Tranquill's recovery from a five-day-old high ankle sprain. "Got him in some 7-on-7, got him in some team stuff today. We'll see how he feels [Friday]. He was padded out, got in there and moved around pretty good."
The Wildcats (5-3) are good enough Tranquill will play if at all able. That is also akin to his nature. Nonetheless, who fills in for or complements Tranquill will shed light on Notre Dame's long-term defensive views.
If Tranquill can't go, then what lineup changes get made? … Perhaps Bilal would move inside allowing Simon to start at rover, but as I think it through, with [Northwestern] employing a pass-heavy attack, maybe it would be best for Bilal to stay put and Genmark Heath or Bauer to step straight into Tranquill's spot. — Dan H.
Let's start by eliminating freshman linebacker Bo Bauer. He has not been mentioned by Kelly this week, and his role this season has largely been on the inside, backing up senior Te'von Coney. Kelly would not go too deep into the possibilities, but he did mention both sophomore Jordan Genmark Heath and senior Asmar Bilal.
"There will be a host of guys getting some work there," Kelly said Tuesday.
The discussion on the Wildcats' offense can wait a moment. This personnel decision will not be dictated too heavily by that in particular. Whether Bilal moves over from rover or Genmark Heath steps up from a reserve role will give a clue to 2019's thinking. Both Tranquill and Coney will be gone then. Bilal could readily move inside, but it would most likely be to Tranquill's buck position with the emergence of Bauer already assuaging most Mike concerns.
Bilal has played well at rover, though. It has been a rather natural fit. Genmark Heath, meanwhile, has now had seven full months of work at buck. He might finally be ready to handle the position after his move from safety in the late spring.
The best bet for both the Irish and for predicting the future is Tranquill plays. He has come back from two major knee injuries. It seems unlikely an ankle sprain sidelines him with a chance at the College Football Playoff on the line.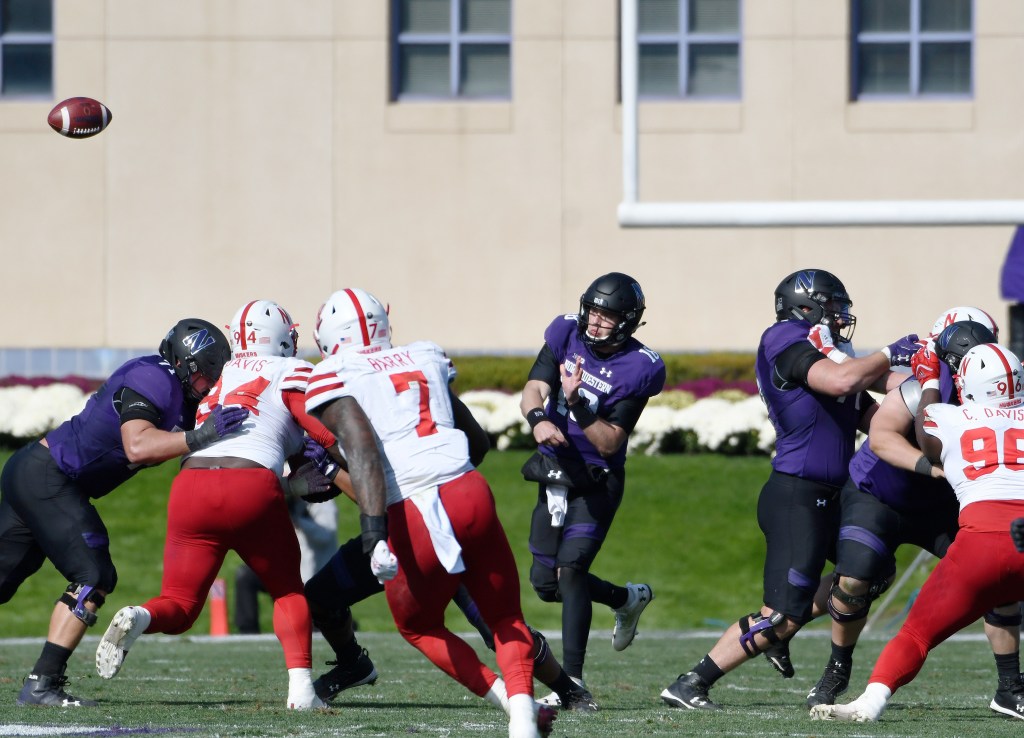 Now, about Northwestern's offense, the quick assumption is it will rely on the pass. For example, senior quarterback Clayton Thorson attempted 65 passes against Nebraska on Oct. 13. That came after back-to-back weeks of 56 and 58 attempts in September in the Wildcats' two regrettable losses to Duke and Akron.
This offense heaves.
Notre Dame's defense, meanwhile, has made a habit of taking away the run from the opposition. Only two of eight Irish opponents have exceeded their attempts per game against Clark Lea's defense: Ball State and Wake Forest. The other six have averaged nearly eight fewer attempts per game than they usually manage. It seems worth mentioning, the Deacons run the ball sixth most often in the country, and the Cardinals were clearly trying to shorten the game overall to sneak off with an upset.
Northwestern averages 35.4 rush attempts per game. If that falls to 27 or so, that could leave about 53 dropbacks for Thorson. That begs a question …
What is the Irish record for sacks in a game?
Senior tackle Jerry Tillery matched the individual record of four earlier this season against Stanford. The team record in the Kelly era is six, notched against Arizona State in 2013 and at Pittsburgh in 2011. (Ahhhh, the 15-12 Jonas Gray Fame.) The program record is believed to be nine sacks, most-recently reached in Lou Holtz's last game at Notre Dame Stadium against Rutgers in 1996.
Tillery & Co. probably will not get to that number, but if Thorson and his reduced mobility drop back 55 times, the Kelly era mark might have a chance of falling.
There are, however, two reasons to doubt such success. The first is that Northwestern has given up only 19 sacks this year. The second is the Wildcats have begun relying on the run of late, at least in quantity, if not quality.
"They started to establish a pretty good running game last week," Kelly said Thursday. "If you look at what they did against Wisconsin — the big play, throwing the ball down the field is absolutely part of what they do, but they put together a really strong running attack that balanced that out last week."
Indeed, Northwestern ran 49 times for 182 yards and three touchdowns in a 31-17 against the No. 20 Badgers, but that is an average of only 3.71 yards per rush. Freshman Isaiah Bowser led the way with 117 yards on 34 carries, a 3.44 average. The Wildcats are running more often, but not necessarily well enough while doing so.
Hence the expectation of long scores.
"We're not seeing anything there other than they have to push the ball down the field," Kelly said. "If you look at the Michigan State game, if you look at every game where they've scored points, it's big plays. Shots. So we have to be prepared for that."
Kelly is correct, Northwestern scored touchdowns of 77, 48 and 21 yards against the Spartans, but in the five games the Wildcats have matched or exceeded that 29-point day, they have a total of three scores from further than 25 yards. Obviously, two came on that one afternoon.
Advanced numbers rate Northwestern's passing explosiveness as No. 69 in the country and its big-play rate (20+ yards) as No. 124. Good luck with that against a bend-don't-break defense like Lea's.
Switching sides of the ball, will sophomore Jafar Armstrong see more work than his 14 total touches last week in his return from a month-long absence (knee infection)?
Watching the development of Armstrong's partnership with senior running back Dexter Williams will be an enjoyable story line over the next month from a football perspective. The possibilities available for Irish offensive coordinator Chip Long are varied and many. He still needs to be careful with his toys.
"We probably played [Armstrong] too much," Kelly said Tuesday. "I grabbed [running backs coach Autry Denson] a couple times, said, 'Listen, get him out. We're working him a little bit harder than I had expected.' But [Armstrong] doesn't say a word. He just keeps rolling.
"He should have been on a pitch count, probably should have paid attention to that a little bit better. He's just a guy that keeps going. He was fatigued. We pushed him through that."
Unfortunately, the absence of senior tight end Alizé Mack (concussion) may force Armstrong back past a pitch count again this week. Notre Dame has other tight ends — cue another red-zone touchdown for fifth-year Nic Weishar — but there will still be fewer multiple tight end packages, and that may mean more two running back sets.
A better indication of the Armstrong-Williams balance should come next week against Florida State.
I initially was frustrated at the rankings, but you are so right that if ND finishes undefeated, they are in. No longer talking specifically about Notre Dame here, but if LSU beats Alabama this weekend, any chance they just flip spots at 1 and 3? — Thomas W.
If the Irish get out to an early lead Saturday night, you should feel free to watch the SEC tilt (8 ET; CBS). If the Tide win, the country is halfway toward forgetting the drama of two SEC teams making the College Football Playoff. If the Tigers pull off the two-touchdown upset, though, Thomas may be on to something. Whether or not they flip spots is a moot point. The real question will be if Alabama would stay in the top four. Spoiler alert: Probably.
Questions? There is a reason insidetheirish@gmail.com exists.
[protected-iframe id="4322d87b3e2eb4d11caa19723fa3b36c-15933026-22035394" info="//platform.twitter.com/widgets.js" class="twitter-follow-button"]