EVANSTON, Ill. — Once again it took awhile, and once again Notre Dame rendered that angst unnecessary. The No. 4 Irish topped Northwestern 31-21 on Saturday thanks largely to two third-quarter touchdowns.
Those scores turned a 7-7 tie into a presumed 21-7 Notre Dame rout, even if a delayed one, but an Irish special teams gaffe gave the Wildcats late life until a perfectly-executed read-option fake by junior quarterback Ian Book yielded him a clear 23-yard path for a touchdown and the final score, his third on the day.
"We definitely wanted to put the ball out to the perimeter to our playmakers, and we wanted to take some shots," Book said of the halftime adjustments. "We were able to hit some of those and help spring our offense."
Northwestern (5-4) kept the Irish in check in the first half in nearly every regard, giving up only 55 rushing yards and 4.63 yards per play. Book, he of the completion percentage rates usually defying belief, had completed only 7 of 15 passes for 107 yards at halftime. He then nearly matched those numbers on a touchdown drive early in the third quarter, completing 7-of-9 passes for 77 yards, eventually finding senior receiver Miles Boykin for a 20-yard score.
In that period alone, Book went 11-of-14 for 195 yards and two touchdowns, also connecting with sophomore Michael Young from 47 yards. Book finished the game 22-of-34 for 343 yards and two passing touchdowns plus another 56 yards on 11 rushes.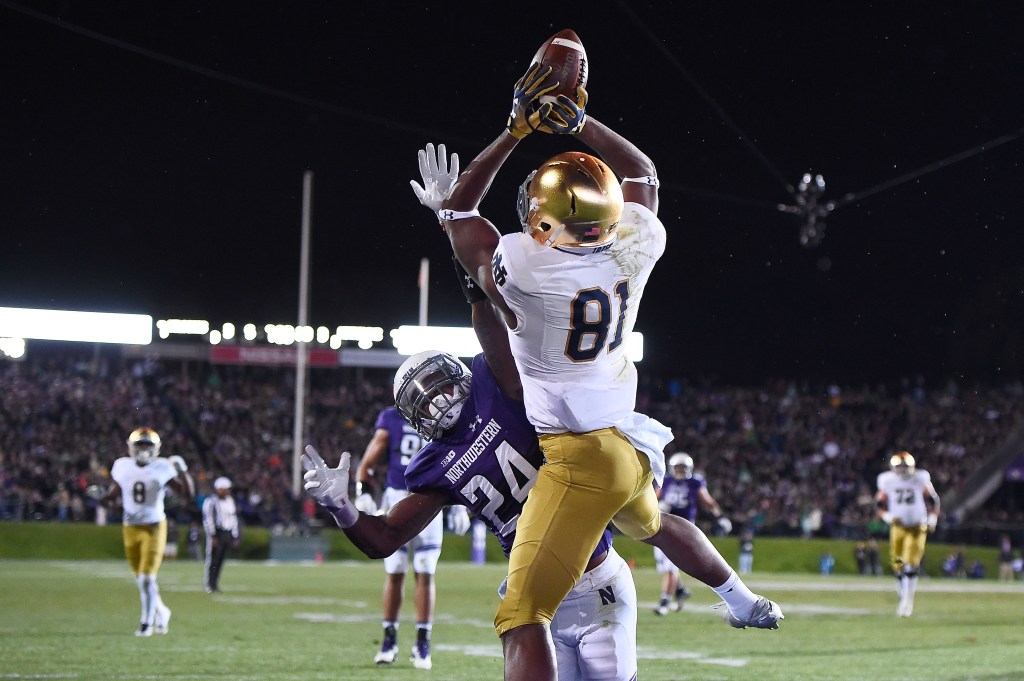 "I didn't sense a tightness with the [offense]," Notre Dame head coach Brian Kelly said beneath Ryan Field. "… They played fast and free in the second half and that's really the most important thing."
Yet, a blocked punt early in the fourth quarter kept Northwestern around just long enough to keep things interesting. Only Book's legs made his arm's contributions enough.
While Notre Dame's defense allowed a touchdown after the blocked punt — though the Wildcats needed five plays to cover the 17 yards and even then barely breached the goal line — it did not give up any points when the Irish offense fumbled on the first drive for the second consecutive week.
Immediately prior to the blocked punt, the Wildcats scored on a 27-yard touchdown pass, but that was their only play of more than 20 yards, gaining a total of 249 yards and averaging 3.6 per play.
"That's the way we've won this year," Kelly said. "We haven't given up the big plays. We've been really effective and efficient. We played some different coverages that they hadn't seen before, … which was obviously effective for us in some certain situations."
Indeed, Northwestern senior quarterback Clayton Thorson completed only 16 of his 29 attempts for just 141 yards while getting sacked five times, including twice each by senior linebacker Te'von Coney and junior end Daelin Hayes.
"The key this week was to get pressure on [Thorson]," said Coney, who also had 10 tackles. "He's a great quarterback who we knew we had to move him off his mark, get him out of the pocket and get him moving so he wouldn't make accurate throws."
As much as that is the way Notre Dame has won this year, both the bend-don't-break strategy and the reliance on a pass rush, it was also the distinct game plan from defensive coordinator Clark Lea this week. Thorson typically relies on receiver Flynn Nagel. With Irish junior cornerback Julian Love focused on Nagel — former high school adversaries, in fact, both being from the Chicago area — Thorson needed to take to deep shots, unsuccessfully but for the one.
"We wanted to eliminate Flynn Nagel," Love said. "… After that, if you do that correctly, they're going to just take shots. We were prepared for that. They got that one on us, but I think we did a good job of handling deeper throws and getting off their rhythm. You could see they struggled because we game planned well."
Up until the final minutes, every piece of that game plan was needed, but as Love said, the defense knew what the score was and knew what to do when the Wildcats got within three points halfway through the fourth quarter.
"Our defense is something like waking a sleeping beast really when games are close," Love said. "… We knew if they didn't score any more points, game over. And that's what we did."
PLAY OF THE GAME
Not only did Book's late touchdown run give Notre Dame a two-possession lead with only two-plus minutes remaining, it also converted a third down. If not for it, the Irish may have attempted a field goal and given Northwestern a chance at a victory.
The first down, not the touchdown, was the intention.
"We certainly had held that play for an opportunity to end the game," Kelly said. "It was an unbalanced situation. We got the numbers the way we wanted it."
Like every read-option, Book had the choice of handing it off inside, but his one read indicated he should pull the ball and head around the edge, following sophomore tight end Cole Kmet. Book's description made it clear the read was quite plain, and Kmet hardly had to do a thing as the lead blocker.
"We felt like we would be able to pick up the first down," Kelly said. "We were going to run the football in that situation regardless. Just something we held onto and executed it well."
If you are going to hold a play that can rip off a chunk gain, deploying it when a first down can ice the game makes plenty of sense. For Book, it may have been the best part of the game.
PLAYER OF THE GAME
That is saying something, considering Book completed 64.71 percent of his passes, averaged 10.1 yards per attempt and totaled 399 yards and three touchdowns.
That's a day. Or, more precisely, a night.
Yet, this honor could also be claimed by junior receiver Chase Claypool. In fact, Kelly gave Claypool the game ball Saturday. He finished with eight catches for 130 yards.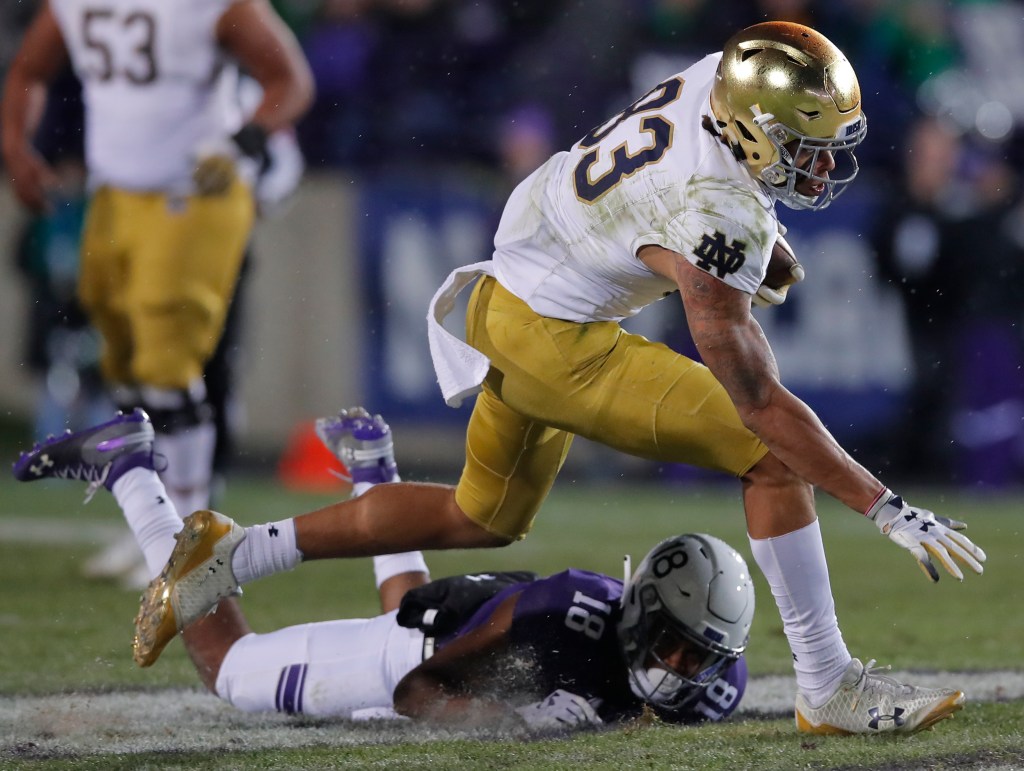 Claypool set the table for others' success. The drive that ended with the Boykin touchdown began with a 13-yard completion to Claypool. The one that culminated with the deep ball to Young started with a 31-yard catch by Claypool to get the Irish out of the shadow of their own goalposts.
"He has really ascended this year," Kelly said. "… His maturity has allowed that growth. In everything that he has done. His work ethic, the way he practices. Anybody who has been around the game knows the great players are great practice players. The way he practices now carries over to the way he plays, and it's showing itself in his maturity and the way he practices."
Claypool said it was a point of emphasis for him to gain yards after the catch, and he did, inflating both his and Book's stats. Those yards turned into Notre Dame success, even if Claypool himself did not reach the end zone.
TURNING POINT OF THE GAME
Fourth-and-2 and it would be a 47-yard field goal. The Irish had yet to find offensive success, and the game remained tied. Taking the likely three points would have made plenty of sense. Instead, Kelly went for it.
But offensive coordinator Chip Long did not call for a run up the middle. To that point, Notre Dame had rushed 22 times for 63 yards, an average of 2.9 per carry, including a return to the line of scrimmage by senior running back Dexter Williams on the previous snap. Instead, Long called for a quick screen to Boykin on the perimeter.
"We made a couple adjustments at halftime," Kelly said. "[Book] picked up on them extremely well. We worked the ball back to the field and got some good looks."
Boykin made the difficult touchdown catch three plays later. That did not end up being the winning score, but it was the one that finally got the Irish offense on track and rolling toward 24 second-half points.
STAT OF THE GAME
Those Notre Dame halftime adjustments were real:
First-half yards per play: 4.63
Second-half yards per play: 7.74
Much of that change came through the air, but the Irish run game did slowly find its effectiveness:
First-half rushing: 20 carries for 55 yards, 2.75 yards per attempt.
Second-half rushing: 17 carries for 77 yards, 4.53 yards per attempt.
QUOTE OF THE NIGHT
Usually a question like this would be met with an eye roll by a the discerning listener. It is fluff, little more. But sometimes, it is necessary fluff.
"How does it feel to be 9-0?"
Coney: "It feels great. We know we have a lot more in the tank, we have a lot ore that we have to do. We have accomplishments that we want to accomplish this year. It's going to take a lot."
A year ago, there was not a lot more in the tank at this point on the calendar.
SCORING SUMMARY
First Quarter
6:28 — Notre Dame touchdown. Dexter Williams 1-yard run. Justin Yoon PAT good. Notre Dame 7, Northwestern 0. (14 plays, 79 yards, 5:33)
Second Quarter
8:04 — Northwestern touchdown. Clayton Thorson 1-yard run. Charlie Kuhbander PAT good. Notre Dame 7, Northwestern 7. (18 plays, 73 yards, 8:36)
Third Quarter
7:28 — Notre Dame touchdown. Miles Boykin 20-yard pass from Ian Book. Yoon PAT good. Notre Dame 14, Northwestern 7. (11 plays, 80 yards, 3:51)
2:33 — Notre Dame touchdown. Michael Young 47-yard pass from Book. Yoon PAT good. Notre Dame 21, Northwestern 7. (6 plays, 98 yards, 2:09)
Fourth Quarter
13:05 — Notre Dame field goal. Yoon 43 yards. Notre Dame 24, Northwestern 7. (5 plays, 29 yards, 2:17)
11:16 — Northwestern touchdown. Riley Lees 27 yards from Thorson. Kuhbander PAT good. Notre Dame 24, Northwestern 14. (6 plays, 75 yards, 1:49)
7:05 — Northwestern touchdown. Thorson 1-yard run. Kuhbander PAT good. Notre Dame 24, Northwestern 21. (5 plays, 17 yards, 1:51)
2:45 — Notre Dame touchdown. Book 23-yard run. Yoon PAT good. Notre Dame 31, Northwestern 21. (10 plays, 89 yards, 4:16)
[protected-iframe id="4322d87b3e2eb4d11caa19723fa3b36c-15933026-22035394" info="//platform.twitter.com/widgets.js" class="twitter-follow-button"]