Brandon Wimbush will start for No. 3 Notre Dame against Florida State.
No, that is not a "Jeopardy" clue with the answer of "What are sentences I never thought I would hear?" It is reality. Irish head coach Brian Kelly removed all doubt about junior quarterback Ian Book's status in an exclusive interview with The Observer, the independent student newspaper at Notre Dame.
"If Ian Book was in a position where we didn't feel like we would heighten his medical risks, he would have played," Kelly said. "… We think he'll be prepared to play next week. We're very confident that, if everything continues to move in the direction it has up to this point, that he'll be able to play against Syracuse."
In other words, there is a chance Wimbush starts next weekend at Yankee Stadium, as well. In that regard, this weekend's matchup will set the stage for a top-15 spectacle.
How will Wimbush fare against a strong Florida State defense?
Yes, the Seminoles were gashed for 106 points the last two weeks by Clemson and NC State. Advanced metrics consider them the Nos. 7 and 23 offenses in the country, respectively. The Tigers score the fourth-most points per game at 47.8, while the Wolfpack comes in No. 47 with 31.4.
In the first three games of the year with Wimbush as the starter, the Irish did not match those kinds of numbers. Book took the offense to a well-above-average level, but Wimbush had it scoring 23.3 points per game.
Even with those two disasters at hand, Florida State's defense is considered No. 39 in the country by S&P+. Simply put, the 'Noles give up all the points in part because the offense is so terrible. If that sounds like an excuse, keep in mind similar logic played a role in Wimbush's benching.
Florida State gives up just 111.1 rushing yards per game (No. 17 in the country) on 2.84 yards per carry (No. 6). It allows only 55.4 percent of passes to be completed, a figure that was going to be included in this writing no matter who Notre Dame started at quarterback but one even more ominous for the Irish with Wimbush taking snaps — his season average is 55.3 percent.
Kelly said that rate should improve, something heard before.
"To throw the ball with accuracy, there's a lot of carryover to so many other sports," Kelly said Thursday. "You watch pitchers that lose the strike zone and they make a couple tweaks in a bullpen session and all of a sudden they're throwing strikes again."
At this point, the same old analogies and the repeated praises ring a bit hollow. Showing it on the field could give them credence, but until then it is natural to presume Wimbush is still Wimbush.
That would indicate Notre Dame and offensive coordinator Chip Long might change the game plan for the senior quarterback.
"The offense just kind of moves more toward — he's a good runner of the football," Kelly said. "You're going to see him run the football a little bit.
"You don't change a ton of what we do other than what has he been successful at and you maybe add a little bit of that to what you're doing. I don't think if you watch us play you go, that's a totally different offense."
Wimbush's success running against Michigan in the season opener came behind a better offensive line than the Irish currently trot out. It also came without senior running back Dexter Williams, and sophomore Jafar Armstrong was getting his first action, hardly the quickly-proven commodity he has become.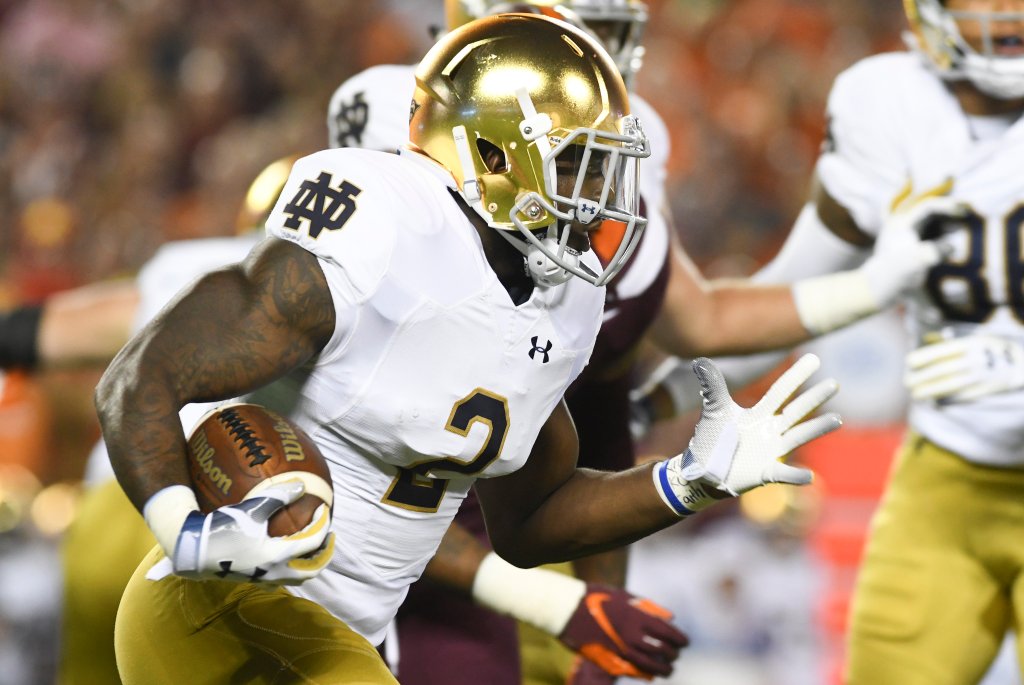 How will Williams and Armstrong share the load?
If they can both find a rhythm, combined with Wimbush's legs, Notre Dame could have a multi-pronged rushing attack that overwhelms Florida State, no matter how good the defense may be. The presumption was Williams and Armstrong could finally work together a week ago, but a sprained ankle limited Armstrong to just four carries.
"His play was not at the caliber of what it had been in the past," Kelly said Tuesday. "It hampered him in the game. He wasn't as explosive. He knew it. He'll be better this week because of it.
"No doubt those two are great complements."
Keeping fresh legs in a game with a reduced passing attack will be vital. Armstrong's health may matter more than ever. Junior Tony Jones might even need to contribute half a dozen physical carries.
To be clear, Wimbush does have one intangible going for him.
Earlier this season, Kelly reflected on the mistakes made in 2016 that led to a locker room divided by two quarterbacks who believed they should start. It was something not worried about this year, and that is a credit to Wimbush. Kelly has said such repeatedly in press conferences, in that interview with The Observer, and apparently even in less public settings.
Yahoo's Pete Thamel visited with some of the Irish coaching staff during the off week before Navy, and came away with this synopsis: "Coaches raved about the way Wimbush handled the move behind the scenes. He's been encouraging, engaged and an ideal teammate through an adverse time."
That attitude has kept the locker room behind Wimbush. If nothing else, this Senior Day will be about one senior in particular, and the team will buy in.
"It's awesome to have a guy like that, that first of all, our players really respect and are excited if he has the opportunity to play," Kelly said Thursday. "They'll rally around him.
"If he has to come in, he doesn't have to go win the football game. We have some other pretty good pieces. We have a pretty good defense. If he's called upon, he'll do a great job. He's prepared himself."
RELATED READING: Wimbush places team success as paramount
That defense alone should give Wimbush a 13th victory as a starter, especially considering how terrible Florida State's offense is.
Really, it is that bad. Whether preferring advanced or traditional metrics, they are in agreement. The advanced numbers put the Seminoles offense as No. 102 in the country, the No. 124 rushing attack and No. 50 passing.
Traditional numbers include Florida State as the No. 105 scoring offense with 23.8 points per game, No. 128 (of 130) in rushing yards per game and No. 129 in yards per attempt with 2.38. Its passing efficiency is No. 61 in the nation.
The Seminoles offense is bad. Notre Dame's defense is good. This does not require calculus.
If it really is that simple, might the Irish do something to complicate things?
Like what? You mean wear uniforms that give fans nightmares (USC 2005; Boston College 2002, specifically)? Send the seniors out in a different color than usual? Of course not. That would be absurd.
No, wait, Notre Dame is definitely wearing green this weekend.
[protected-iframe id="4322d87b3e2eb4d11caa19723fa3b36c-15933026-22035394" info="//platform.twitter.com/widgets.js" class="twitter-follow-button"]