Welcome to a world where Northwestern and possibly Pittsburgh contend for conference championships while Virginia Tech, Florida State and USC have work to do to even be eligible for a bowl game. Welcome to a year in which No. 12 Syracuse is one of only three Irish opponents currently ranked. Welcome once again to Notre Dame's schedule frustrations of 2018.
Michigan (9-1): Bookmakers predicted the Wolverines would beat Rutgers 43-6, so the actual 42-7 victory goes to show just how little Vegas knows. Michigan rattled off 35 unanswered points after giving up an 80-yard touchdown run in the first quarter.
Expect more of the same from the Wolverines this weekend, favored by 28.5 against Indiana (4 ET; FS1). A combined point total over/under of 53.5 suggests a 41-13 finish, but who would ever trust Vegas to properly handicap these things?
Ball St. (4-7): The Cardinals came out of their off week with a 42-41 overtime victory against Western Michigan on Tuesday. That win alone may cool Mike Neu's seat this winter.
Vanderbilt (4-6): A 33-28 loss at Missouri puts the Commodores in a tough spot as far as bowl eligibility goes. The two-touchdown underdogs won the turnover battle 2-0 and did not trail until the final nine minutes, but Vanderbilt just could not pull off the surprise.
As a result, the 'Dores need to finish 2-0 against Mississippi (7:30 ET; SEC Network) and Tennessee. Vanderbilt is favored by 2.5 points this weekend, and likely will be next, as well. For an SEC game, the 66.5 over/under stands out, projecting a 35-32 result.
Wake Forest (5-5): Maybe the Deacons will have another quarterback controversy next season. With freshman Sam Hartman out for the year, junior Jamie Newman led Wake Forest to a 27-23 victory at NC State on Thursday, completing 22-of-33 passes for 297 yards and three touchdowns. Two fourth-quarter scores brought the Deacons back from a 23-13 deficit.
Now Wake Forest can play the role of spoiler. Pittsburgh (12 ET) arrives as a touchdown favorite with a chance to win the ACC Coastal with a victory. A 34-27 game could go either way, quite frankly, when Greg Dortch is in the mix.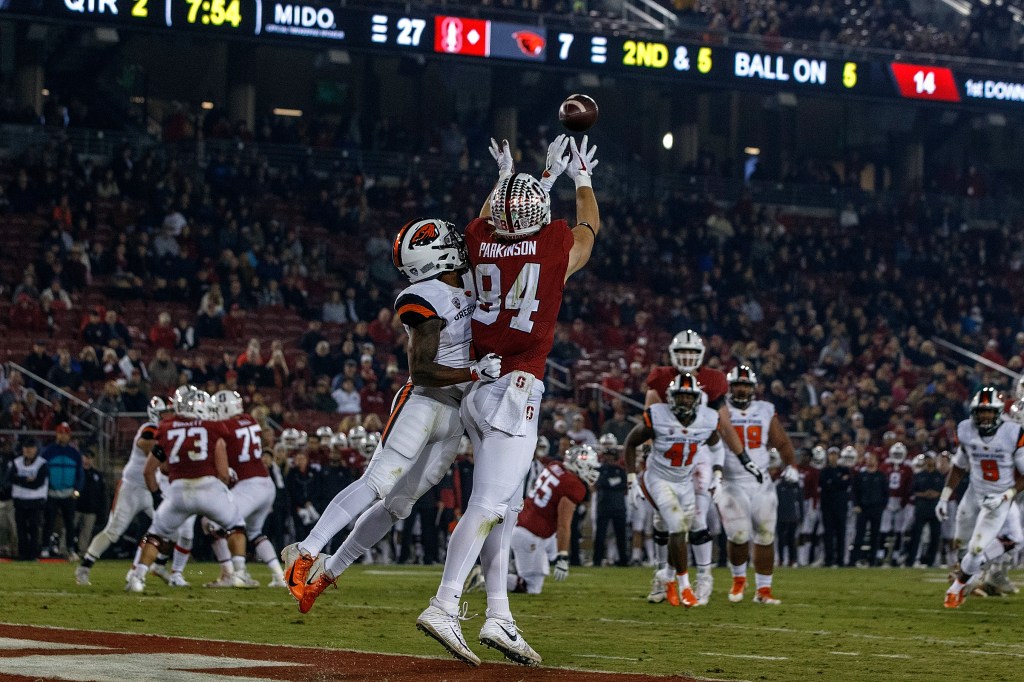 Stanford (6-4): The Cardinal finally brought its running game, rushing for 244 yards in a 48-17 victory at Oregon State. Even with an 8.1 yards per carry average, Stanford's passing game still stole the show. Tight end Colby Parkinson finished with six catches for 166 yards and not one touchdown, not two, not three, but four scores.
The Cardinal now head to Cal (7:30 ET; Pac 12 Network) for the first wave of Pac-12 rivalries. Cal has not beaten Stanford since 2009, but did just snap a longer streak to USC, one tracing back to 2003. This would be a mild upset, with the Bears only two-point underdogs with a 45-point over/under making for a 24-22 projection.
Virginia Tech (4-5): It is not that Hokies defensive coordinator Bud Foster is inherently on a hot seat. His career is too well-established for that. But head coach Justin Fuente must be considering offseason possibilities after Virginia Tech gave up 492 rushing yards in a 52-22 loss at Pittsburgh.
Righting the ship, and keeping bowl possibilities afloat, will require the Hokies to win as 5.5-point underdogs at Miami (3:30 ET; ESPN). A 51.5-point over/under hints at a 28-23 Hurricanes victory.
Pittsburgh (6-4): The Panthers can clinch the ACC Coastal with a win at Wake Forest. Considering Pittsburgh ran for 13.7 yards per carry against Virginia Tech and Qadree Ollison led the way with 235 yards and three touchdowns on 16 rushes, that title game appearance should become a reality. The Deacons rank No. 103 in rushing yards allowed per game (203.6) and No. 113 in yards per carry (5.19).
Navy (2-8): The Midshipmen gave up 297 rushing yards on 52 carries in a not-as-close-as-it-seems 35-24 loss at Central Florida. Navy might snag a win this weekend, though, with Tulsa (3:30 ET; CBSSN) visiting and the Middies favored by five.
Northwestern (6-4): The Wildcats won the Big Ten West with a 14-10 triumph at Iowa led by freshman running back Isaiah Bowser's 165 yards on 31 rushes.
That could lead to a letdown as Northwestern heads to Minnesota (12 ET: BTN) as 2.5-point favorites. If nothing else, the 50.5-point over/under seems high, a 26-24 conclusion out of character for the Wildcats this season, only reaching 26 points three times thus far.
Florida State (4-6): The Seminoles bowl chances took a drastic hit with their 42-13 loss at Notre Dame. They now need to win out, beginning as 1.5-point home underdogs to Boston College, who may be without starting quarterback Anthony Brown (3:30 ET; ESPN2). The absence of Brown and the ineptitude of Florida State's offense combine for a 48.5-point over/under, a possible 25-24 squeaker.
Syracuse (8-2): The Orange put the final nail in the coffin of Bobby Petrino's head coaching career with a 54-23 victory against Louisville on Friday. Presumably as a result of someone needing to hang around to coach the team for two more weeks, Cardinals defensive coordinator Brian VanGorder was not fired along with Petrino despite giving up 518 total yards and 326 rushing yards to Syracuse.
The Orange will look to continue their turnover-forcing ways against Notre Dame (2:30 ET; NBC) after forcing four last week. This line has moved back up to 10.5 in favor of the No. 3 team in the country while the over/under has fallen from 66.5 to 61.5 due to harsher weather expectations. A 36-25 Irish victory would assuredly be enough to keep Notre Dame comfortably in all Playoff considerations.
USC (5-5): The 15-14 loss to Cal turned up the heat on Clay Helton, even if he says he expects to coach at USC for another 15 years. The Trojans gained 277 total yards, rushing for 97 on 38 carries, a 2.6 yards per rush average.
Losing to UCLA (3:30 ET; FOX) might seal Helton's fate, but USC should prevail as 3.5-point favorites.
12 ET: Wake Forest vs. Pittsburgh; Northwestern at Minnesota on BTN.
2:30 ET: Syracuse vs. Notre Dame on NBC.
3:30 ET: Virginia Tech vs. Miami on ESPN; Navy vs. Tulsa on CBSSN; Florida State vs. Boston College on ESPN2; USC at UCLA on FOX.
4:00 ET: Michigan vs. Indiana on FS1.
7:30 ET: Vanderbilt vs. Mississippi on SECN; Stanford at Cal on Pac-12 Network.
Favorites: Michigan -28.5; Vanderbilt -2.5; Stanford -2; Pittsburgh -7; Navy -5; Northwestern -2.5; USC -3.5
Underdogs: Wake Forest +7; Virginia Tech +5.5; Florida State +1.5; Syracuse +10.5.
[protected-iframe id="4322d87b3e2eb4d11caa19723fa3b36c-15933026-22035394" info="//platform.twitter.com/widgets.js" class="twitter-follow-button"]