Entering the season, Syracuse would have been considered Notre Dame's sixth-stiffest challenge, at best. This particular space lumped the Orange in as a "should-be win," designating it as no higher than the eighth-toughest opponent awaiting the Irish.
That was wrong, all very wrong. At No. 12 now, Syracuse was overlooked and as a result, it may not be as well-known as it should be. To rectify that, here comes Stephen Baily of The Post-Standard and Syracuse.com …
DF: Stephen, I cannot say I ever anticipated this game being, well, this game. Before we dig in, how long have you been on the Syracuse beat?
SB: I've been covering the team since the start of the 2013 season overall and since 2014 for Syracuse.com/The Post-Standard.
At 8-2 and No. 12 in the country, the Orange have put this game on the national radar as much as Notre Dame has. Be honest here — not that you won't be throughout these answers, but this is the spot where you may have reason to change the past — what did you see as Syracuse's 2018 ceiling back in the preseason?
Honestly, I would say nine wins in the regular season was the absolute ceiling I envisioned at the start of preseason camp. I did not expect Florida State or Louisville to be this bad and, while the team is markedly improved in important areas, Syracuse has also avoided significant injury and taken advantage of its softest schedule since joining the ACC. I thought the Orange would be better in Year 3 under Dino Babers and predicted 6-6 heading into Week 1.
This may be an unfair way to ask this, as some factors depend upon each other, but what percentage of this year's top-15 performance would you credit to Babers, to senior quarterback Eric Dungey and to a schedule that has been reasonable, but has yet to feature No. 3 Notre Dame or No. 22 Boston College?
I think the majority of the credit goes to Babers (50 percent) for implementing systems and not only sticking to them, but building a roster and culture around them. Everything that goes into the inner-workings of Syracuse football ties into the mindset of winning football games in shootout fashion. From recruiting to conditioning to defensive emphases, everyone understands the ultimate goal and we're seeing it all come together in Year 3 with a deeper roster.
I'll say Dungey (25 percent) and the schedule (25 percent) get an even split of the rest, though it's admittedly a weird way to divvy up credit as the defensive line and special teams play have been considerable factors in the team's success this year. Regarding Dungey, he's had an up-and-down season in which he was benched against North Carolina and nearly lost his job the following week. But the competition brought out the best in him. He looked significantly better passing the ball over the next two weeks, and when he's trusting the timing of plays and throwing accurately, there isn't a defense in the country that won't be kept off-balance. He's truly a monster in the open field.
The schedule has just worked out perfectly for Syracuse. The Orange caught Florida State on a down year and the absolute rock bottom for Louisville. UConn is trash. Seriously, this is a team that could easily be 10-0 if the defense would've been able to get a stop at Clemson and Dungey didn't miss an overtime throw at Pittsburgh.
Let's focus on Dungey for a moment. A four-year starter, he has never finished a season. Knock on wood, he may this year, even though a couple weeks ago it looked like he could be benched in favor of sophomore Tommy DeVito. Dungey has completed 60.4 percent of his passes, thrown 14 touchdowns against five interceptions, and averages 219.3 passing yards per game. On top of that, he has rushed for 690 yards and 12 touchdowns. I suppose I have a few questions, so first of all, can you (briefly) explain the DeVito situation from October?
So DeVito is a redshirt freshman who is probably the most decorated recruit of the Babers era — Elite 11, The Opening, Under Armour All-American. He split first-team reps with Dungey during camp and played the majority of the Florida State win after Dungey left with eye irritation. He's played in about half the games this year, with FSU and North Carolina being the big ones. DeVito threw three TDs to lead Syracuse back against the Tar Heels.
That following week, Babers let the two quarterbacks compete throughout the week and only told them of his decision Saturday just before the North Carolina State game. Dungey looked like a completely different player, throwing for 400 yards and three touchdowns. At Wake Forest the next weekend, he completed 14 straight passes.
It's pretty clearly Dungey's job moving forward, but I do believe if Dungey reverts as a passer for more than a few drives, Babers won't hesitate to turn to DeVito. Like I said, this team is built to win 50-30. If the offense isn't scoring the ball, that's a problem. The perceived margin for error is slimmer there than for most teams.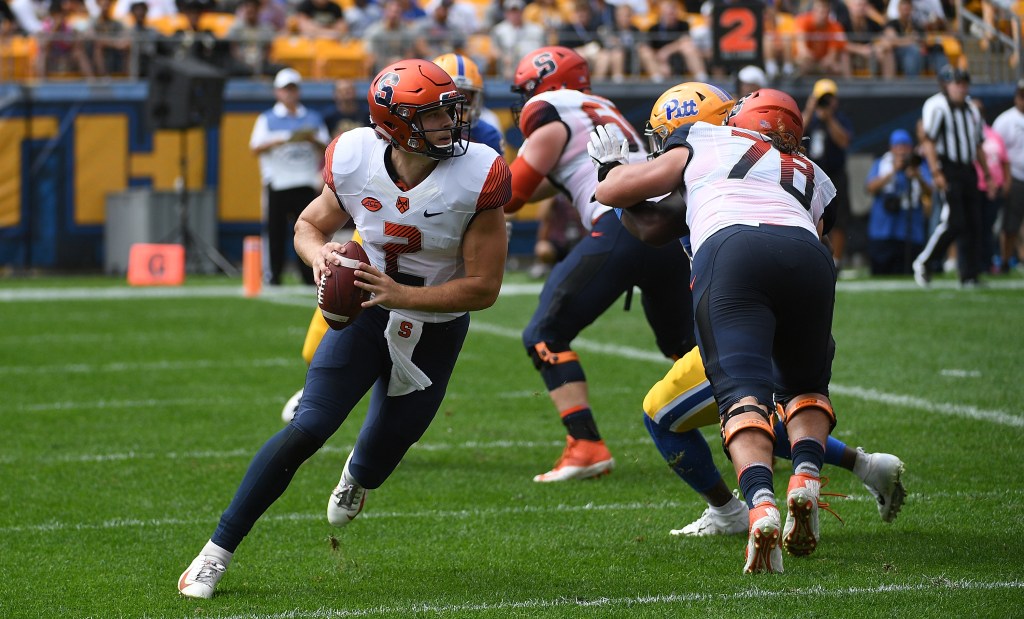 Would you consider Dungey a true dual-threat quarterback, or is he a pass-first quarterback who happens to be able to run for chunks when available? Presumably, his scrambling played a role in some of his past injuries.
Yes, he's a dual-threat quarterback. He's consistently a weapon in the running game. If teams don't account for him or decide to drop back and try to take away the vertical passing game (see Wake Forest), Dungey will take advantage. He's bigger than he was in past years and has run over multiple defensive backs this fall. He'll rack up yardage on designed runs (RPOs, draws and sneaks in short-yardage situations) and scrambling. He's probably at his best in the scramble game when Syracuse goes with its four- and five-wide sets.
Speaking of such sets, one of Notre Dame's greatest weaknesses this year is its nickel package. Neither senior Nick Coleman nor freshman Houston Griffith has been able to consistently fill the hole left by Shaun Crawford's ACL tear. The Irish have survived that deficiency thus far, but they also have not faced an offense with four receivers with 387 yards or more, 28 receptions or more, and each with multiple touchdowns. This is an offense that lost its two leading receivers, and last year's Nos. 3 and 4 are now Nos. 5 and 6. Where did this group come from? Should Notre Dame fans worry about Dungey's third and fourth (and fifth) options?
This group is balanced across the board and features a bunch of guys who are willing and capable to simply handle their roles. Babers' offensive approach is almost always built around what the defensive is showing. That's why you'll see the tempo offense halt for checks at the line of scrimmage. Playing off coverage against a 2×2 set? Here comes the bubble screen. Going to give Jamal Custis man coverage? Time for the fly. There's a simplicity to it, but with wrinkles in motions and releases, Babers does a great job of creating matchups and exposing weaknesses. Just ask Clemson defensive coordinator Brent Venables.
Looking at the players themselves, Custis is the most physically gifted. At 6-foot-5, he has looked like an NFL guy for three years, but he's only now stayed healthy and performed consistently enough to produce. Slot receivers Sean Riley and Nykeim Johnson are extremely efficient, shifty and great after the catch (particularly Johnson). Tight end Ravian Pierce is a weapon in the red zone. I guarantee you the Orange tries to slip him off an RPO look at some point Saturday, and the safety who has watched Dungey run all game will have to be ready to stay back.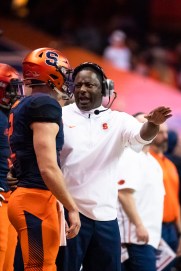 This all comes just a week after Syracuse enjoyed Brian VanGorder's defense to the tune of 54 points, but most of that came on the ground. While Dungey threw for 192 yards on 14-of-27 passing, the Orange ran for 326 yards on 55 carries. Which would Babers prefer, to run or to pass to a victory?
Babers will take whatever he's given, but almost always tries to keep the threat of the ground game on the table. Honestly, Louisville gift-wrapped multiple red-zone possessions and penalized its way into a blowout. The Syracuse offense didn't even have one of its better performance of the year, stalling out in the red zone multiple times.
Since we've talked about the receivers, here's what you should know about the Orange run game. Junior Moe Neal is the top back. He's got great burst and has become a simpler runner, rarely cutting more than once before hitting the jets. You'll also see senior Dontae Strickland, the team's best receiving and blocking back and true freshman Jarveon Howard, a bowling ball who is used most often in short-yardage and goal-line situations. When Syracuse is on the goal line, look out for a jumbo package featuring six offensive linemen, a tight end, two lead blockers and a back. One of those lead blockers is 280-pound sophomore fullback Chris Elmore, who was recruited by most programs to play defensive tackle.
I would usually have spent a question or two by now on the defense, but Syracuse's does not impress much. This weekend certainly looks to be a shootout. Can you give me any reason to believe otherwise? I suppose it is a defense that has forced 25 turnovers this year (while Dungey's offense has turned it over only 12 times).
You hit the nail on the head in regard to turnovers. This is a bend-but-don't-break defense that wants to keep plays in front of it and force teams to earn points. A 15-play drive means 15 opportunities to force a turnover. That unit as a whole, but particularly the secondary, has been opportunistic in regard to ball disruption, though it all starts up front. Redshirt senior defensive tackle Chris Slayton is a monster, drawing regular double-teams to open up 1-on-1 chances for defensive ends Alton Robinson (nine sacks) and Kendall Coleman (seven).
Two of Syracuse's top four corners are banged-up in junior Scoop Bradshaw and redshirt freshman Ifeatu Melifonwu, though Babers expects them to be active Saturday.
Before we get to a prediction, let's return to my initial question. If a top-15 standing was not a preseason expectation, what are the Orange hopes for November at this point? Peach Bowl or bust?
Win out and a Peach or Fiesta Bowl spot seems all but guaranteed. If not, there's a chance the Camping World Bowl takes a 9-3 Orange team, but there could be more travel-friendly fanbases in play as well. 8-4 seems like a near-lock for the Pinstripe Bowl, which would be disappointing for some considering Syracuse has played in the game twice, but could present a fun matchup with Penn State.
Keeping in mind Syracuse upset No. 2 Clemson last year and nearly pulled off the same feat this season, can it draw anything from those experiences? What do you expect from the Orange on Saturday?
I expect a team that will be mentally engaged and equipped with a solid game plan. I expect a close contest featuring big plays on both sides of the ball and a real emphasis from the Orange defense to get after Ian Book. No one will be overwhelmed by the opponent or the stage. But when push comes to shove, I think a Notre Dame-heavy crowd and outdoor venue make life tough on Syracuse's offense down the stretch. All of its big wins during the Babers era have come in the Carrier Dome; in fact, before the Orange won at Wake Forest two weeks ago, the team had gone eight straight ACC road games without a win. So I've got Notre Dame winning a close one. I went with 41-37 in our predictions, for whatever that's worth.
[protected-iframe id="4322d87b3e2eb4d11caa19723fa3b36c-15933026-22035394" info="//platform.twitter.com/widgets.js" class="twitter-follow-button"]