No. 3 Notre Dame heads west this weekend to face an unfamiliar USC (8 ET; ABC), a downtrodden USC, an in-turmoil USC. To explain the Trojans' situation, here comes Joey Kaufman of the O.C. Register …
DF: Hey, Joey. I realize putting up with Notre Dame questions from folks thinking 12-0 and a spot in the Playoff might not be an urgent concern as you ponder Clay Helton's hot seat and a winter spent sans a trip to the Sun Bowl.
At this point in the season, it is hard to separate the macro from the micro with USC, but let's try to start with the on-field items. Offensively the names that stick out to Irish fans are quarterback JT Daniels (because of his national profile) and receiver Amon-Ra St. Brown (because of his last name), high school teammates just a year ago. Has the freshman duo proven worth the hype this season?
JK: They haven't, which is in part due to the hype spinning a bit out of control, particularly for Daniels. In the summer and throughout training camp, Daniels was billed as the next great USC quarterback in several magazine-length profiles. He's proven not to be a bust — which is not nothing because the Trojans have gone through some recent five-star passers that didn't pan out in the slightest — but Daniels has had some wild highs and lows.
In a sign of his promise, he threw three touchdown passes in a win over Washington State in late September, handing the Cougars, now eighth in the College Football Playoff rankings, their only loss. Neither Matt Barkley nor Carson Palmer threw three touchdowns in a game as a true freshman. Then he completed only six passes in a beatdown at Utah and left the game after three quarters with a concussion. It has not been an easy adjustment for Daniels, who graduated a full year early from Mater Dei High School, the prep powerhouse in Orange County, to join the Trojans. His passer rating is 11th among Pac-12 quarterbacks. A portion of the fanbase would like Jack Sears, the redshirt freshman who replaced him for a game last month, to start. Sears is the more mobile quarterback. None of this has been unexpected, but when the expectation is to be Sam Darnold, it's a tall ask.
As far as Amon-Ra St. Brown, he's been a capable target, and Daniels has often leaned on him, perhaps at times too much. But he's been college-ready from the jump.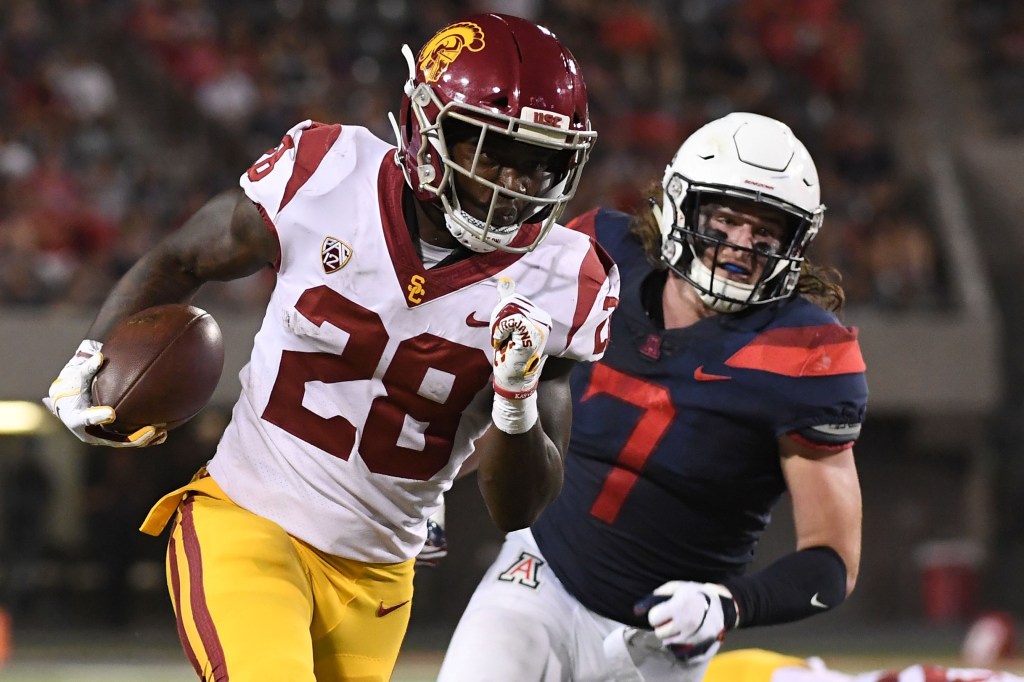 The Trojans running game has been up-and-down, to say the least. Four times this year, they did not reach 100 rushing yards. There were signs of life as October turned to November, but then USC rushed for only 209 yards in the last two weeks, averaging 3.22 yards per rush. Senior running back Aca'Cedric Ware has shown some flashes, but he has been far from a workhorse. Are these struggles a testament to the ball carriers, the offensive line, the play calling, some combination thereof?
Although the Trojans lost Ronald Jones, a 1,500-yard rusher along with Darnold, Ware and redshirt sophomore Vavae Malepeai have afforded their offense some capable running backs. The biggest issue has been the offensive line. The advanced stats have been pretty unkind, according to Football Outsiders: 108th in line yards, 116th in power success rate, 96th in stuff rate. The issues tend to compound, as well. The Trojans have been so ineffective at times running the ball that they give up on it entirely. Their loss at Texas in September was illustrative, with 48 pass attempts to 16 rushes.
That might be all the micro on hand. The Trojans' season has taken such a turn, it is hard to ignore. Midway through October, it seemed USC could, maybe should, end up in the Pac-12 title game, then 4-2 with a 3-1 conference record. When did you start to think the season would take a sharp turn south?
That moment was after USC's loss to Arizona State on Oct. 27. Earlier in the season, the narrative surrounding Clay Helton was his teams couldn't beat the more formidable opponents or punch above their weight. The losses to Stanford, Texas and Utah, while all beatdowns, all came on the road when the Trojans were underdogs. When they fell to the Sun Devils, it set them back and was a sign things could actually tailspin. The loss was their first at the Coliseum under Helton, snapping a 19-game home winning streak that was then the second-longest in the nation behind Alabama's. It was also only the third time under Helton that they had lost while favored in the game. Similar situations unfolded the last two weeks against Cal and UCLA. The Trojans were favored, but lost. It was one thing to lose to elite non-conference foes, but another to start losing to middling conference rivals.
How much trouble is Helton in? Maybe it is just a national narrative at this point, but last week's loss to UCLA really seemed to be the end of his brief time at USC.
He's certainly in trouble. The last time USC finished with a record below .500 was Paul Hackett's final season as coach in 2000, resulting in his firing, and the Trojans will be 5-7 if they lose, as expected, against the Irish. But it's hardly a foregone conclusion he will be fired, and people involved with the athletic department believe Swann would like to keep Helton. It might not be a coincidence Helton expects to return and has told players he will be back in 2019. Granted, his return will be difficult to square with the fan base which is raising money to fly a "Fire Clay Helton" banner during Saturday's game. Everything seems to be in play, especially when you consider his buyout is reportedly at least $15 million.
Of course amid all that drama, giving up 79 combined points in back-to-back weeks to Utah and Arizona State speaks to some defensive difficulties. Might the Irish be able to match those outputs?
It's very possible, and Utah likely offers them the best template. The Utes pounded USC's front seven and ran 51 times for 200 yards. Arizona State took advantage as well, picking up even more rushing yards with 283 on 44 carries. UCLA had 313 rushing yards last week, too. Over the past few months, since losing outside linebacker Porter Gustin for the season due to an ankle fracture, the Trojans' defense has seemed increasingly beaten down.
That question clearly suggests Notre Dame should be able to cruise past the Trojans. They have talent, of course, but it has not been seen much this year. Is it anything but paranoid to think USC's talent could finally come around this week?
It's possible. There's always the chance USC can out-talent some teams and it has enough big-play receivers, led by Michael Pittman Jr., and skill position players to do so. It'd be a great 7-on-7 team. As much trouble as the Trojans have had, their best avenue for success comes on big plays. They rank 34th in the nation in IsoPPP, a stat that measures explosive plays. So Daniels and his targets could make it interesting if they happen to hit on a couple deep ones.
What is your prediction for Saturday night? Will the Irish punch their Playoff ticket?
Much like 2012, the Trojans will play hard. As much trouble as they've had this fall, I don't think they've quit. But Notre Dame is too formidable, so I'll pick the Fighting Irish, 35-17.
[protected-iframe id="4322d87b3e2eb4d11caa19723fa3b36c-15933026-22035394" info="//platform.twitter.com/widgets.js" class="twitter-follow-button"]