LOS ANGELES — Hopefully, you spent yesterday forgetting about Notre Dame. On a day reserved for family, gluttony and the NFL, it would be understandable to focus the given thanks on mom's cooking, dad's reluctant sharing of the cheesy potatoes and the overall generosity of Matt Stafford.
That was yesterday. This is today. This is Friday, the afternoon before the No. 3 Irish can lock up their first bid to the College Football Playoff. If ever a Notre Dame season warranted thanks, it has been this one. Intermixed with what should be the thanks of an Irish fan, find the thanks of a writer covering Notre Dame. Combined, just more than three dozen appreciations. Thanks for …
— Beating Michigan to start the season. Without that win, the Irish never would have been in the mix as a Playoff contender, even if finishing 11-1. Losing a different game may have allowed for it, but without that win against the Wolverines, Notre Dame's résumé would not have had enough meat on its bones, kind of like a turkey today.
— NBC's ratings from that opener show just how much Irish fans were grateful for it even then, the most-watched Notre Dame game on NBC in 13 years with 7.195 million viewers.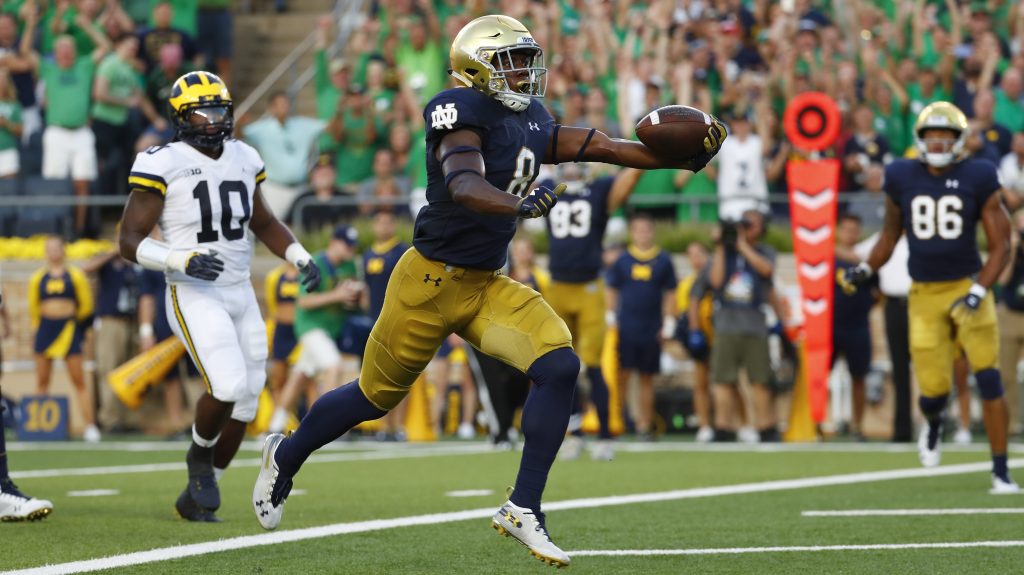 — Sophomore running back Jafar Armstrong ran for only 35 yards on 15 carries in the season opener, but he did score twice and his performance in the first four games of the year made the absence of senior Dexter Williams survivable. Rushing for 242 yards in that span had Armstrong on pace for nearly 1,000 yards this season before Williams' return coincided with Armstrong missing three games due to a knee infection. He may not yet be back to full fitness, but Armstrong set the tone early, and in doing so preemptively eased some of next year's running game concerns.
— The new NCAA rule allowing players to appear in up to four games before losing a year of eligibility. It does not actually change anything in the cases of sophomore defensive tackle Myron Tagovailoa-Amosa or freshman defensive tackle Ja'Mion Franklin, each sidelined by a broken foot early enough in the season the old standards would have still protected them, but it is nonetheless a good rule as a whole. Consider freshman defensive end Justin Ademilola: He has played in three games, made seven tackles and genuinely contributed to the defense. He could be heard from again against USC. Yet, he will still have a fifth year available to him in 2022. Given his potential, yet need for development, that is not a possibility to take lightly.
— Junior safety Jalen Elliott has four interceptions this season, but it was his pass breakup on Vanderbilt's last drive that needs to be most-remembered. If Commodores receiver Kalija Lipscomb makes his 12th catch of the day, Vanderbilt would have been in the red zone with a viable chance of pulling off the upset. The Irish may not have recovered from that until 2019.
— Senior quarterback Brandon Wimbush led that win over Michigan with 229 total yards (247 if adjusting for sacks). Notre Dame managed only 302 total in that 24-17 victory. Wimbush went 4-0 on the field this season, raising his career record as a starter to 13-3.
— And then Irish head coach Brian Kelly benched Wimbush for junior Ian Book. That move has paid off so well, it seems more obvious in retrospect than it was. In a head coaching career covering nearly three decades, that may have been the riskiest decision in Kelly's career, and it has worked. The whir of the season has deprived the gamble of receiving proper recognition.
— A big part of why that maneuver worked is how Wimbush handled it. After making the decision, Kelly admitted such dynamics cost him the locker room in 2016, two quarterbacks dividing the team. Wimbush has not stirred that pot. He has been the consummate teammate, a professional in every respect, and a winning substitute when needed against Florida State.
— Of course, the other reason Kelly's switch has worked out so well has been the performance of Book, now No. 2 in the country in completion percentage. Quite simply, be it as a fan, an observer or a reporter, watching the Irish offense has been much more enjoyable with Book at the helm.
10 — Williams' first run, a 45-yard touchdown to open the scoring against then-No. 7 Stanford, has been somewhat forgotten because of his excellence since. That dash set the tone in a huge-at-the-time win, and it could have been the moment best remembered from Williams' career if he did not continue to produce week-in and week-out since. At this point, the peak was likely his three touchdowns and 178 yards at Virginia Tech, highlighted by that 97-yard touchdown to demoralize the Hokies.
— 16-ounce cans of Red Bull. A year ago the staple through the season was Five-Hour Energy, and it has proven reliable again this year, but that silver aluminum has been the 4-7 a.m. crutch throughout November.
— Sanity-preserving email filters. When begging for reader questions at insidetheirish@gmail.com, it inevitably brought about a litany of spam. Condemning that to eternal unread status has been quite the blessing.
— Notre Dame's schedule this year was supposed to be too difficult. The lackluster seasons put forth by Stanford, Virginia Tech, Florida State and USC all changed that, and fortunately so. If they had been what was expected entering the season, and Pittsburgh and Northwestern proved to be challenging top-25 teams, the slate really may have been too daunting, rather than evidently manageable.
— Speaking of schedules, thanks to the Ivy League for moving an early October game to a Friday evening right when the Irish were already headed to the Atlantic, allowing yours truly to pull off a convenient two-fer weekend.
— If Elliott saved the day against Vanderbilt, the entire Notre Dame defense did so against Pittsburgh. The Panthers gained 242 total yards, averaged 4.0 yards per play and 4.2 yards per pass attempt. That dismal offensive effort reduced the effect of their kickoff return touchdown, making it an unfortunate footnote in the story of 2018, not a stain on a season of lost Irish greatness.
— This appreciation will not be properly recognized until it can no longer be offered. In Kelly's first five years at Notre Dame, his kickers hit 73.1 percent of their field goals, going 87-of-119. In the last four years, Justin Yoon has made 80.3 percent of his field goals, going 57-of-71.
— Drue Tranquill could have gone to the NFL. He had an engineering degree in hand, two surgically-repaired knees, and a good chance at a practice squad at the worst. Instead he returned for one more collegiate season, a high ankle sprain, a broken hand, 66 tackles and 3.5 sacks, and counting. His stubbornness, toughness and leadership have bound the Irish defense together perhaps as much as anything else.
— Jerry Tillery could have gone to the NFL. His length alone made him an intriguing pro prospect, someone worth taking a flyer on. Instead he returned for one more collegiate season and a chance to make plays at the three-technique, which he very much did with an Irish record four sacks against Stanford.
— Te'von Coney could have gone to the NFL. His stock was higher than ever considered following a junior season leading Notre Dame with 116 tackles, including 17 against LSU in the Citrus Bowl victory. Instead he returned for one more collegiate season and some further development, most notably in pass coverage, which showed itself a bit with an interception against Stanford.
20 — Coney's 17 tackles on New Year's Day stood out at the time, but he has since reached 14 twice (Ball State, Navy), showing that ball carrier-seeking showcase was not an anomaly. Since becoming a full-time starter against USC last year, Coney has racked up 173 tackles in 18 games.
— Promoting Clark Lea to defensive coordinator from linebackers coach was not a certain choice for Kelly. A first-year coordinator, Lea has made Kelly's decision look brilliant. The Irish defense is allowing 17.3 points per game and deserves the credit for at least four wins this season when Notre Dame's offense sputtered. Offensive coordinator Chip Long is a finalist for the Broyles Award, honoring the top assistant coach in the country, but Lea should get just as much recognition.
— This may not be a popular opinion. Rarely are seeming cash grabs later overshadowed by previous accomplishments. (Admittedly, that sentence was hardly a linear one.) But, let's give a nod to Mike Elko. His exit to Texas A&M was not a good look, but he left Lea quite a defense to work with and clearly had prepared his protege to lead a team.
— 23-year-old rum enjoyed immediately after a massive Cajun dinner in New Orleans, the best drink in a weekend with more than a few libations.
— Vices, don't undersell their virtue.
— The oversized bag check line available at NBA games, allowing the latter half of this very column to be typed a dozen rows up at Black Friday's Los Angeles Clippers game. The "clear bag policy" at football games would never allow for this satisfied procrastination.
— That oversized bag policy is not just in effect at NBA games, having first been noticed at a Big East game at Madison Square Garden eight days ago. And no matter what the ACC or AAC may insist, Syracuse vs. Connecticut is Big East basketball.
— The ability to find an 800-square-foot dive bar in Midtown Manhattan and the empty stool there next to a Georgia native now considering going home for next year's Irish arrival. That is a Georgia native in good standing in this space because she understood the difference between "for" and "about" without hearing the usual rant. We'll have a drink then, and to stay true to form in these parts, let's deem you "Claire."
— The spread at Yankee Stadium. Major League Baseball does some things right.
— Notre Dame's ability to stage a successful weekend in New York City: Notre Dame pulled off its Yankee Stadium showcase as only Notre Dame can.
The alternative? Syracuse lost a football game and two high-profile basketball games last weekend in the Big Apple, none of them particularly close defeats.
30 — The highlight videos put out each week by Fighting Irish Media, known as the "ICON" videos. In addition to the added camera angles on plays of note, there is almost always a small tidbit or two to enjoy, such as hearing an assistant coach (not entirely sure if it is cornerbacks coach Todd Lyght or safeties coach Terry Joseph) telling his secondary there are four more interceptions awaiting them against the Orange after Elliott snagged the first of what would become three for Notre Dame that day.
— NBC ratings all season were up 40 percent, to an average of nearly 3.5 million viewers. Broader appeal means more conversations at the bar means more enjoyable evenings, right? Those odds are best in Indianapolis; Columbus, Ohio; Fort Myers, Fla.; Dayton, Ohio; and Cincinnati, the top-five markets this season.
— Even streaming was up for NBC broadcasts of the Irish. Try to fathom this: 53.4 million minutes of Notre Dame football were streamed via one service or another this season.
— The ability to sleep on planes, if nowhere else.
— "… a barbershop quartet in Skokie, Illinois."
— Sometimes you get one right. From this column a year ago: Khalid Kareem "will certainly land in next season's 'Counting Down the Irish.' He did, at No. 10, a moment where those dozen beat writers got one right, as well. Kareem's season of 37 tackles, with 10 for loss including 4.5 sacks, has made him one of this defense's most-vital contributors.
— Kareem has managed that stat line despite "fighting through a little bit of an ankle" every week, per Kelly. That determination put Kareem among Notre Dame's toughest players in Kelly's mind, along with Tranquill (obviously), sophomore tight end Cole Kmet (ankle) and Book (ribs).
"We don't have guys that we would say don't want to go back out there and compete because they're nicked up," Kelly said. "If they can't go, they're going to give you 100 percent of their 80. … That's a good thing that we've been able to instill."
— External battery sources are already taken for granted, but they really have been a game-changer. Even this laptop charges off a pocket-sized battery on road trips, rendering hotel wall outlets pointless, if not a fire hazard.
— This should be a stress-free finish to the 2019 recruiting cycle, with 21 commits already in the fold and the early signing period less than a month away.
— A thank you to those who spend any time reading this space, though your judgment is questionable at best.
40 — Now go have a drink. The concession stands at Staples Center are open.
[protected-iframe id="4322d87b3e2eb4d11caa19723fa3b36c-15933026-22035394" info="//platform.twitter.com/widgets.js" class="twitter-follow-button"]