LOS ANGELES — Notre Dame will be the 10th team to make the College Football Playoff. Beating USC 24-17 assured the Irish of that, a chance to truly measure themselves against college football's best. Thinking back to the preseason, no expectations anticipated this moment, except for those within the team.
An earlier draft of these ramblings added an "apparently" to the end of that initial paragraph, but that would imply some version of doubt of that sentiment. Notre Dame made it very clear after the comeback victory: This was how things were supposed to be. Once in the locker room, social media videos show the Irish enjoyed themselves and relished some sense of relief, but the initial celebrations, the onfield outbursts, the usual moments of exuberance were all very calm, even demurred.
Those in the stands were far more wound-up, holding a front-row sign of "PLAYOFF LIKE A CHAMPION TODAY" and a dozen rows back an even bolder claim of "SEE YA IN NORCAL." Fans flocked to the tunnel leading to the Coliseum's innards to serenade the Irish one last time before this month off, chants of "Let's go Irish" only interrupted when senior kicker Justin Yoon reached the tunnel and a drawn-out echoing of his last name became the prevailing cheer.
On the field, Notre Dame was more animated after its season-opening win against Michigan, by an eerily-replicated score of 24-17. September's top-10 matchup against Stanford was more hyped in pregame and led to more celebration afterward. The fashion of 45-23 dominance at Virginia Tech resulted in on-field rowdiness, beginning with senior running back Dexter Williams' final touchdown rush (of three) with 4:50 remaining. From that point on, the Irish felt utterly at home in Lane Stadium, and showed it.
At USC, beating a rival, in a historic venue? Ho-hum.
Notre Dame insists it is not done. 12-0 is not enough as far as this team is concerned.
"I feel like we know, it's amazing that we're undefeated, but nowadays there's more, there's more to come," junior cornerback Julian Love said. "… We know there is a lot of work to do still."
Those were just words, but the casual handshakes with the Trojans revealed the truth to Love's claims. The Irish had probably expected this win, this unbeaten season, since Williams broke two Hokies tackles down the sideline. This was simply their expectations becoming realities.
To do more, Notre Dame will need to improve a few things, including how junior quarterback Ian Book handles playing from behind.
Book's numbers ended up decent — 22-of-39, a 56.4 completion rate, for 352 yards and two touchdowns with 9.03 yards per attempt — but it took him a long while to start producing and then made the biggest mistake of his career to date.
"He missed a couple here and there," Irish head coach Brian Kelly said. "You don't turn it over in the red zone. He knows all that stuff, but he's human. He's going to grow from it."
Book's interception at the goal line could have gone down as an all-time debacle. Notre Dame needed a field goal, points of any kind. Leading 17-10 with fewer than eight minutes remaining, any score would have all-but sealed the game. USC's offense had gained a total of 95 yards on 24 plays since halftime. It was exceptionally unlikely the Trojans could score twice more before the game ended.
On a 3rd-and-12 from the 22-yard line, Book scrambled to the left sideline and threw a pass against his momentum toward a covered Alizé Mack a yard into the end zone. Mack did his best to break up the play, and USC safety Jordan McMillan needed a bit of luck to hold onto the ball, but Book's toss never should have been near them in the first place. It should have been eight rows into the seats.
That lack of awareness comes with a first-year starter, but it is the type of mistake that could turn an upset bid in the Playoff into a one-sided loss.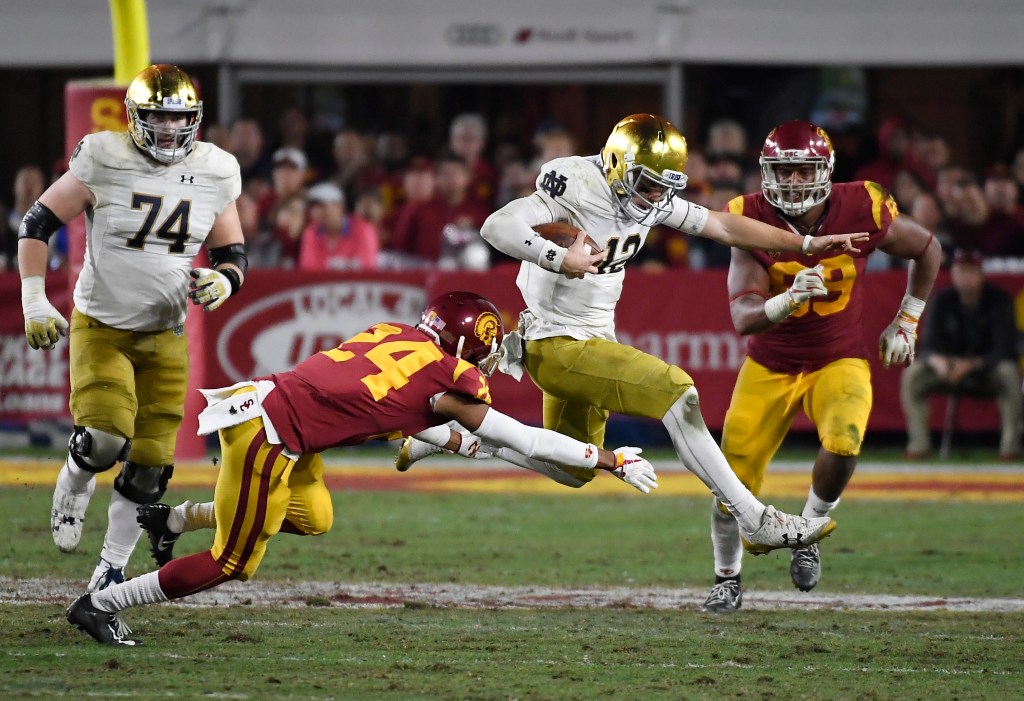 On that particular play, Book was not aided by the offensive line, flagged for holding and only just better than middling all day.
Barring an upset next weekend, the Irish will face Clemson in the Playoff. The Tigers have a defensive line featuring four likely first-round draft picks. While optimism, relief and exultation should rule this day, and perhaps this week, at some point looking ahead to that matchup will occur. At that point, concern about Notre Dame's line will reign supreme.
Manipulating stats is easier than it should be, so let's simply present the two possible views for the Irish running game Saturday: Excluding sacks and kneel downs, Notre Dame took 25 carries for 138 yards, a 5.52 yards per rush average. Or, excluding sacks, kneel downs and one Williams dash, the Irish took 24 carries for 86 yards, 3.58 yards per rush average.
Those shorter runs lead to the bigger run. Allowing only three sacks as the Trojans blitzed repeatedly was not terrible, and it is better than that when realizing one of those sacks was of senior receiver Chris Finke on a considered trick play.
"When you blitz us like that, you have to understand a few of those (runs) are going to hit," fifth-year center and captain Sam Mustipher said. "We can't get impatient or get uncomfortable. We just have to keep on weathering the storm."
Notre Dame did that Saturday, but in the Playoff, that storm will be far more fierce.
As has been the case since August, the Irish were vulnerable against a three-receiver attack.
Again using Clemson to prove the point, the Tigers offense ranks No. 18 in the country by passer rating, No. 23 in yards per attempt and No. 23 in yards per game. It is explosive and dangerous, and has four different receivers with 472 or more yards this season, each averaging at least 11.04 yards per reception.
Notre Dame could not find itself a viable third cornerback against USC, let alone a fourth. Trojans freshman quarterback JT Daniels would decide pre-snap to target freshman cornerback TaRiq Bracy whenever he was matched up in man-to-man coverage along the sideline, and doing so worked for Daniels.
If the Irish tried to turn to a base package, either fifth-year linebacker Drue Tranquill or senior rover Asmar Bilal would get exposed. The USC quick game allowed Tyler Vaughns to catch 12 passes for 120 yards and Amon-Ra St. Brown and Michael Pittman to each end up with more than 90 yards. Daniels had little trouble starting 16-of-17 in the first quarter and 26-of-31 before halftime.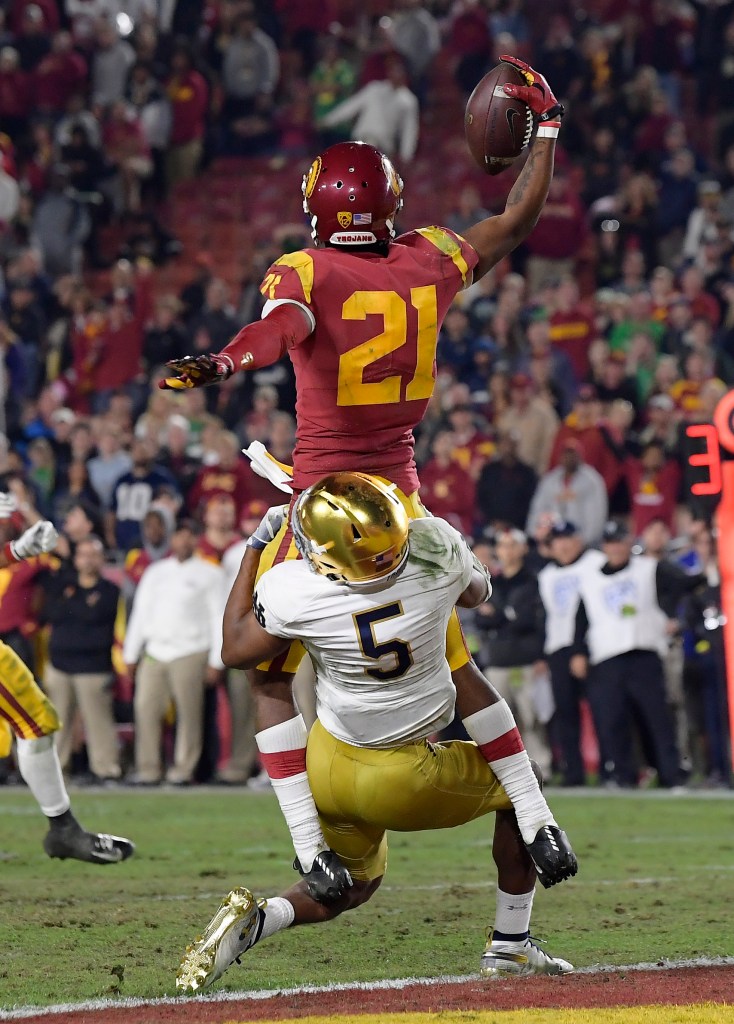 Some of this was intentional from Notre Dame defensive coordinator Clark Lea, but only some of it.
"We needed to take away some of that free access," Kelly said. "Having said that, this offense is built on the big play, so you're in-between there in terms of staying on top of routes versus how much you give underneath. We needed to find a better medium in the second half than I thought we did."
Eventually the Irish relied on senior Nick Coleman as their nickelback, and he finished with two pass breakups. It was enough of a band-aid, but clearly still an open wound, if granting the analogy.
Those are concerns for next week, once a Playoff opponent is set. For today, applause, Notre Dame is heading to the College Football Playoff for the first time.
"It means everything," Tranquill said. "It means the world. It's what I came back for.
"We're not done yet. We've got two more games to go, but to put our name on the wall as one of the few teams in Notre Dame history to go 12-0, it means the world."
[protected-iframe id="4322d87b3e2eb4d11caa19723fa3b36c-15933026-22035394" info="//platform.twitter.com/widgets.js" class="twitter-follow-button"]