LOS ANGELES — It would have been easier for Jack Swarbrick to just fire Brian Kelly. In a world as often concerned about the press conferences as about actual results, a change in head coaches could have given Swarbrick a chance to "win" two press conferences, not to mention the built-in excuse for a few more years of Notre Dame football mediocrity.
Instead, Swarbrick stood by Kelly following 2016's debacle of a 4-8 finish, capped by a 45-27 defeat at USC. He doubled down needing immediate success to count as a payoff. To this day, two years and 22 wins later, Swarbrick has insisted he never considered a coaching change.
"It was never a question," the Irish director of athletics said Saturday night in the bowels of the Los Angeles Memorial Coliseum, fresh off a 24-17 victory against the Trojans. "The one thing that frustrates me is when I read people sort of reinvent that and say, this happened or that happened so [I] changed my mind. I said at midseason we weren't changing. We never even considered it, never talked about it again.
"Wins and losses matter a lot, but it's what you see in practice every day. It's how you see kids grow in what they're doing."
Another season like 2016 would have undoubtedly led to a coaching change, no matter how much the Notre Dame roster may have improved on and off the field. But a well-discussed, both before and after, overhaul of the coaching staff and a reinvigorated Kelly prevented that. Changes do not get much bigger than bringing in a new offensive coordinator, defensive coordinator, recruiting coordinator and strength and conditioning coordinator. In fact, the only move bigger would have been for Swarbrick to default to those press conferences.
Despite USC now copying Swarbrick's patience it remains the exception proving the rule. When Trojans athletic director Lynn Swann announced the safe job status of head coach Clay Helton, Swann pointed to how Notre Dame's "administration remained committed to their head coach, who made some key changes, worked hard to fix things and got his team to improve markedly." As shocking as it was to hear USC openly emulate the Irish, it was just as expected to see Trojans fans respond poorly and with vitriol. Such is college football in the 21st century.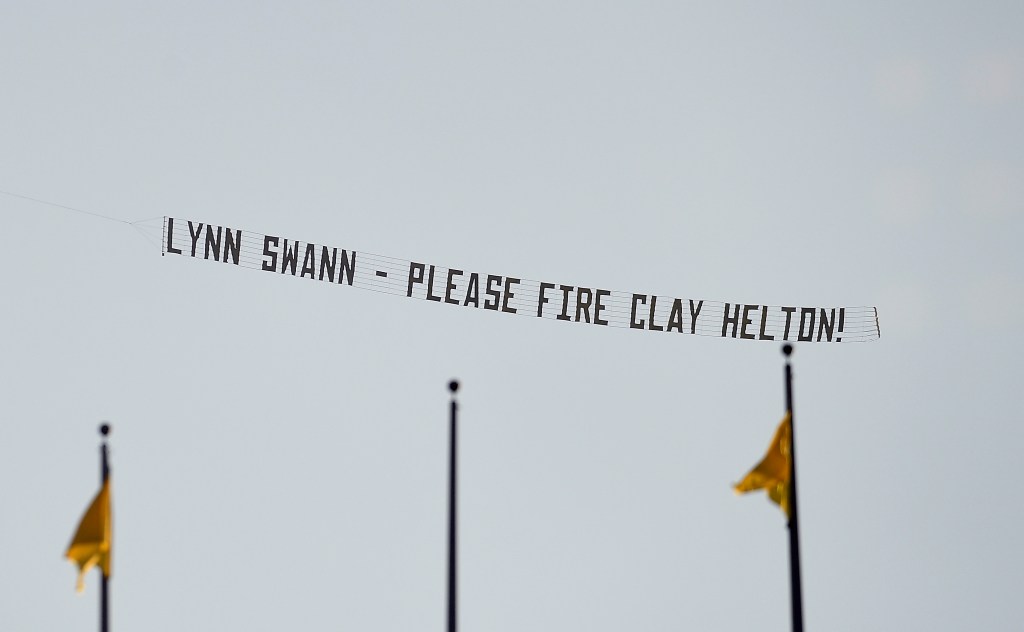 Meanwhile, North Carolina paid Larry Fedora $12 million to leave, Auburn boosters started spreading unrealistic rumors once again, and Western Kentucky fired Mike Sanford after a quick two seasons. Yes, the same Mike Sanford the Irish saw leave after serving as offensive coordinator in 2016, part of those widespread changes.
By bucking those trends, Swarbrick did not just keep Kelly around. He kept around enough of a coaching staff, namely Kelly, to deflect Saturday's credit back to the roster.
"We made changes, but we still had a core and we still had a foundation," Kelly said. "We made some subtle changes to what we were doing on a day-to-day basis and a lot of them had to do with the way I handled things on a day-to-day basis.
"I don't want this thing to get away from us — it still had to do with player development. It still had to do with our players going out on the field and executing at a high level. We didn't reinvent the wheel here. We got our players to play at a higher level with better execution.
"Behind the scenes we did make some tweaks, but the players need to get (credit)."
There has been a lot of development. Five of Saturday's starters were making their second start at the Coliseum, with a sixth (fifth-year left guard Alex Bars) sidelined only by injury. Five more of Saturday's starters recorded stats in that season-ending loss two years ago, not to mention both punter Tyler Newsome and kicker Justin Yoon. There was room to grow, but not a lot of it was seeing the field yet in 2016, no matter how injury-plagued that roster was.
Giving the roster time, and more productive time thanks to the new guiding influences surrounding it, worked out.
"If we didn't have the strong core of young players that needed to be developed, we wouldn't be winning 22 out of our last 25 games," Kelly said. "We'd be going, hey we made a lot of great changes, and we're still 7-5."
Kelly and his staff led that development, but he is right, much of the credit should go to the roster. Not only is it one now rife with established talent, but also veteran leadership, those players toiling away during that nadir.
Two Irish cornerbacks could be counted on to slow J.T. Daniels' precision attack Saturday, the same two who started the season finale in 2016: Julian Love and Troy Pride. They were working around a young safety back then; now Drue Tranquill excels at linebacker. On both occasions, Te'von Coney held things together at middle linebacker. Jerry Tillery did not start in 2016, but the defensive tackle did notch three tackles before an ignominious exit. Tillery made a key fourth-quarter sack this time around, a moment both Swarbrick and Tranquill highlighted afterward.
Those veterans, along with three-year starting center Sam Mustipher, led the way in this 180-degree turn, both on and off the field. To them, it was personal.
"I came to Notre Dame because of the tradition, tradition of excellence, tradition of football," Tranquill said. "For awhile there, we weren't building that tradition. We weren't keeping that legacy going. For me, we stared ourselves in the face two years ago and made the choice we're going to decide where this ship goes."
Tranquill is now a firm piece of that tradition. The Irish are one of 5 Power Five programs in the country to record multiple unbeaten regular seasons in the last nine years, spanning Kelly's Irish tenure. The names are the biggest in the business: Ohio State (2012, 2013); Notre Dame (2012; 2018) Florida State (2013, 2014); Clemson (2015, 2018); Alabama (2016, 2018).
Those are the wins and losses that matter "a lot." The coaching staff changes furthered the effects seen "every day" in practice. And as for Swarbrick's confidence in how players were growing, he said this is the first semester in his 11 years at Notre Dame in which the entire football roster was free of academic probation.
His patience begat not only the obvious and desired results of an undefeated season and a spot in the College Football Playoff, but also a fruitful and sustainable means to those ends.
[protected-iframe id="4322d87b3e2eb4d11caa19723fa3b36c-15933026-22035394" info="//platform.twitter.com/widgets.js" class="twitter-follow-button"]