Let the Playoff worry end. Notre Dame is in. Clemson almost certainly awaits the Irish, unless Pittsburgh has something to say about that (or Georgia pulls off a shocking upset). More on the Panthers in a bit …
Michigan (10-2): The Wolverines dreams died not with a bang, but a whimper. Ohio State trounced Michigan 62-39, a score so lopsided it immediately put the Buckeyes back into the Playoff discussion.
The Wolverines still exceeded preseason expectations, which included a season win total over/under of 8.5.
Ball St. (4-8): Not that Notre Dame is really worried about the Cardinals next season — Bowling Green takes that spot in the schedule — but Ball State has now lost both its quarterback and its running back, as Riley Neal and James Gilbert have each announced intentions of transferring as graduate students. Neal may be a bit of a hot commodity, and Gilbert is no slouch, having averaged 4.3 yards per carry this season. For thoroughness' sake: The Cardinals had a preseason win total over/under of 4.5.
Vanderbilt (6-6): The Commodores cruised past Tennessee 38-13 for their third straight win against the Volunteers, earning bowl eligibility in doing so. In pondering their preseason over/under of 4.5, this space accurately predicted the subset of eight games in which Vanderbilt could manage enough victories to reach the over.
Wake Forest (6-6): In one of the most unexpected scores in recent years, the Deacons beat Duke 59-7 over the weekend. Such are the motivating powers of bowl eligibility, though Wake Forest still fell short of its preseason over/under of 6.5.
Stanford (7-4): The Cardinal always expected to be playing this weekend following a victory at UCLA, but it did not expect to have given up 528 total yards to Chip Kelly's offense in reaching the 49-42 triumph. Stanford also did not expect to be playing at Cal (3 ET; Pac 12 Network) this weekend in a game rescheduled from two weeks ago, rather than the Pac-12 championship game.
Virginia Tech (5-6): The Hokies were gifted a 34-31 overtime win against Virginia to win the in-state rivalry for a 15th consecutive year and keep their hopes of bowl eligibility alive. Somehow the Cavaliers scored 17 unanswered in the fourth quarter to take a late touchdown lead and still lost.
Virginia Tech will now host Marshall (12 ET; ACC Network) in a game scheduled for bowl hopes. By no means should it be a rollover, with the Hokies favored by just four and a combined points total over/under of 51 suggesting a 28-24 result.
Pittsburgh (7-5): The Panthers may have already been looking ahead a week when they arrived in Miami and thus walked into a 24-3 loss. That will quickly be forgotten about if they can prove wrong a 27.5-point spread to beat Clemson (8 ET; ABC). An over/under of 52.5 paints a picture wherein Pittsburgh does not even manage two touchdowns. Things may end up a bit closer than that, but the Tigers know, win and they join Notre Dame in the Playoff.
If this space is going to pat itself on the back for nailing those preseason Vanderbilt thoughts, it should also acknowledge it fully expected the Panthers to fail to reach their 5.5-win over/under.
Navy (3-9): A 29-28 loss at Tulane will not end the Midshipmen's season, not with Army yet awaiting in two weeks. The Knights will be looking to extend their series winning streak to three, their longest since 1992-96.
Northwestern (8-4): A 24-16 win against Illinois sets up the Wildcats well before they take on the Buckeyes (8 ET; FOX) as two-touchdown underdogs. If looking at the season as a whole, this space's preseason preview not only predicted Northwestern hitting the over on 6.5 wins, but it also suggested a divisional title was possible.
Florida State (5-7): The Seminoles saw their nearly four decade bowl streak end with a 41-14 loss against Florida, also falling well short of an 8.5 win over/under, as expected.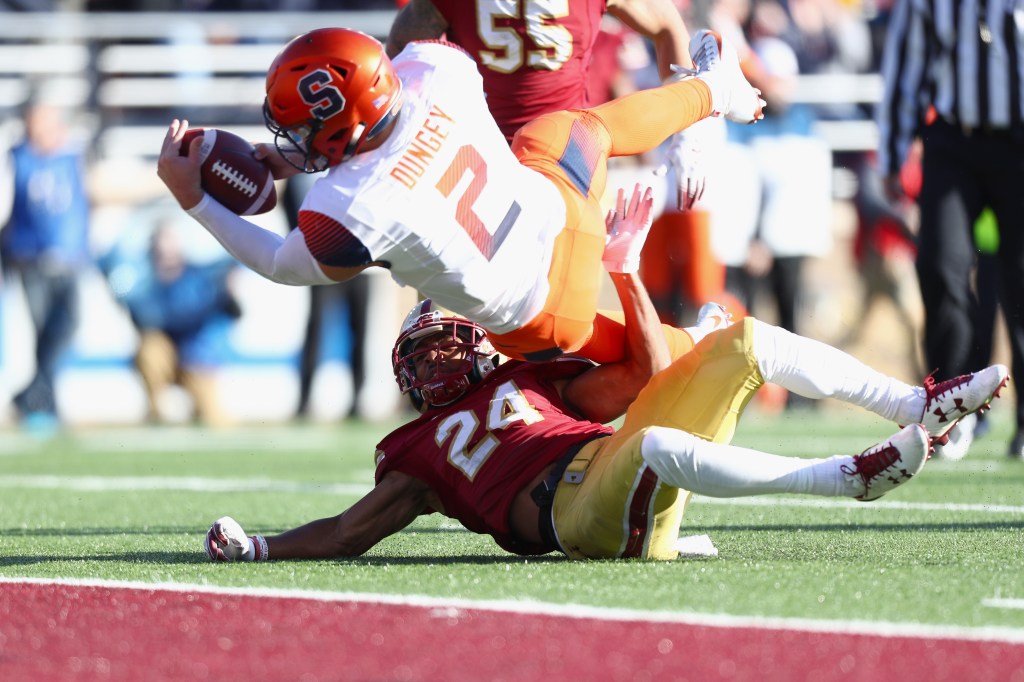 Syracuse (9-3): The Orange responded to their 33-point loss to Notre Dame with a 42-21 win at Boston College, courtesy of 559 total yards, led by senior quarterback Eric Dungey's 362 and three touchdowns on 21-of-34 passing. Suffice it to say, Syracuse blew the doors off its preseason win total of 5.5.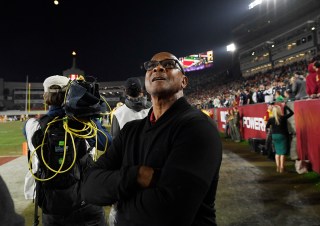 USC (5-7): Losing 24-17 to Notre Dame did not spell the end of the Clay Helton era, though it did make the preseason mark of 8.5 wins seem even more outlandish.
12 ET: Virginia Tech vs. Marshall on ACC Network.
3 ET: Stanford at Cal on Pac 12 Network.
8 ET: Pittsburgh vs. Clemson on ABC; Northwestern vs. Ohio State on FOX.
Favorites: Virginia Tech -4; Stanford -2.5
Underdogs: Pittsburgh +27.5; Northwestern +14.
Over win totals — Michigan: 10 wins, 8.5 over/under.
Vanderbilt: 6 wins; 4.5 over/under.
Pittsburgh: 7 wins; 5.5 over/under.
Northwestern: 8 wins; 6.5 over/under.
Syracuse: 9 wins; 5.5 over/under.
Under win totals — Ball State: 4 wins, 4.5 over/under.
Wake Forest: 6 wins, 6.5 over/under.
Stanford: 7 wins with one more game to play, 8.5 over/under.
Virginia Tech: 5 wins with one more game to play, 8 over/under.
Navy: 3 wins, 7.5 over/under.
Florida State: 5 wins, 8.5 over/under.
USC: 5 wins, 8.5 over/under.
[protected-iframe id="4322d87b3e2eb4d11caa19723fa3b36c-15933026-22035394" info="//platform.twitter.com/widgets.js" class="twitter-follow-button"]