Notre Dame's football season takes up a quarter of the year, but it still flies by. It might as well have been just earlier this week the Irish were readying for a season opener that was supposed to offer a final (negative) verdict on at least one of the coaches involved. Spoiler alert: It didn't, as no single game should ever be considered a referendum on a coach's performance.
It might as well have been just the middle of this week that Notre Dame was facing the highest-ranked opponent in South Bend in Brian Kelly's tenure. Remember when Stanford was considered top-10 and not making up a meaningless game at Cal this weekend?
It might as well have been yesterday the Irish had to survive without backup-turned-starter-turned-star Ian Book against a supposedly alway dangerous Florida State.
Rather than one week, 14 have passed. What have we learned since Sept. 1?
Ian Book was and is far more than a super-sub. He is a bona fide quarterback, and will be Notre Dame's starting quarterback for at least one more season. You don't win the first nine starts of your career, six of them decisively, and find yourself on the bench anytime soon.
Not that senior Brandon Wimbush was a slouch. He has gone 13-3 as a starter. Give that credit where it is due. But the Irish were struggling through three weeks this season, and it was changing quarterbacks that knocked them out of those doldrums.
Book kickstarted things in a 56-27 rout at Wake Forest, throwing for 325 yards, a number that would have been Wimbush's career high by 28 yards and one Book would top three more times by the end of the regular season.
As of now, Book sits atop the single-season Notre Dame record books with a 70.4 percent completion rate, well ahead of Jimmy Clausen's 68.0 percent in 2009. Book's efficiency rating of 162.50 would also break Clausen's 2009 record of 161.42.
More importantly, Book sits two games away from tying the school record for most consecutive wins to start a quarterback's career (Bob Williams, 1949-50).
Book has plenty to improve upon. Following the Irish victory against Syracuse at Yankee Stadium just two real-time weeks ago, head coach Brian Kelly struggled to think of a time he had ever seen the junior rattled. Aside from resorting to drastic measures to make weight as a freshman, Book's nevers had never betrayed themselves.
"On the football field, I haven't seen him get rattled," Kelly said. "He is really steady. Takes the information, processes it very well."
That may have been a reach at the time, and it was shown to be at USC, most memorably with Book putting the game in unnecessary jeopardy by gifting the Trojans a red-zone interception when a field goal would have served Notre Dame's needs more than well enough.
But Book's general poise, uncanny accuracy and handle of the playbook unquestionably changed the Irish offense, the season, the future.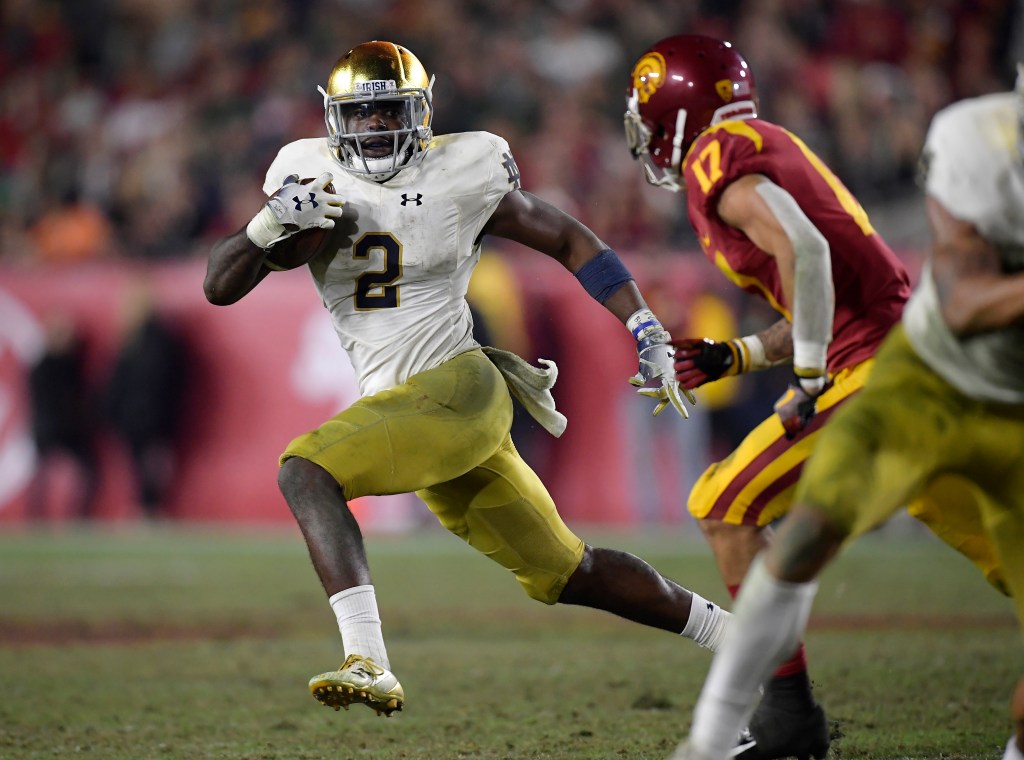 Once Book had stepped in, Dexter Williams soon followed, and once focused on the field, Williams was all anybody had ever dared dream him to be.
The senior running back emerged from his unspoken four-game suspension with a blowtorch of a touchdown against Stanford. He hasn't stopped running since, racking up 941 yards and 12 touchdowns in just eight games. During the nine-year Kelly era, those 12 rushing touchdowns are a running back high.
Williams has averaged 6.63 yards per carry, breaking 100 yards four times with one (Florida State) of those exceeding 200. He scored a touchdown in all but one game (Pittsburgh). As Wimbush's legs headed to the bench, adding Williams to Notre Dame's backfield kept opposing defenses concerned about all facets of Chip Long's offense.
Williams earned the doubt he received by not embracing the playbook or abiding by known standards in years past. That cost him a third of this season. But he turned that into a vengeance heretofore unseen on this roster (with an arguable exception of junior safety Alohi Gilman).
Book and Williams changed the Irish offense. It was defensive coordinator Clark Lea who led Notre Dame's defense.
That combination led to the Irish averaging 124.6 yards more per game than their opponents. But as much as Wimbush's inaccuracy led to quarterback questions and Williams' past led to worries about his ability to get and stay on the field, there were at least examples of their talent in the past. A first-year coordinator, there was no such evidence regarding Lea and his ability to put together a plan for a game, let alone a season.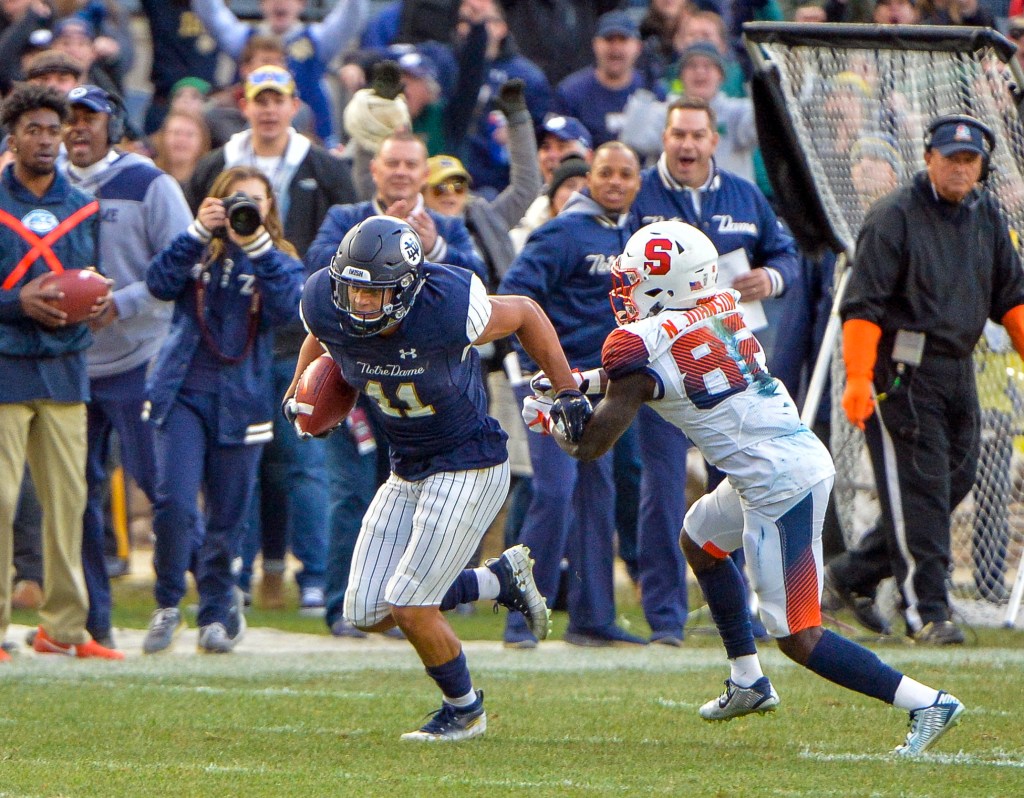 Worry not. Lea proved himself to be one of the better defensive coordinators in the country, and that is not hyperbole. Sure, he had ingredients to work with — the emergence of Gilman cannot be overstated, and the development of junior safety Jalen Elliott should not be overlooked — but Lea orchestrated an aggressive attack for the majority of the season.
It notched 31 sacks. For context: To this point last year, Notre Dame had 22 sacks.
It held opponents to 17.25 points per game, down from 2017's 21.5.
It gave up 331.5 yards per game, a significant drop from last year's 369.2.
It was aggressive and effective and then Lea pulled it back at the last possible moment, allowing USC quarterback J.T. Daniels to go 16-of-17 in Saturday's first quarter. It was intentional and downright savvy.
"It's tough, because if you look at their games, they have a script for the first couple series, and they're usually really good on their script because they practice them all week," Irish junior cornerback Julian Love said following that 24-17 victory. "Then after that it was all on the fly play calling, and that's when we really got into gear.
"We didn't want to give up any deep balls. I thought we did a good job of that today, and then limit explosive touchdowns, which they are accustomed to."
Lea essentially rope-a-doped Trojans head coach Clay Helton into blowing through his script with minimal damage, and then dialed up his secondary's pressure to keep USC in check through 29 minutes of the second half.
That is not the maneuver of a tentative first-year coordinator. That is the thought process of a coach confident both in himself and his team's abilities and understanding.
In a mailbag question (still taking submissions at insidetheirish@gmail.com), frequent-commenter nmmargie asked, "Who would you give the game ball to for the regular season? A coach? A player?"
With all due respect to Book and Williams, the season-long honor goes to Lea. With Wimbush at quarterback, Notre Dame may have still found its way to 9 or 10 wins riding that defense. Without Williams, more would have been needed from junior Tony Jones, but he may have been able to fill a serviceable portion of that role.
Without a stout defense, the Irish would have staggered to eight wins. Even with Book and Williams, the offense was not going to outscore Pittsburgh, Northwestern or USC if the Notre Dame defense did not step up when it needed to, and that does not factor in how the first three weeks of the season would have gone. A 2-1 start may have been survivable; a 1-2 start would not have been.
As a result, though, the Irish are suddenly in the mix, broadly speaking. It remains to be seen if Notre Dame is a modern-day title contender — a competitive semifinal would best prove that — but becoming the 10th team to make the Playoff and the fifth Power Five program to record multiple undefeated seasons within the last 14 years are metrics strong enough to put Kelly's program among those in the conversation of "Who's next?"
The Irish are not yet on the level of Alabama, Clemson or Ohio State, but they are among Oklahoma, Georgia and Washington, the programs ready to step forward if they can catch just one break, be it an opposing quarterback's knee injury or their own quarterback shining with a unique skill set.
Entering 2018, Notre Dame did not belong in that conversation. Suddenly, it very much does.
[protected-iframe id="4322d87b3e2eb4d11caa19723fa3b36c-15933026-22035394" info="//platform.twitter.com/widgets.js" class="twitter-follow-button"]