Notre Dame's unbeaten season breeds optimism. An opponent the quality of Clemson tempers that into cautious optimism, but it remains a glass half-full outlook, nonetheless. Considering recent Irish history against foes of the Tigers' level, that may be surprising, but as fifth-year linebacker Drue Tranquill said Sunday, "This team is different. This team is not the '12 team. This team isn't the '15 team. … I guess we'll find out on December 29."
Look, Drue, your point is not wrong, but that is 25 days away. We are going to speculate until then …
Is Clemson vulnerable to the Irish or is this just me wishing it were so? — nmmargie
At the risk of answering an "or" question with one word, yes.
More in-depth, let's apply both a real-world example and a statistical one. The former comes from most-recent history: In research preparing for the season finale at USC, it was difficult to find any area of the game in which the Trojans should have outdone Notre Dame. There was nothing that offered any remote indication USC had the abilities necessary to hold up against the Irish. Yet, not only did it, it did so to the extent questions like this now come in …
Do you think having seen USC's playmakers will help in the preparation for the blazing speed and great athletes of the next game? — Gary H.
The Trojan attack may not help in preparation; Notre Dame knew it had a nickel deficiency long before J.T. Daniels and Amon-Ra St. Brown broadcast it to the world. Clemson knew it, too, or soon will once Dabo Swinney spends any time watching tape of the Irish victory at Virginia Tech.
To answer Gary's question before getting back to Margie's, if there was any Irish benefit to struggling at USC, it came on the other side of the ball. Notre Dame's offensive line got a taste of an aggressive and capable blitz, and it realized how much work needs to be done to stand up against such. That splash of cold water may help with focus over the next month. Four first- or second-year starters will need to be up to the task of blocking what is essentially an NFL defensive line.
"You've got to protect," Irish head coach Brian Kelly said Sunday. "If you can protect, you can get the ball out. There's an opportunity. But if you can't, good luck to you, you're going to be on the ground half the day."
Now back to Margie — Is Clemson vulnerable? Notre Dame did not seem to be when it went to Los Angeles, not against that version of USC. Otherwise came to be true, as it often does in this sport.
About the Tigers specifically, the advanced numbers are not kind to Irish hopes.
Quite frankly, Notre Dame has not faced a passing defense remotely comparable to Clemson's. With junior Ian Book at quarterback, the closest thing may have been USC's, ranked No. 33 by S&P+ numbers, a far cry from the Tigers' No. 6. If removing the inane 38-yard "Hail Mary" to end that first half, Book went 21-of-38 for 314 yards and two touchdowns against the Trojans with one interception. That was his lowest completion percentage of the season and his second consecutive game with an interception and fifth out of six.
The only rushing defense remotely analogous to Clemson's (No. 1) was Michigan's (No. 10), but with senior Brandon Wimbush at quarterback and senior running back Dexter Williams suspended, that is an inexact comparison. Northwestern's No. 19 rating may be more precise, a unit that held the Irish to 3.0 yards per carry on 40 attempts.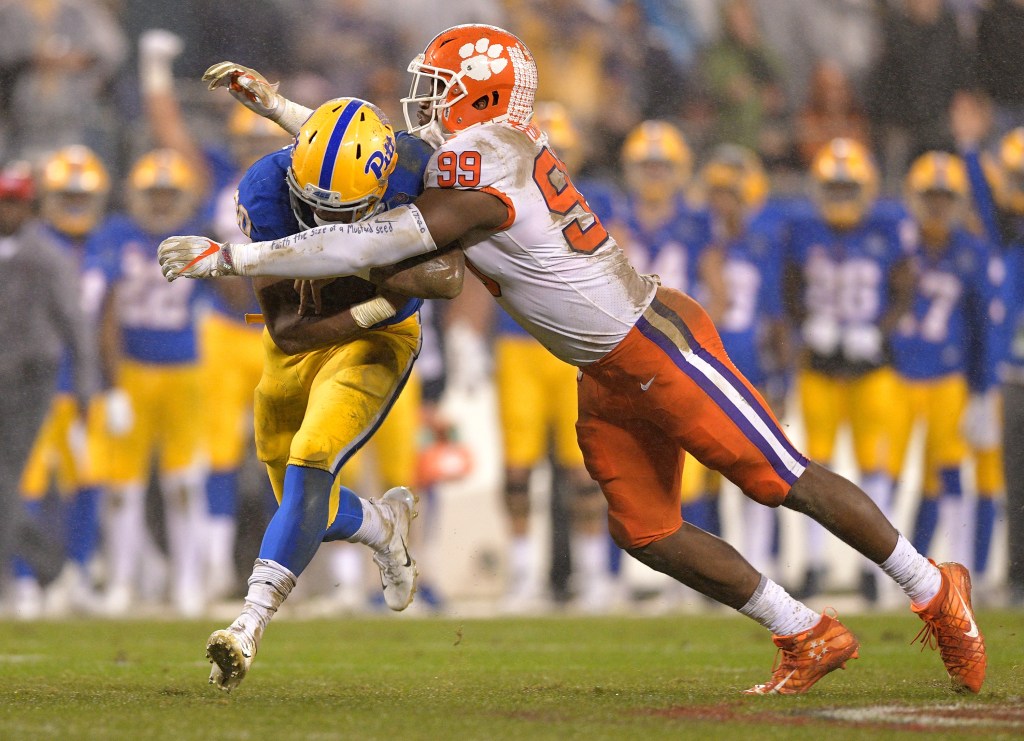 And to be clear, the Tigers defense set these standards while facing opposing offenses better than Notre Dame's. By the end of the year, Pittsburgh had one of the best rushing offenses in the country, finishing No. 11 in the S&P+ category, far ahead of the Irish mark of No. 74. The Panthers gained 191 yards on 48 carries against Clemson on Saturday, hardly efficient.
We can do this, right? Or am I just drinking too much Kool-Aid? — @dothedrew25
Still, yes. The arguable vulnerability — and again, a concept that could not genuinely be found heading to USC, although that may have derived from the lack of quality Trojans opponents creating viable data — comes in the Tigers' passing attack, led by freshman quarterback Trevor Lawrence. Notre Dame intends to remember his youth.
"We always talk about just making them line up and snap it as many times as possible," Tranquill said. "… If an offense is going to get going on us, we don't want to give up explosive plays. … You've seen many times this year, we've taken on water but they'll get down and end up missing a field goal or something, and we'll get our offense back on the field.
"We always talk about making him snap as many times as possible to get it into the end zone."
Lawrence has led the No. 27 passing offense in the country if still deferring to S&P+'s numbers, but the best passing defenses he faced were No. 34 Duke and No. 35 South Carolina. The Irish pass defense is rated No. 8.
Lawrence had success in those two games, completing 64.9 percent of his passes for 644 yards and three touchdowns with no interceptions, but neither was as geared toward a bend-don't-break methodology as Notre Dame's is.
The Irish have held arguably better aerial attacks in check. Stanford (No. 7) threw for all of 174 yards, averaging a mediocre 6.44 yards per attempt. Virginia Tech (No. 26) gained 309 yards through the air, but still inefficiently at 5.94 yards per attempt. If Notre Dame hems in Lawrence and makes Clemson one-dimensional offensively, then maybe that Kool-Aid's sugar high was not entirely misleading.
Defensive line depth has been key to quite a few Irish wins this season. Can we anticipate Myron Tagovailoa-Amosa's return to the lineup for the Cotton Bowl? — goirishgo
Of course, goirishgo asked this long before Kelly said Sunday that the sophomore defensive tackle has been cleared for practice, but it is too soon to know how much he will be able to contribute. The question still warrants remembering, as Tagovailoa-Amosa's return only adds to an already deep defensive line, the exact unit that might make Lawrence's life difficult enough to start the process of limiting him.
The Irish rotated eight defensive linemen this season. A ninth may seem unnecessary, but if Tagovailoa-Amosa can produce on eight snaps in the first three quarters, those are eight fewer snaps tiring Jerry Tillery's legs on a pivotal fourth-quarter drive.
With the future members of the Class of 2027 having finished their seasons, what are some impact eighth-graders Irish faith—JUST KIDDING!!
The task ahead of Notre Dame in the Playoff appears to be daunting, even when straining to look at the most optimistic scenarios. As an American moviegoer, however, I have been raised on narratives suggesting overcoming impossible odds is not only possible but practically inevitable as long as the "good guys" have enough pluck, grit and determination. What are some feel-good, come-from-behind stories Irish fans should watch to emotionally prepare for the Playoff games? "Miracle" seems to be the most similar to the present situation (college kids, unstoppable team in red), but that might be too on the nose. Any other good movies that are comparable to the present situation? — Pete E., Indianapolis
That started out on a dangerous path.
Given his city of residence, Peter is obviously fishing for a "Hoosiers" reference. But that does not seem applicable. Who would Shooter Flatch be? What is the football version of a picket fence? Would Justin Yoon have to get on Sam Mustipher's shoulders to touch the goalposts to show all football fields are the same size?
No. This feels more like a story of an unexpected group meeting an unstoppable force from which there is no escape, using innovative, if not questionable, strategy to pull off the needed result. A group with a boss in the business for three decades who is only the best because he works with the best. A group rallying behind a leader initially sidelined, driving through the iron wall, albeit with inconsistency. A group written off by the powers at be only to prevail at the very end.
You know, "Armageddon." Maybe this was a little bit of a logic stretch.
INSIDE THE IRISH READING
— Notre Dame's Opponents: Eight bowl eligible
— Things We Learned: Book, Williams, Lea the difference between Notre Dame's preseason and 12-0
— Championship Saturday: Who should Notre Dame fans cheer for?
— The Playoff is set; Notre Dame draws Clemson
— Notre Dame gets what it expected with Clemson matchup
OUTSIDE READING
— Cotton Bowl preview: Notre Dame and Clemson's redemption stories clash
— Every College Football Playoff team's biggest matchup advantages
— Why is it so hard for new teams to make the College Football Playoff?
— Bookstore offers 'uNDefeated' merchandise to celebrate Irish victory
— Bob Davie to return for 2019 season, New Mexico confirms
— Seahawks place C.J. Prosise on injured reserve
— Notre Dame's easy schedule (Warning: Have a sense of humor)
[protected-iframe id="4322d87b3e2eb4d11caa19723fa3b36c-15933026-22035394" info="//platform.twitter.com/widgets.js" class="twitter-follow-button"]