Of all the position groups to come in this series, this one will clearly feature the greatest disparity between where Notre Dame was and where it is. At the risk of putting too fine a point on it, the difference can be just about summed up with one statistic …
Through three games, senior quarterback Brandon Wimbush had completed 48.84 percent of his passes.
In his eight starts this season, junior quarterback Ian Book completed 70.04 percent of his passes.
WHERE NOTRE DAME WAS
With Wimbush at the helm, the Irish have gone 13-3. For all the criticisms levied at the former starter, that gets overlooked too often. Nonetheless, this was a position of concern entering the 2018 season. Certain preseason practices amplified that worry tenfold. While Wimbush could move the offense, he did so inefficiently and not necessarily within the wanted parameters of offensive coordinator Chip Long's design. Wimbush's playmaking was needed against Michigan, but its inconsistent nature made it a perilous crutch to lean on all season.
"We needed Brandon against Michigan because of Michigan's defense," Notre Dame head coach Brian Kelly said in the postgame scrum after beating Wake Forest 56-27 in Book's first start of the season. "The whole offseason was focused on getting Brandon ready to beat Michigan.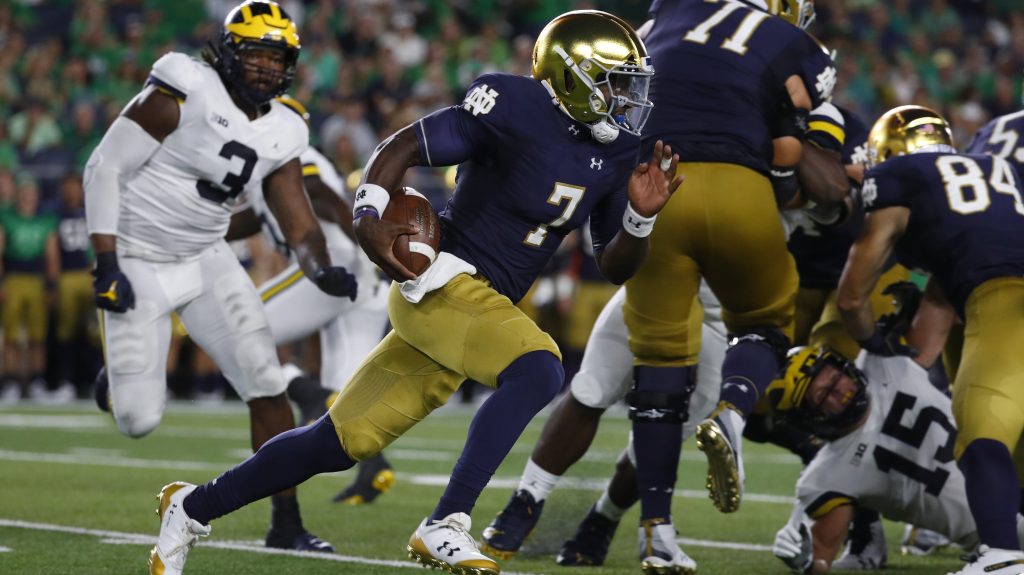 "(Running backs) Jafar Armstrong and Tony Jones were not ready. (Freshman receiver) Kevin Austin wasn't ready. Our leading receiver had nine receptions coming in. This offense was not mature enough going into the Michigan game. The playmaker on our offense was Brandon Wimbush. It needed to center around him to beat Michigan."
Then, as Armstrong began to break out and Jones remained reliable, as Austin did not do much more than flash on the field because senior Miles Boykin was playing so well it limited the freshman's snaps, as Chase Claypool and Chris Finke became more consistent, the Irish could turn to Book, which brings this discussion to …
WHERE NOTRE DAME IS
Set for at least the next season.
Trotting out a viable passer against Clemson's passing defense, a unit which ranks No. 6 in the country by advanced metrics.
Leaning on a quarterback proficient enough it is conceivable — maybe not likely, but realistic — the Irish can pass their way past the Tigers, because running by them is even more improbable.
Book has his flaws — a few rash decisions yet (see: red zone, Los Angeles Coliseum), does not always recognize coverage wrinkles (namely, drop ends), a questionable deep ball — but his ability to operate within Long's system has made Notre Dame's a downright dangerous offense. With Book starting, the Irish have averaged 36.6 points per game this season, which would be a program high tracing back to 2005, when Brady Quinn led an offense scoring 36.7 points per game. That's flattering company.
Barring a Cotton Bowl collapse, both Book's completion rate and passer efficiency this season should break the records set by Jimmy Clausen in 2009. Again, a complimentary comparison.
When Quinn and Clausen were putting up those numbers, they were both third-year starters, not first-timers thrown into the mix midseason. Book has more to learn, more maturity to develop, more nerves to steel.
"Every game's different, every game presents itself in a different fashion," Kelly said earlier this month. "That was his first rivalry game against the Trojan helmet and the mystique of the Coliseum. It may not be big for you because you've been to the Coliseum many times and when you walk in there that's nothing to you. That's the first time he's been in that stadium. That's the first time he's played in that game. That's different for a 20-year-old.
"He needed to experience that. He has. He'll be better for it moving forward."
WHAT NOTRE DAME WILL NEED AGAINST CLEMSON
More.
Book's best performance by yards was in the finale in that Coliseum, throwing for 352, also breaking 300 at Northwestern (343), Navy (330) and Wake Forest (325). It seems a coincidence his best yardage games come away from South Bend, but if it is anything more than that, well, JerryWorld is as different from Notre Dame Stadium as one can get. (What's AP Style? JerryWorld, Jerry World or Jerryworld?)
He threw four touchdowns against Stanford and a pair in his seven other starts, avoiding adding an interception against only Wake Forest, Stanford and Northwestern.
His completion percentage peaked at 81.2 and 81.8 in back-to-back games against Pittsburgh and Navy, but remained above 60 percent in his next two starts, at Northwestern and against Syracuse.
If Book combines those bests — something like Wake Forest's 325 yards, two touchdowns, 73.5 completion rate, no interceptions — then the Irish will have a genuine chance against the Tigers.
"He's still evolving as a young quarterback and there's going to be a couple games where he's not at his best each and every week but his 'B' game is pretty good," Kelly said. "We're just going to need his 'A' game for a couple weeks."
Producing that 'A' game will be difficult. If sticking to advanced numbers, Book has not faced a passing defense better than USC's No. 33.
WHERE NOTRE DAME WILL BE
Presume Wimbush transfers. For storyline concerns, Miami (OH) would be preferable, reuniting with Chuck Martin, the second Irish quarterback to do so, though Wimbush and Martin know each other from recruitment only. The RedHawks need a quarterback with Gus Ragland's career concluded.
Either way, a Wimbush transfer leaves the Notre Dame depth chart at three next season: Book, current freshman Phil Jurkovec and current three-star commit Brendon Clark.
[protected-iframe id="4322d87b3e2eb4d11caa19723fa3b36c-15933026-22035394" info="//platform.twitter.com/widgets.js" class="twitter-follow-button"]