Notre Dame does not much care about the future right now. As long as able to avoid any major injuries in tomorrow's Cotton Bowl against Clemson (always and obviously preferable), the Irish have no concerns about what comes Sunday. All focus is on Saturday (4 ET; ESPN). That is how word of a pending graduate transfer from senior quarterback Brandon Wimbush can slip out and no one in Notre Dame's locker room blinks.
"In only the fashion that Brandon Wimbush could, news breaks that he's gonna be moving on and people only love him even more," Irish fifth-year center and captain Sam Mustipher said. "I make fun of him for it."
Wimbush will be around against the Tigers. What else matters?
"He's always been team-first and the moment, so his focus has been on these games," Notre Dame head coach Brian Kelly said Thursday. "But he knows there is an immediacy, as well, so that's why he has gone through the proper channels to put his name in the portal to make sure that he leaves that door open.
"He also knows he's got enough time to work the back channels and figure out if he does want to transfer, he can do that, but he is focused on these games, he hasn't been all-in on saying I'm going to XYZ school."
That dichotomy sums up Saturday. Any lessons the Irish learn are ineffectual if they do not first come with a win in the Playoff semifinal. Nonetheless, the keys of beating Clemson can also speak to the future.
Can Notre Dame's offensive line hold up against the Tigers defensive line, now confirmed to be without All-American defensive tackle Dexter Lawrence?
This might dictate Saturday's result. It will set the floor for 2019's expectations. The Irish have had a month to improve an already-good line. When sophomore Aaron Banks took over left guard duties following the October off week, the Notre Dame front's potential rose, even if it showed only inconsistently in the next five weeks. Having had another five weeks of work behind closed doors, that inconsistency may have theoretically become, well, consistency.
If so, then the Irish offense stands a chance at finding a rhythm. Offensive coordinator Chip Long is going to run the ball; with or without ground success, he is adamant about getting his backs carries. If those carries yield three yards or more on average, then Notre Dame will have found productivity. Only four of Clemson's 13 opponents met that mark while also gaining 100 rushing yards (sacks adjusted), and none did so resoundingly:
Wake Forest: 4.15 yards per carry; 199 rushing yards.
North Carolina State: 3.77 yards per carry; 113 rushing yards.
Duke: 4.03 yards per carry; 125 rushing yards.
Pittsburgh: 4.57 yards per carry; 210 rushing yards.
Looking forward, if the Irish match that Wake Forest output, it also projects well for next season. Four current starters will return on the offensive line. The biggest question mark — junior left tackle Liam Eichenberg — has hardly brought notice this season. Replacing Mustipher, an All-American in his own right, will be far from easy, but it will become easier if this offensive line has the momentum of standing up against the Tigers' vaunted, NFL-ready defensive front.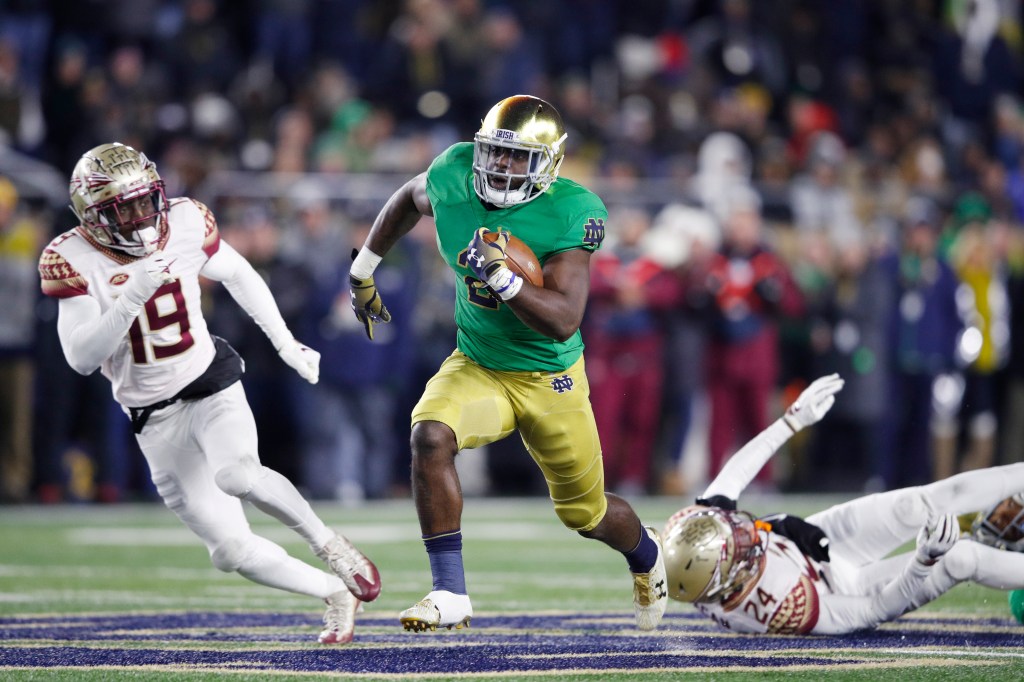 For that matter, is Dexter Williams ready for the NFL?
If the senior running back can break through against that vaunted, NFL-ready defensive front, it obviously bodes well for Notre Dame's odds this weekend, but it should also raise Williams' draft stock a good bit. Only running backs described as generational talents hear their names called on the NFL draft's first day, and Williams is not that, as good as he has been in eight games this season. He could, however, start to force a day two conversation if he breaks a few long runs against Clemson.
The Tigers have given up a total of four rushing plays of longer than 30 yards this season, no opposing player notching more than one. In his eight games, Williams has scored from at least 30 yards a total of seven times, adding an eighth run of 33 yards. One trend will persist.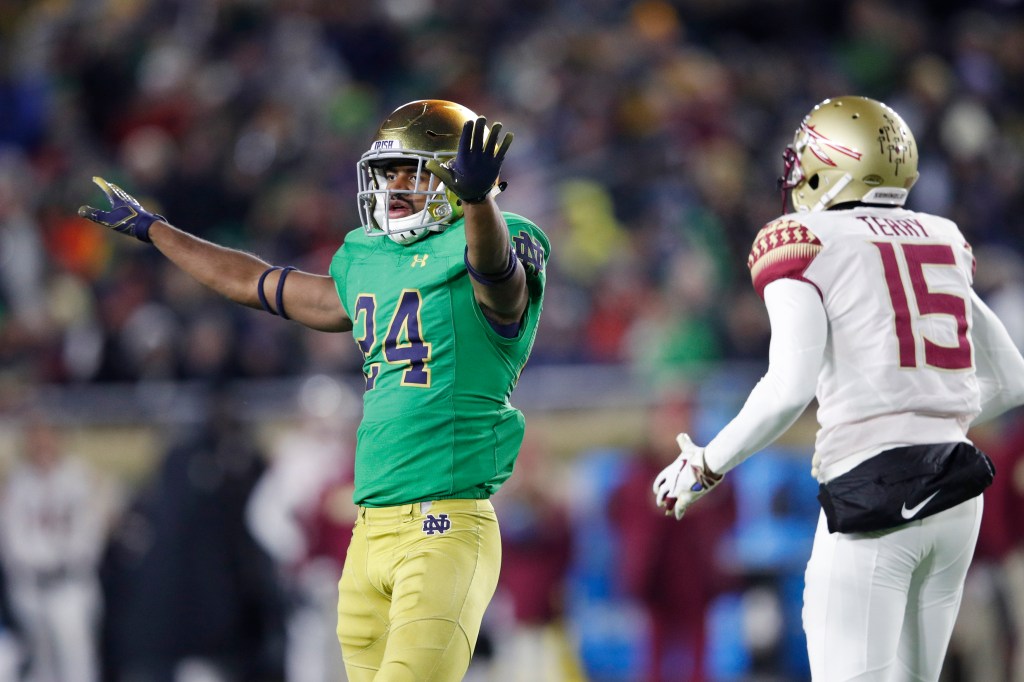 How will Nick Coleman fare as nickel back?
This will have no bearing on the future. Coleman is out of eligibility following this season. If either freshman Houston Griffith or classmate TaRiq Bracy were stepping into the role, then this could foreshadow a world where junior Julian Love heads to the NFL this spring after receiving a second-round grade in draft feedback.
Instead, this will effect only Saturday and, with a win, next Monday.
The Irish cannot afford to give up easy yards to Clemson's slot receiver(s) and fall behind early as they did at USC. Advanced metrics consider the Trojans defense No. 40 in the country; the Tigers rank No. 1. This is not usually a phrase applied to situations comparing only two items, but it seems to fit with emphasis: One of those things is not like the other.
Since losing senior Shaun Crawford in late August (torn ACL), nickel back has been the one hole in defensive coordinator Clark Lea's unit. Vanderbilt noticed it, Virginia Tech took advantage of it, and USC exploited it. But only Clemson truly has the weapons to cripple Lea's game plan by targeting the nickel.
Oh, and who will win the Orange Bowl?
It is vaguely easy to forget the Heisman winner and runner-up face off immediately after Notre Dame meets Clemson. An Irish victory will obviously make that latter game much, much more interesting for readers of this space. A loss would free yours truly from even considering watching the Orange Bowl from a Chicago wedding reception.
[protected-iframe id="4322d87b3e2eb4d11caa19723fa3b36c-15933026-22035394" info="//platform.twitter.com/widgets.js" class="twitter-follow-button"]