Step one: Survive a wedding.
Step two: Survive New Year's Eve festivities that include about 60 of the wedding guests from two days prior.
Step three: See what unrealistic possibilities your exhausted mind will concoct during a seven-hour drive on New Year's Day.
This exact recipe yielded wonderings many have undoubtedly pondered since halftime of Notre Dame's 30-3 loss to Clemson in the Cotton Bowl. The clearest versions begin with, "What if review had ruled Chase Claypool recovered that fumble when the game was still tied 3-3?"
Despite the Irish offense's game-long struggles, it is not hard to envision it turning that red-zone recovery into a touchdown and a 10-3 first quarter lead. Would that have been enough to give Notre Dame a genuine chance against the Tigers?
No.
Step four: Pull over for pizza. Mid-slice, ponder once more.
"What if Claypool's recovery stands and Julian Love does not miss the second quarter injured? Would the Irish have won then?"
No.
Sure, in either scenario the final margin is closer — maybe 30-10 in the first and 20-10 in the second — but both are still losses.
It is not hard to credit Notre Dame's defense when Love was in; three times Clemson exploited the lackluster play from junior cornerback Donte Vaughn. Nonetheless, the Tigers were always going to break through at some point. Running back Travis Etienne proved that with his 62-yard touchdown in the third quarter. The Irish were going to give up a couple scores. Call that much inevitable.
The offense was not going to match such output, even with a fumble recovery inside the 15-yard line. A subsequent touchdown still would have been the extent of Notre Dame's scoring Saturday.
Such blanket statements come with the territory of 248 total yards, 5-of-17 third-down conversions and a 50 percent passing rate. Two turnovers only worsen the cause.
For context: The Irish season-low yardage total before facing Clemson was 302 in the opener against Michigan, falling only as low as 344 against Pittsburgh and 380 against Vanderbilt since. Only once did they convert third downs at a worse rate, way back in week two against Ball State, going 4-of-14, also the only week to exceed two turnovers. Senior quarterback Brandon Wimbush fell below junior Ian Book's Cotton Bowl completion rate in only his spot-start against Florida State, when it was 48 percent.
No reasonable number of "What if?" combinations can mitigate that crippling ineffectiveness.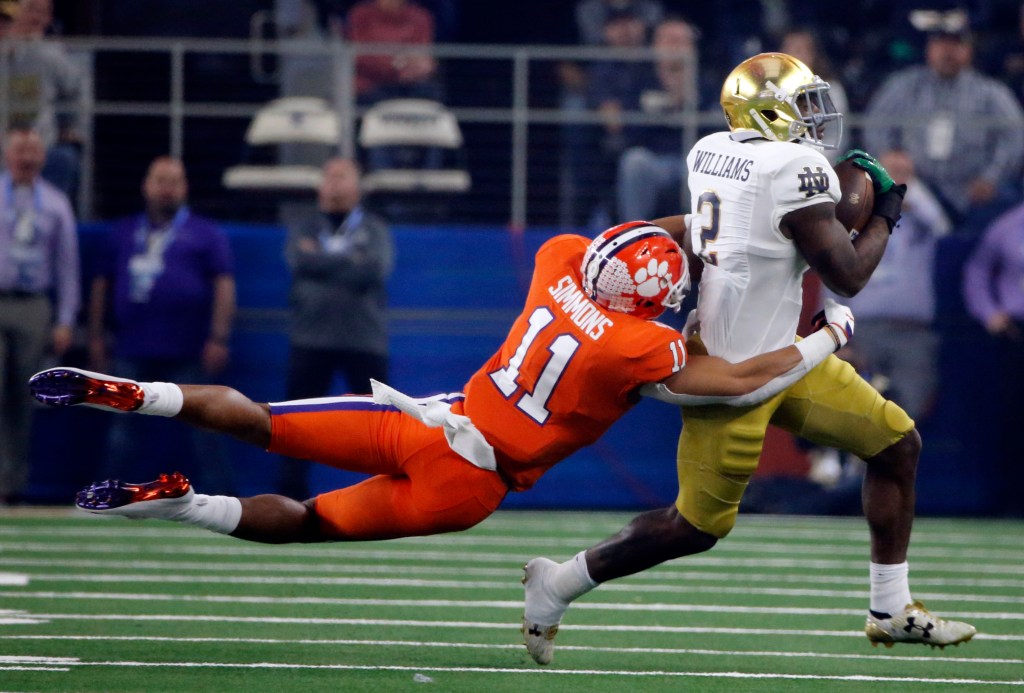 Five yards short
By rushing for just 54 yards against Clemson, Notre Dame senior running back Dexter Williams finished his nine-game season with 995 rushing yards.
But even among the elite, such blowouts are hardly rare.
There have now been 10 total Playoff semifinals. Three of them featured final margins greater than Notre Dame's 27-point defeat. A total of seven, including Saturday's Cotton Bowl, were won by 17 points or more. All but one of those was administered by either Clemson or Alabama: Oregon 59, Florida State 20 following the 2014 season.
While discussing bowl game struggles …
Irish opponents went 4-4 in bowl games (not counting Clemson), with Stanford beating Pittsburgh 14-13 in the Sun Bowl. The rest of the results:
Michigan 15, Florida 41.
Vanderbilt 38, Baylor 45.
Wake Forest 37, Memphis 34.
Virginia Tech 31, Cincinnati 35.
Northwestern 31, Utah 20.
Syracuse 34, West Virginia 18.
COTTON BOWL COVERAGE
— Notre Dame title hopes snapped by dominant performance by Clemson
— With another storied season ending unfulfilled, what's next for Notre Dame and Brian Kelly?
— Things We Learned: Nearly no amount of luck of the Irish could put Notre Dame alongside Clemson
INSIDE THE IRISH READING
— Early Signing Period Leftovers & Links: Some quick Notre Dame math
— 'Trace' drug test sidelines Clemson All-American DT Dexter Lawrence
— Mike Tirico Podcast: Notre Dame's roster rivals Clemson's, per Chris Simms
— And In That Corner … The No. 2 Clemson Tigers
— Things To Learn: Notre Dame's offensive line, nickel back & Dexter Williams key to topping Clemson
— Friday at 4: A familiar question, a six-year-old answer
— Who, what, when, where, why and by how much
OUTSIDE READING
— How Notre Dame built itself into a college football power without top recruiting classes
— The intervention that inspired Notre Dame's Ian Book
— Tom Rees and his journey from Notre Dame QB to QB coach
— An oral history of Notre Dame and Clemson's rain-soaked 2015 epic
— Josh Atkinson passes away at 25
— Stanford TE Kaden Smith opts to leave early for NFL
— Duke QB Daniel Jones declares for the NFL draft
[protected-iframe id="4322d87b3e2eb4d11caa19723fa3b36c-15933026-22035394" info="//platform.twitter.com/widgets.js" class="twitter-follow-button"]