Miles Boykin will forever be remembered at Notre Dame for the catch that began his 2018, a frame of which he used to highlight his announcement that he will forgo his final season of eligibility and head to the NFL draft this spring.
That 55-yard one-handed catch-and-run to win the Citrus Bowl elevated Boykin to the leading receiver role for the Irish, a duty he handled ably during this season's unbeaten run, finishing with 59 catches for 872 yards and eight touchdowns.
"To my teammates and coaches, I'd never be in this position without the continuous support you've shown me over my career. I'll truly miss all of you, and I want to thank you all for believing in me," Boykin wrote Sunday afternoon. "I've decided that, after receiving my degree in May from the greatest university in the world, I'll forgo my final season of eligibility and declare for the NFL draft."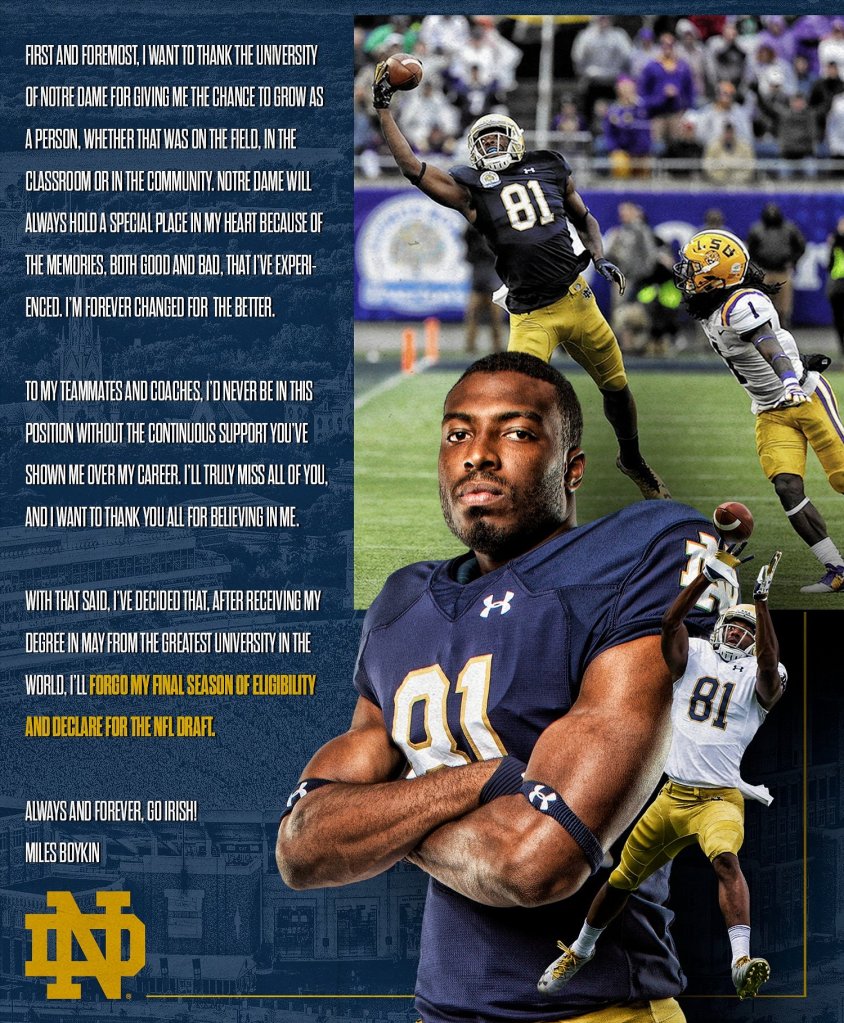 Boykin preserved a year of eligibility in 2015 before catching just six passes for 81 yards and one touchdown in 2016 as a reserve. In 2017, he saw action mainly when Equanimeous St. Brown was injured, including starting in the Citrus Bowl against LSU, when Boykin announced his arrival with three catches for 102 yards, part of 12 receptions for 253 yards and two scores in the season.
He caught five passes for 69 yards in last weekend's Cotton Bowl, his last appearance in a Notre Dame uniform.
Without the Chicagoland product, the Irish will rely on current junior Chase Claypool, provided he spurns the NFL draft, and current senior Chris Finke as returning starters. Current freshman Kevin Austin could conceivably step into Boykin's spot — one reason Austin's time was limited in 2018 was Boykin played well enough to not need to come off the field very often. There are also speed options in current sophomore Michael Young and freshmen Lawrence Keys and Braden Lenzy.
With Boykin's decision, and defensive end Julian Okwara's return for 2018, Notre Dame now has 88 scholarship players expected for next season, with up to two more recruits brought into the fold in February. That number will need to be down to 85 before the 2019 season commences.
[protected-iframe id="4322d87b3e2eb4d11caa19723fa3b36c-15933026-22035394" info="//platform.twitter.com/widgets.js" class="twitter-follow-button"]