Maybe it was week-one rust, perhaps exposed inexperience, or No. 9 Notre Dame might have simply overlooked Louisville. Whatever the reasoning, the Irish (1-0) got off to a rocky start and fell behind early Monday night. Trailing 14-7 and coming across as an ACC cellar dweller, not a Playoff hopeful, Notre Dame then outscored the Cardinals 28-3 to pull away for a 35-17 victory. As far as openers go, it was far from worrisome, but also hardly a statement.
Only Notre Dame's running game was functional at the outset, led by senior Tony Jones' 15 rushes for 110 yards with a score and freshman Jahmir Smith's 24 yards and two touchdowns on eight attempts. Junior running back Jafar Armstrong suffered a midsection injury in the opening minutes.
The Irish needed those backs — all rushers combining for 244 yards and four scores on 39 carries (sacks adjusted), a 6.26 yards per attempt average — because senior quarterback Ian Book was ineffective and skittish throughout the first half. Dancing out of the pocket resulted in multiple fumbles and off-target throws, stalling Notre Dame's offense, one that entered with expectations of dominance.
"There were some uncharacteristic flushing from the pocket that we hadn't seen from him," Irish head coach Brian Kelly said. "A lot of it was seeing a defense for the first time. … There was a little rust there, he'll be better for it in game two."
To clarify, even when Notre Dame watched film of Louisville, it could not know what system a new coaching staff would implement, especially since Cardinals defensive coordinator Bryan Brown was a first-year coordinator just last season. 
Once Book stopped trying to do too much, he eased Notre Dame forward, finishing 14-of-23 for 193 yards and one touchdown, adding 95 yards and a score on 11 carries (sacks adjusted). The Irish finally had some breathing room when Book hit sophomore tight end Tommy Tremble in stride in the seam for a 26-yard touchdown halfway through the third quarter.
Book was not the only one stumbling early despite lofty projections. Louisville gashed Notre Dame's defense for two long touchdown-producing drives in the first quarter. On 18 plays, it covered 163 yards and led 14-7. The Irish defense seemingly had no answer for Cardinals quarterback Jawon Pass and his aptitude in the option.
"We had to make some adjustments to their speed-option game," Kelly said. "I thought we slowed down and did that. Pretty much, after we made those adjustments, we kind of took control of the game."
Took control, indeed. On Louisville's six remaining possessions in the first half, it gained 40 yards on 18 plays. Six second-half drives produced 155 yards on 40 plays.
"We don't look like a finished product by any means, but we did some things tonight that align us in the kind of direction that I want to go," Kelly said.
PLAYER OF THE GAME
Notre Dame's uneven start could have been much more costly. The longer the deficit had remained at 14-7, the more emboldened the Cardinals may have become. Entering halftime tied or ahead would have made for a raucous home locker room, rather than trailing 21-14. That all would have been a reality if not for Jones' domination on the second Irish touchdown drive. With Armstrong out — Kelly had no further details after the game other than to say, "He was telling us that it was more midline." — Notre Dame needed a play-maker out of its backfield. For all his steadiness the last few seasons, Jones has rarely flashed outside of practice.
Then he gained 78 yards on six carries on a drive that covered 75 yards total.
Jones final stat line does not reflect a game of reliable rushing, but that was more because he was not asked for such. When he was called upon to tie up the game, he made quick work of the Louisville defense.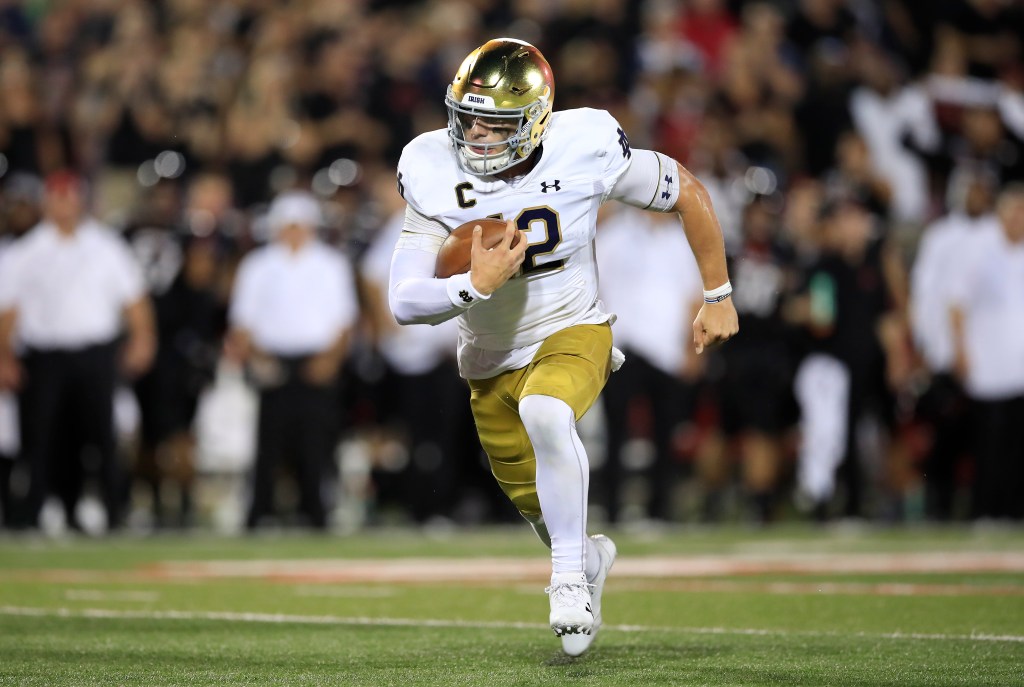 TURNING POINT OF THE GAME
The Irish handled their business so efficiently in the second half, the comedy of errors just before halftime is nearly forgotten. First, Notre Dame senior safety Alohi Gilman stripped Pass and recovered the loose ball at the Cardinals' 26-yard line, one of Gilman's 10 tackles. A play later, Book put the ball on the ground, giving it right back to the home team and seemingly halting a chance for the Irish to snag all momentum. Pass did him a favor by failing to handle the next snap; Irish sophomore linebacker Jack Lamb alertly recovered the stray ball.
Three plays, three fumbles, and the odd sequence actually moved Notre Dame six yards closer to the end zone than if the latter two miscues had never occurred. A Book scramble, a Jones run and a Book designed draw put the Irish into the end zone and the lead with 17 seconds remaining in the half. They would not consider relinquishing the lead or the momentum afterward.
"There was a little rust there, game one had a little something to do with it," Kelly said. "Young guys have that tendency that they want to show themselves. … Once we're all working in the same direction and playing at a higher level, this is going to be a good team."
Book's touchdown was reminiscent of the first snap of the primetime showcase when he saw a seam and darted for 37 yards. The score came on a designed draw, and Book made the most of it. After a half in which his lack of confidence in his offensive line repeatedly got Book into trouble, including on the fumble moments earlier, the well-timed scramble served as a counterpoint.
Book's bailing out of the pocket puts the ball in more danger, makes his throws less accurate and short-circuits offensive coordinator Chip Long's intended scheme, but his happy feet also often produce first downs, compromised defenses and touchdowns.
"He knows he can be better," Kelly said. "We're not going to beat him with a shoe. It's one game. He needs to be better, he knows that, and he will be better. He's smart, he's athletic, you saw the first run he had.
"[Quarterbacks coach Tommy Rees] will do a great job with him and get him to see the bigger picture and run through his progressions."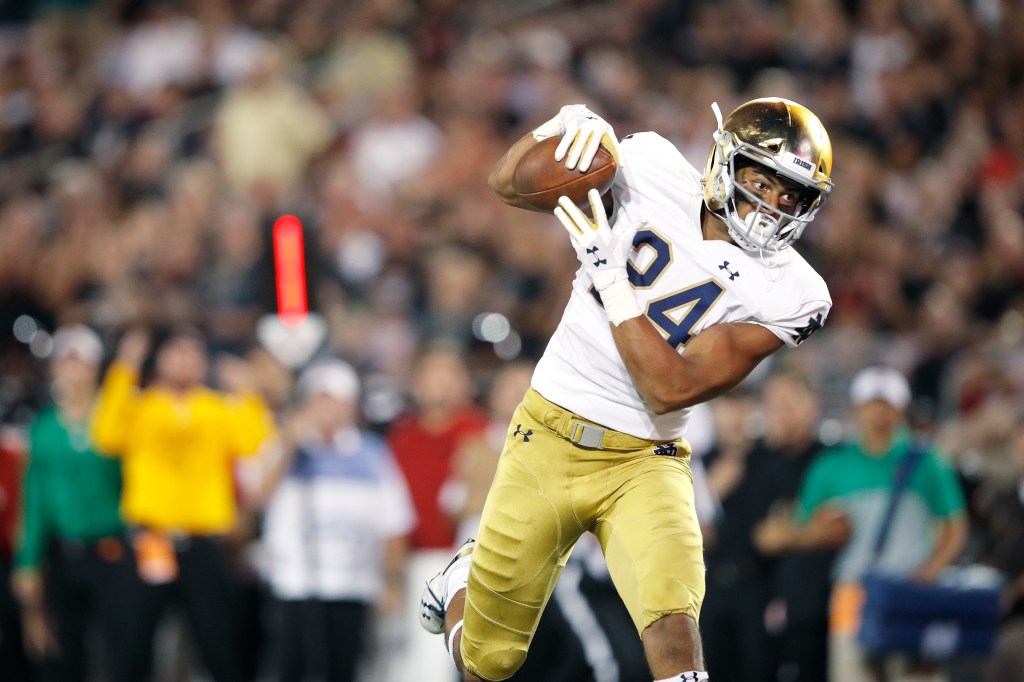 PLAY OF THE GAME
Completing a seam route to an athletic tight end 20 yards down the field is the type of threat offensive coordinators dream about. It requires a strong throw, a catch at a difficult angle, and a physical specimen to create the downfield mismatch.
In his first collegiate action, Tremble looked like he had been doing it for years, finishing with three catches for 46 yards.
"He's an outstanding athlete," Kelly said. "We knew that when we recruited him. He had crazy numbers in all his testing when we recruited him. We knew it was just a matter of maturation, mostly off the field, as he transitioned to college and balancing both football and academics. As he's done that and become more comfortable with balancing both, he started to emerge as a football player."
Tremble had no trouble catching the high pass from Book — a pass that has to be high given the angle of the play — and then shaking off a tackle to break the goal line. This was a skill set expected to be seen from junior tight end Cole Kmet, one presumably lost for at least a few weeks when Kmet broke his collarbone. Now it is conceivable Long can lean on two tight ends in the passing game most of the season.
STAT(S) OF THE GAME
For a night that may have elicited more hand-wringing than genuinely appropriate, Notre Dame actually dominated Louisville rather thoroughly. Sure, Book went only 14-of-23 and the Irish converted only 5-of-12 third downs, but how competitive could the game really have been when Notre Dame …
— Went 4-of-4 in the red zone, all for touchdowns.
— Had 11 tackles for loss, including four sacks. (Junior linebacker Drew White, junior defensive tackle Kurt Hinish, senior defensive ends Julian Okwara and Daelin Hayes.)
— Won the turnover differential +2.
— Outgained the Cardinals by 50 yards.
Frankly, if Louisville had kept the unexpected option wrinkle under warps into the second half, slicing through the Irish defense then, the view of the game would be far more flattering for Kelly. Notre Dame would have gotten out to a sizable lead and simply given up some points once the contest was no longer in doubt.
Framing results can be ambiguous like that.
"There's a litany of things that we can get better at," Kelly said. "We still won the game, we have some good things to take from it."
SCORING SUMMARY
First Quarter
12:39 — Notre Dame touchdown. Jahmir Smith 3-yard run. Jonathan Doerer PAT good. Notre Dame 7, Louisville 0. (6 plays, 75 yards, 2:21)
7:27 — Louisville touchdown. Jawon Pass 8-yard run. Blanton Creque PAT good. Notre Dame 7, Louisville 7. (12 plays, 88 yards, 5:12)
4:08 — Louisville touchdown. Pass 17-yard run. Creque PAT good. Louisville 14, Notre Dame 7. (6 plays, 75 yards, 2:14)
0:29 — Notre Dame touchdown. Tony Jones 11-yard rush. Doerer PAT good. Louisville 14, Notre Dame 14. (9 plays, 75 yards, 3:39)
Second Quarter
0:17 — Notre Dame touchdown. Ian Book 11-yard rush. Doerer PAT good. Notre Dame 21, Louisville 14. (4 plays, 20 yards, 0:46)
Third Quarter
8:06 — Notre Dame touchdown. Tommy Tremble 26-yard pass from Book. Doerer PAT good. Notre Dame 28, Louisville 14. (2 plays, 57 yards, 0:36)
Fourth Quarter
13:25 — Louisville field goal. Creque 42 yards. Notre Dame 28, Louisville 17. (10 plays, 59 yards, 5:19)
8:15 — Notre Dame touchdown. Smith 1-yard rush. Doerer PAT good. Notre Dame 35, Louisville 17. (12 plays, 75 yards, 5:10)