Listed Measurements: 5-foot-11, 203 pounds
2018-19 year, eligibility: A senior, Williams has one season of eligibility remaining.
Depth chart: If all things were known and equal, Williams and junior Tony Jones would be listed on the Irish depth chart as starters with an "OR" designation. If both are available, the play call will determine which gets the starting statistic more than anything else. The split in their carries will be a more accurate indication of whom the coaching staff prefers, but even that could be skewed by opponents.
Recruiting: A consensus four-star prospect from Orlando, Fla., one of Williams' final-two schools was a logical likelihood: Miami. Yet, the No. 12 running back in the class and No. 120 player in the country, per rivals.com, Williams chose Notre Dame, also spurning Florida, Ohio State and USC.
CAREER TO DATE
Each of Williams' first two seasons were clouded by uncertainty about his playing plans. It seems to be a theme. Any plans of a freshman year spent preserving eligibility went out the window when then-junior Tarean Folston suffered a season-ending injury in the opener. Williams did not become a vital part of the offense, but he was needed for both depth and contingency plans.
Then he joined four other Notre Dame players in an arrest for marijuana possession weeks before the 2016 season commenced. That issue cleared up pretty quickly for four of the five, but it remains a transgression to remember.
2015: Seven games; 21 carries for 81 yards and one touchdown in a blowout against Massachusetts.
2016: 12 games; 39 carries for 200 yards and three touchdowns, an average of 5.1 yards per carry.
Last season, Williams stood out as a theoretical change-of-pace back to junior Josh Adams' record pursuits. The limiting issues to prevent that from becoming a true reality were Williams' inability to play through injuries (ankle sprain, quad contusion) and the coaching staff's lack of trust in him to be anything but a big-play threat.
2017: 10 games; 39 carries for 360 yards and four touchdowns, an average of 9.2 yards per carry. Two catches for 13 yards and a touchdown. Missed three straight games around the bye week in October.
QUOTE(S)
Irish head coach Brian Kelly put the impetus for Williams' reduced action last season on his injuries and the counter-productive role they also played during the practice week.
"Last year was much more about staying healthy," Kelly said before spring practice began. "We couldn't really get into a good continuity with him because of injuries. It put him back in terms of his preparation.
"Most people just see you on Saturday when you have your helmet on and shoulder pads, and wonder, why isn't he in the game? Well, there's four other days leading up to it, and his inability to really practice and provide the kind of work necessary to get to Saturdays put him behind a little bit."
As spring practice progressed and Williams stayed healthy, the focus turned to him developing the necessary skills to contribute in more situations than obvious running downs.
"It starts with Dexter and his ability to maintain himself in a position where he can be on the field for all three downs," Kelly said at the end of March. "That's pass protection, play-action fakes, all the little detail things that go along with playing the position.
"It's been something that he's been below the line on. He's shown this spring he understands how important that is and he's been above the line on those things — play-action fakes, protections, releases, all the nuances within the offense other than 'Just give me the ball.'"
WHAT WAS PROJECTED A YEAR AGO
"Williams did not lead Notre Dame in yards per carry (Adams at 5.9 yards), but his average of 5.1 was not to be scoffed at, though it was buoyed by a 59-yard score against Syracuse. Without that boost, Williams would have averaged only 3.71 yards per carry.
"But at no point last season did Williams make a misstep that would carry over to 2017. With Folston gone, someone will need to pick up those carries. Perhaps some of them go to Adams, but the rest will be split between Williams and Jones. Even if Jones get the majority of those reps, Williams' total will go up, as well, bringing him to that 50-carry mark, if not higher.
"Irish coach Brian Kelly has often used multiple running backs. He has, at points, dabbled in using three. Furthermore, offensive coordinator Chip Long has a history of involving multiple running backs, keeping the ballcarriers fresh in his up-tempo scheme. There will certainly be opportunities for both Williams and Jones.
"If insisting on a prediction, let's ballpark Williams' junior year at 50 carries and 400 yards with five touchdowns. The more important item will be staying in the mix despite Jones' rise. Injuries happen, particularly at running back. Having proven depth will be vital both for Notre Dame and for those making up the reserves.
"… It is within the realm of possibility Adams runs his way into the NFL Draft this season. It is not likely, but it could happen. In that instance, suddenly Williams would be featured far more in 2018."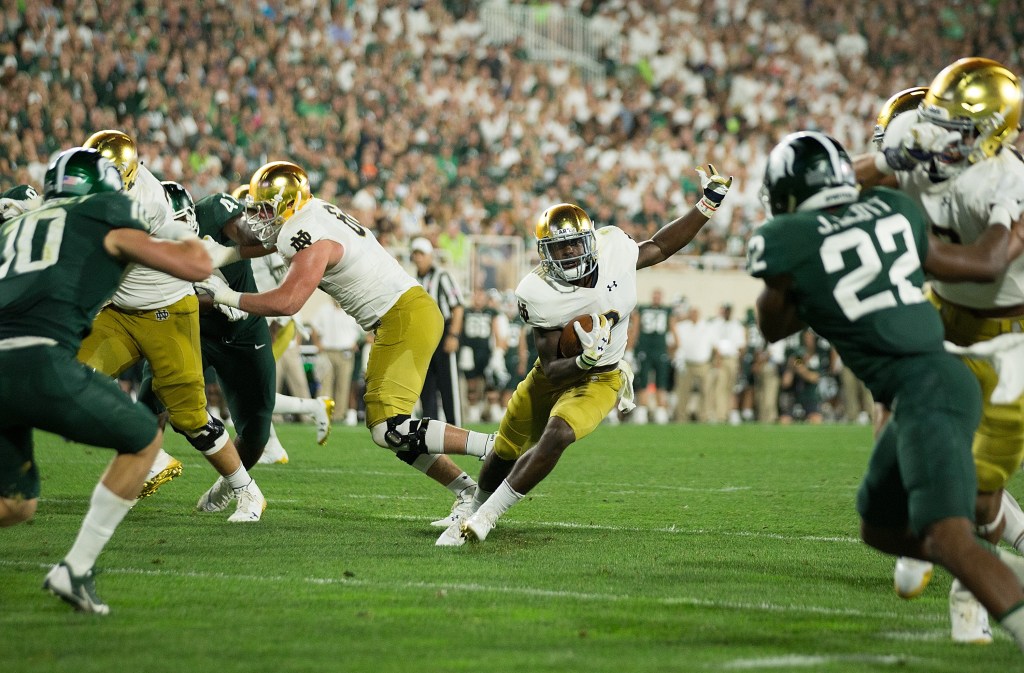 2018 OUTLOOK
When Kelly takes the podium tomorrow to preview preseason practice, the eligibility status of Williams might not be the first question thrown his way. That will likely be something mundane to build a rhythm. Then perhaps a general injury inquiry will come second. At that point, though, the dam will break. He will be asked.
Based off how Kelly responded to what may have been a similar situation a year ago with Kevin Stepherson, do not expect a cut and dry answer.
Speculation begins somewhere, even idle speculation. Thus, it would be decently-surprising if Williams lines up with the first-team Friday or sees action against Michigan in 31 days. Vague reports have long wondered if another transgression has put him on the wrong side of the University's disciplinary protocols. Vague will likely continue to be the case until Notre Dame returns from North Carolina.
Williams also needs to play through injury. As much criticism as the coaching staff received for not playing Williams enough last year, it should be noted he missed three games due to bumps and bruises. If he had played in those, he would have exceeded last year's "99-to-2" expectations of 50 carries and 400 yards with five touchdowns. The coaches cannot loosen up his quad after a hit from a helmet, and they cannot convince Williams to pick up a blitzing LSU linebacker a snap after he broke off a 31-yard run. That particular missed assignment cost the Irish 13 of the yards Williams had just gained, not to mention the lost down or the hit quarterback Ian Book took.
Williams' absence both to start the season and in those situations would open a door not only for Jones, but also for sophomores Jafar Armstrong and Avery Davis as well as freshmen Jahmir Smith and C'Bo Flemister. Armstrong, in particular, could replicate some of Williams' one cut-and-go abilities. Given he moved to the backfield from receiver, Armstrong's route-running and pass-catching are already endorsed strengths. Pick up pass-blocking and suddenly Williams could become redundant. That is a bit of a leap, but one worth mentioning.
Williams' big-play threat is hard to fathom if not seen for a couple seasons already. Even if removing his 66-yard dash to the Temple three-yard line last season, Williams still averaged 7.74 yards on his 38 other carries. Even in just eight or nine games, Williams should be able to rack up 500 yards this season, at least. Given his career average of 6.5 yards per carry, it is not hard to think he should average at least 5 with a heavier load, pointing to about 100 carries and another half dozen touchdowns.
DOWN THE ROAD
Williams' speed alone will catch the NFL's eyes, but even the fastest running backs at that level need to be effective in the passing game, as well. Williams has not shown that ability. Last season he caught two passes for 13 yards.
His speed will get him on a roster, even a few rosters, but until Williams shows more of an all-around game, his ceiling is not as high as his pedigree would indicate.
---
That makes 87 entries, ending this year's rendition of "99-to-2." It filled the summer, offered some refreshers as to how certain players got to where they are now and created reference points to look back on should the roster get turned upside down.
Tomorrow at noon ET, Brian Kelly will preview preseason practices from behind a podium. Come Friday, Notre Dame will take the practice field at Culver Academies, about an hour south of campus.
NOTRE DAME 99-to-2:
No. 99 Jerry Tillery, defensive tackle, senior
No. 98 Ja'Mion Franklin, defensive tackle, incoming freshman
No. 97 Micah Dew-Treadway, defensive tackle, senior
No. 95 Myron Tagovailoa-Amosa, defensive tackle, sophomore
No. 94 Darnell Ewell, defensive tackle, sophomore
No. 91 Ade Ogundeji, defensive end, junior
No. 89 Brock Wright, tight end, sophomore
No. 88 Javon McKinley, receiver, junior
No. 87 Michael Young, receiver, sophomore
No. 86 Alizé Mack, tight end, senior
No. 85 George Takacs, tight end, early-enrolled freshman
No. 85 Tyler Newsome, punter and captain, fifth-year senior
No. 84 Cole Kmet, tight end, sophomore
No. 83 Chase Claypool, receiver, junior
No. 82 Nic Weishar, tight end, fifth-year senior
No. 81 Miles Boykin, receiver, senior
No. 80 Micah Jones, receiver, early-enrolled freshman
No. 78 Tommy Kraemer, right guard, junior
No. 76 Dillan Gibbons, offensive lineman, sophomore
No. 75 Josh Lugg, offensive lineman, sophomore
No. 74 Liam Eichenberg, starting left tackle, junior
No. 72 Robert Hainsey, right tackle, sophomore
No. 71 Alex Bars, left guard and captain, fifth-year senior
No. 70 Luke Jones, offensive lineman, incoming freshman
No. 69 Aaron Banks, offensive tackle, sophomore
No. 68 Jarrett Patterson, offensive tackle, incoming freshman
No. 60 Cole Mabry, offensive tackle, incoming freshman
No. 57 Trevor Ruhland, offensive lineman, senior
No. 57 (theoretically) Jayson Ademilola, defensive tackle, incoming freshman
No. 56 John Dirksen, offensive lineman, incoming freshman
No. 55 Jonathan Bonner, defensive tackle, fifth-year senior
No. 54 John Shannon, long snapper, junior
No. 53 Khalid Kareem, defensive end, junior
No. 53 Sam Mustipher, center and captain, fifth-year senior
No. 52 Bo Bauer, linebacker, early-enrolled freshman
No. 47 Kofi Wardlow, defensive end, sophomore
No. 45 Jonathan Jones, linebacker, junior
No. 44 Jamir Jones, defensive end, junior
No. 42 Julian Okwara, defensive end, junior
No. 41 Kurt Hinish, defensive tackle, sophomore
No. 40 Drew White, linebacker, sophomore
No. 39 Jonathan Doerer, kickoff specialist, sophomore
No. 34 Jahmir Smith, running back, early-enrolled freshman
No. 33 Shayne Simon, linebacker, incoming freshman
No. 31 Jack Lamb, linebacker, early-enrolled freshman
No. 30 Jeremiah Owusu-Koramoah, linebacker, sophomore
No. 29 Ovie Oghoufo, linebacker, early-enrolled freshman
No. 28 Nicco Fertitta, safety, senior
No. 27 Julian Love, cornerback, junior, second-team All-American
No. 25 Braden Lenzy, receiver, incoming freshman
No. 24 Tommy Tremble, tight end, incoming freshman
No. 24 Nick Coleman, defensive back, senior
No. 23 Drue Tranquill, linebacker, two-time captain, fifth-year senior
No. 22 Asmar Bilal, rover, senior
No. 21 Jalen Elliott, safety, junior
No. 20 Shaun Crawford, nickelback, senior
No. 20 C'Bo Flemister, running back, incoming freshman
No. 19 Justin Yoon, placekicker, senior
No. 19 Justin Ademilola, defensive end, incoming freshman
No. 18 Joe Wilkins, cornerback, incoming freshman
No. 17 Isaiah Robertson, safety-turned-rover, sophomore
No. 16 Noah Boykin, cornerback, incoming freshman
No. 15 D.J. Morgan, safety-turned-linebacker, junior
No. 15 Phil Jurkovec, quarterback, consensus four-star incoming freshman
No. 14 Devin Studstill, safety, junior
No. 13 Lawrence Keys, receiver, incoming freshman
No. 13 Paul Moala, local safety, incoming freshman
No. 12 DJ Brown, cornerback, incoming freshman
No. 12 Ian Book, quarterback, junior
No. 11 Alohi Gilman, safety, Navy transfer
No. 10 Tariq Bracy, cornerback, incoming freshman
No. 10 Chris Finke, receiver, senior, former walk-on
No. 9 Daelin Hayes, defensive end, junior
No. 8 Jafar Armstrong, running back/receiver, sophomore
No. 8 Donte Vaughn, cornerback, junior
No. 7 Brandon Wimbush, quarterback, senior
No. 7 Derrik Allen, consensus four-star safety, incoming freshman
No. 6 Tony Jones, running back, junior
No. 5 Troy Pride, cornerback, junior
No. 4 Te'von Coney, linebacker, senior
No. 4 Kevin Austin, consensus four-star receiver, incoming freshman
No. 3 Houston Griffith, consensus four-star safety, early-enrolled freshman
No. 3 Avery Davis, quarterback and running back and receiver
No. 2 Jordan Genmark Heath, safety-turned-linebacker, sophomore
MEDICAL EXEMPTION
No. 35 David Adams, linebacker, sophomore
OUTGOING TRANSFER
No. 11 Freddy Canteen, receiver, outgoing transfer
[protected-iframe id="4322d87b3e2eb4d11caa19723fa3b36c-15933026-22035394" info="//platform.twitter.com/widgets.js" class="twitter-follow-button"]