Continuing a look at Notre Dame's assistant coaches' reviews of the recruits signed in December, let's turn to the defense.
That group of 12 consisted of five defensive backs, four linebackers and three defensive linemen.
Safeties coach Terry Joseph (newly-arrived from North Carolina) on consensus four-star safety Derrik Allen, pictured above: "He was a guy we recruited a little bit at North Carolina. He committed to Notre Dame so early, it ended the recruiting because you knew he was not going to de-commit. A guy who is long, can make plays all over the field. As a junior he played a little bit of corner so you like his cover skills. That kid, the sky is the limit for him, because he can do anything that he wants to do. Really a playmaker, played some wideout, likes to catch the fade. Just talking to him, he's a kid who wants to compete and he wants to win at a high level."
Cornerbacks coach Todd Lyght on Allen: "He's been our longest-committed safety out of Georgia, outstanding young man, great student athlete. I think he is the type of player who can come in and help us right away due to his size and strength."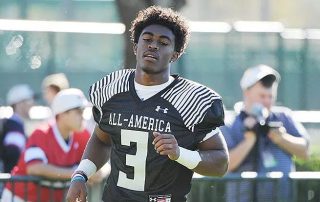 Joseph on consensus four-star defensive back and early enrollee Houston Griffith: "He's a guy that is going to play corner for us. We'll see what he can do outside on the perimeter."
Lyght on Griffith: "We're going to start him at corner, but he has the ability to play both corner and safety, so we're going to move him around. He's the type of player who has such position versatility, he's going to be a real weapon for us on defense. We're going to start him on the boundary, let him play a little bit of safety, let him play a little bit of nickel, and find out what suits him best and his skillset. Here's another guy who can come in and make a contribution right away for us.
"… With his position versatility, he's going to have the opportunity to play not only on special teams, but defensively early."
Joseph on local consensus three-star safety Paul Moala: "I've just gotten to watch his film here the last few days, but again you see a guy who is athletic, big and has a chance to be a physical ballplayer for us."
Lyght on Moala: "Another outstanding young player who can come in and help us right away on special teams. With his combination of speed, size and strength, it makes him a very dangerous freshman coming in. He's really going to push all the safeties in front of him and he's going to compete early and right away.
Lyght on consensus three-star cornerback Joe Wilkins: "Long, tall athlete out of the Fort Myers [Fla.] area. Really smart kid. Love the way he competes on both sides of the ball. His length and his ball skills can really make him an outstanding boundary corner. His background is more on the offensive side of the ball, which is okay, but he came along his senior year defensively, becoming a more sure tackler. That with his length and his speed, he can become an outstanding press corner."
Lyght on rivals.com three-star cornerback Tariq Bracy: "The speedster out of California. Outstanding young talent, little bit of a smaller frame. In the strength and power area, he's going to have to do some work, because he's a little developmental there, but his playmaking skills, his ball skills, his speed, his reactive athleticism are second-to-none in this class, so I think he'll be out there playing field corner for us.
"I know [Irish head coach Brian] Kelly was thinking of moving him to offense and trying to let him run the ball a little bit, but he's a talented player that we want to keep on the defensive side of the ball. I made that known to [defensive coordinator Clark] Lea, so there's going to be a battle for him."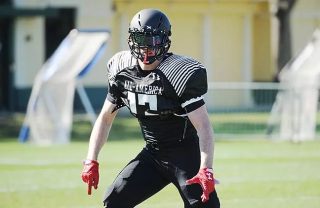 Defensive coordinator and linebackers coach Clark Lea on consensus four-star linebackers and early enrollees Bo Bauer and Jack Lamb: "Those guys are natural inside linebackers that at a certain point, both positions are interchangeable. You're going to see what can they handle here early, where are the needs in the depth chart as we get through spring and plug them in accordingly."
Lea on consensus four-star linebacker Shayne Simon: "[He] is an incredible athlete and better person, honestly. Shayne is a safety in high school that has played some field overhang that is a natural fit at the rover position. He'll get his first reps there. Then we'll see how he grows and develops from that point, but I think that's a great fit for him.
Lea on consensus three-star linebacker and early enrollee Ovie Oghoufo: "Ovie, I could see playing either outside position. He has been a run-and-hit player in high school. His best defense has been playing alley-to-alley, on the move. I've got to help him with the mechanics of playing in the box every down and how you attack gaps, but I know that he can run and hit. So I think either the buck and rover position, both of those could enhance that skillset."
Defensive line coach Mike Elston on consensus four-star defensive tackle Jayson Ademilola: "I watched them play Don Bosco later in the season before the playoffs and came away very impressed with both of [Jayson's and his twin brother consensus three-star defensive end Justin Ademilola's] developments in terms of fundamentals and how they played, how aggressive they played. I do believe Jayson is going to be able to come in and give us some great depth and added depth in several areas."
Elston on consensus three-star defensive end Justin Ademilola: "I know Justin is going to come in with a chip on his shoulder. The world is kind of made him second fiddle to his brother, which I'm all good with. I hope he does have a chip.
"I think he'll be the surprise of the class. I think he's going to come in and the plan is to get them both ready to play if we need them, and see what happens. Hopefully we hold up and the depth stays the depth and we don't get a bunch of injuries, but we're planning on getting both those guys ready to play if we have to.
"… He'll start off at the drop, but based on how he develops throughout the month of June and July, putting on some weight, I'll teach him both [end positions]. Even [current sophomore] Julian Okwara double-learned last year. I think it's more challenging for a freshman to learn both of them, but I think Justin has a great understanding of football and he learns well. He should be able to do them both.
"… [The chip] is derived directly from the media that do stories about his brother. His brother got invited to the Army All-American Game and he didn't. His brother gets all these accolades and he doesn't. His brother is scheduled to play football at Notre Dame and be in the depth and he's not. He's going to be red-shirted. People are writing articles about that and he's forwarding them to me. 'Coach, can you believe what they're saying about me?'
"He's sharing those things, but he's not telling me he has a chip on his shoulder. I can just tell it. He's going to come in here with a chip on his shoulder to prove he's worthy of a scholarship offer and a commitment to Notre Dame."
Elston on consensus three-star defensive tackle Ja'Mion Franklin: "I wanted to add toughness. We've been able to change the culture of the defensive line. We're not there yet obviously, but we're changing that culture. Identifying Ja'Mion very early as a guy that is going to add to that and improve that with an aggressiveness and a toughness, he was a marquee get for us because of that.
"Day-to-day, just going to be an aggressive, tough individual. … I had a chance to watch him play and just so disruptive and physical and aggressive. That's what we wanted to add to this defensive tackle group."
RELATED READING: Brian Kelly on December's 12 defensive signees
Seven early enrollees set a new Notre Dame high, but will they make an impact?
Notre Dame's assistant coaches on December's signed offensive recruits
[protected-iframe id="4322d87b3e2eb4d11caa19723fa3b36c-15933026-22035394" info="//platform.twitter.com/widgets.js" class="twitter-follow-button"]